Volatility has been a theme shadowing the automotive sector, and indeed the broader economy, since the onset of the pandemic over a year ago.
Specific to the auto space, we have been through record dips in used car sales, to record highs and similarly, unprecedented used car price drops to month-over-month record-breaking used car value gains across the board.
There has been a multitude of COVID-related disruptions at OEM and parts suppliers globally, adding to growing new vehicle supply issues. Domestically, new and used supply is staggeringly low, for a number of reasons. Volatility in supply is a major cause of volatility in prices.
Canal blockage
Given the recent blockage at the Suez Canal, by one of the world's largest cargo ships— The Ever Given—and the resulting global logistical and supply chain delays, we felt it was good timing to discuss the topic of delays and how it is affecting Canada's auto industry.
Speaking of 'timing', the blockage of a critical shipping lane could not have come at a worse time. To put it in perspective, this traffic jam of cargo in the Middle East cost over $9 billion per day in global trade, which equalled well over $60 billion over the time it took to free the ship.
Delays in manufacturing and production began in the early days of the pandemic when initial lockdown measures proliferated across Canada and the globe. Many plants and dealers were temporarily closed or vastly scaled back. When they got back to work, with new regulations, new safety processes, even new shift alignments, productivity was not 100%. New supply was slim and dealers were reporting difficulty in generating sufficient inventory.
Soon after lockdown, pent-up demand set in, driving wholesale and used retail values higher. The supply was not there. That was months ago, and supply is still short. Why? Delays.
More recently we have been hearing and reading about a global shortage of semiconductors. Semiconductors are an integral component in memory chips, integrated chips and microprocessors.
The automotive market is one of the fastest-growing end-user markets for these chips. With growing emissions standards, new safety and convenience technologies, electrification and so on, cars today contain thousands of semiconductors. Without reliable access to a steady supply, production delays loom. In fact, in February, U.S. automotive giant GM idled three North American plants and slowed production at a fourth.
Interim solutions
In some cases, interim solutions have been concocted to push vehicle supply out to the dealer body, with units that have decreased functionality (re. fewer microchips). Some solutions have temporarily sacrificed in the areas of fuel economy or vehicle accessibility, as examples. Once the units land at the dealer, missing equipment can be installed there.
Throughout this pandemic, delays have also been the result of other factors like raw material shortages, such as lithium. Trade disputes between China and the U.S. have certainly disrupted the supply chain, as has Brexit due to companies wanting to move operations out of Britain and into the EU.
Natural disasters, which cannot be predicted but are an ever-present threat, can strike and serve to disrupt production or transportation/shipping at any time.
We've been witness to these supply challenges due to an array of various delays over the past year. Compound that with fewer trade-ins, lower fleet turn-over, low repo rates, fewer kilometres are driven and lease-end buyouts resulting in cars being kept longer—clearly causing the tightening of used supply. Meanwhile, consumer demand for lightly used vehicles in good condition has increased.
The economic formula is written in stone…prices must go up!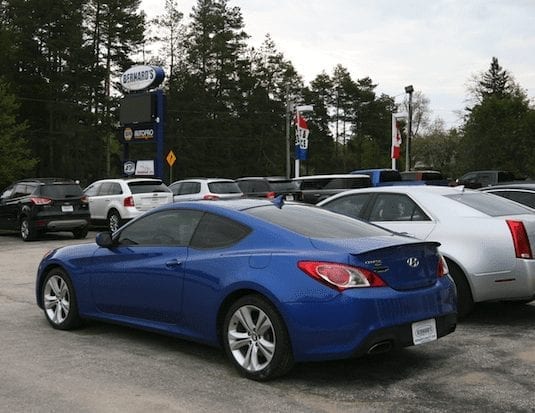 And then the blockage of the Suez Canal happens. This instantly increased pressure on new vehicle production in Canada and constrained the supply of vehicles on the ground in Canadian dealer inventories.
With such limited supply becoming further reduced, the increase in wholesale values on the used market has accelerated from its elevated pace earlier this year. Canadian Black Book has been observing record levels of value adjustment week-to-week, for over three months.
With a "perfect storm" scenario in the Canadian automotive marketplace as well as in the U.S., the spring selling season is off and running at a remarkable pace for both used and new cars.
Price adjustments
Dealers are adjusting their new car prices via market-adjusted MSRP's on first-year models, causing backlash from consumers looking to purchase new. Similarly, auction-goers are digging deeper into their pockets in order to make a winning bid.
On top of that, the expectation is that that vehicle must sell quickly before an impending downward turn or slowing in the market occurs. Interestingly, all this must be done with a relatively new format of observing and bidding for cars digitally.
Delays and supply disruptions not only affect retail and wholesale values but also forecasted residual values of vehicles in the short term. Typically due to seasonality or any number of economic factors, evaluations for a given model may require modest positive or negative adjustment in value over the 12 and/or 24-month terms.
Today, given the depth of delays and supply shortages, evaluations are requiring small to significant increases to residuals over these same terms, across most (if not all) vehicle segments. Lease payments may get more affordable, however, buyouts just got more expensive.
Currently, any relief from this state of volatility would be welcomed in the marketplace. We know that the pandemic is at the heart of most supply issues and although we are presently dealing with an alarming third wave, there is an end in sight.
What we don't know are how and when other potential delays, like that of the Suez Canal in March or major shortages of another key component or material, may occur, and how deeply they may affect supply and trade.
Here's hoping for calm weather, calm decisions, and the calming of a pandemic that has traumatized our economy.
---
Daniel Ross is Senior Automotive Analyst, Vehicle Valuations & Residuals at Canadian Black Book.