The semiconductor shortage has caused vehicle rankings to change.
According to data gleaned from DesRosiers Automotive Consultants, as well as the Canadian Vehicle Manufacturers Association and the Global Automakers of Canada, the top-selling passenger car and light truck in Canada were the Toyota Corolla, with 13,055 units sold for the quarter and the Ford F-Series (29,100 units sold for Q3).
While the top five selling vehicles in each category are probably no surprise to many Canadians, what is surprising is how some of them have been impacted by ongoing supply issues related to the global semiconductor chip shortage.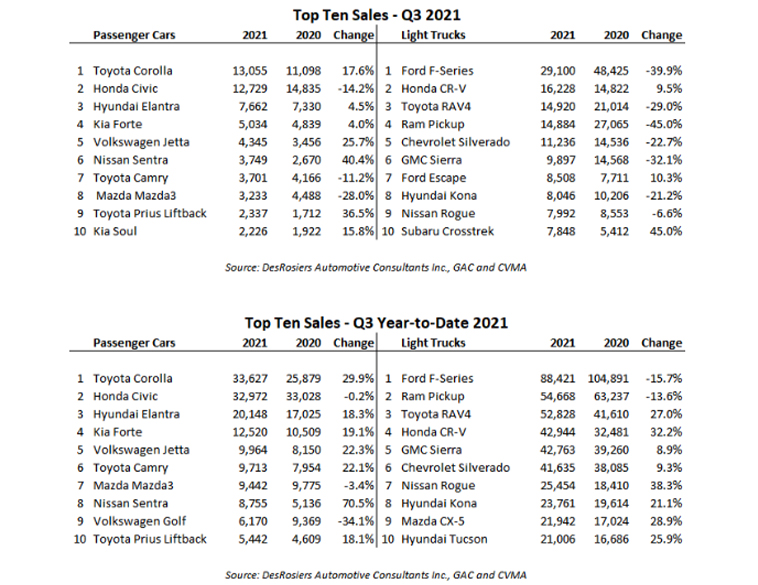 In recent years, light truck sales have continued to gain market share at the expense of passenger cars and while demand for the latter has continued to fall during 2021 (11.3% during Q3), light truck volumes have also been impacted due to the chip shortage—demand falling by 12.3% during the same period.
Different impacts, different results
What's interesting about the chip shortage is how it has impacted OEMs and the models they produce in different ways.
This has resulted in a change of order for some of the top-selling vehicles in Canada, simply because some vehicles are more readily available than others.
This was particularly felt in the light truck segment, with some of the larger pickups, such as the Chevrolet Silverado and GMC Sierra being surpassed in sales by crossover utilities such as the Honda CR-V, which leapfrogged into second place, reporting a 9.5% increase in sales volume during the quarter.
In terms of year-to-date sales, the Ford F-Series and Ram are still tracking as Canada's best-selling vehicles overall for 2021, though volumes remain significantly down compared with 2020 numbers (15.7% and 13.6%) respectively, due to the ongoing impact of the semiconductor shortage.