The second quarter of 2021 was undoubtedly a period of recovery for the new light vehicle market with a 51.8% increase compared to the disastrous same period in 2020.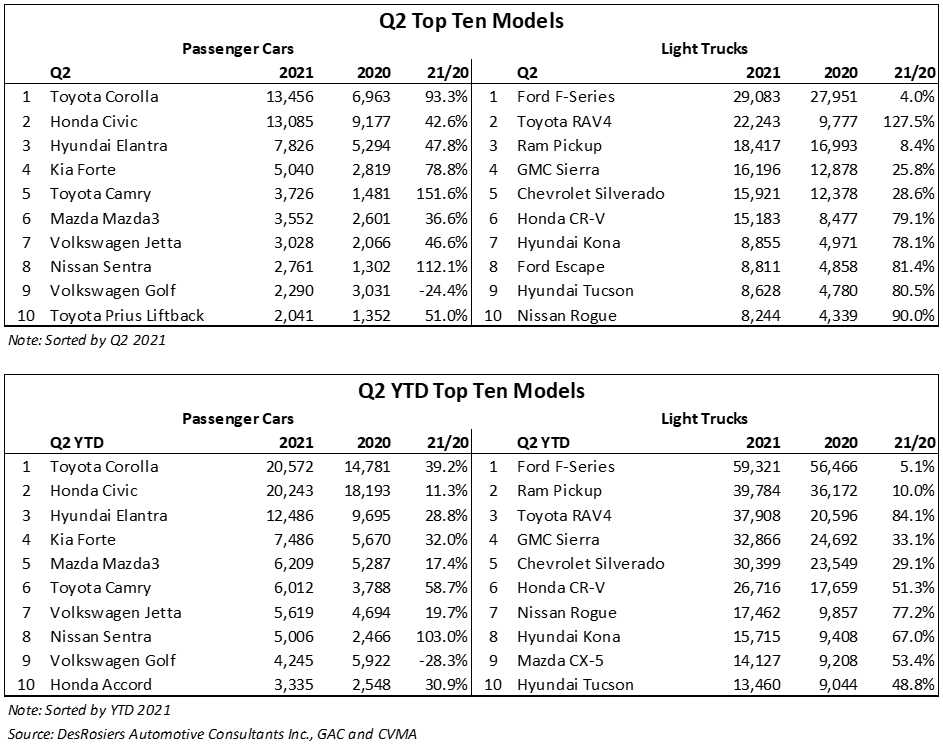 However, with 478,716 units sold, these second-quarter results remained unimpressive compared to normal Q2 levels – falling well short of the 568,252 units sold in the second quarter of 2019.
"Both pandemic restrictions and semiconductor shortages impacted the market in Q2 2021," commented Andrew King, Managing Partner of DAC, "and while the market did recover from 2020, this growth was far from evenly distributed leading to some important shifts in the top model rankings."

With a 93.3% sales increase for Q2, the Toyota Corolla managed to edge out the ever-popular Honda Civic for the top spot among passenger cars for the quarter and YTD. The Civic noted a more modest 42.6% quarterly sales increase.
The Hyundai Elantra and Kia Forte occupied their commonly held third and fourth positions. With a 151.6% quarterly sales increase, the Toyota Camry jumped up to fifth place among passenger cars with the Nissan Sentra noting a similar 112.1% sales increase, securing the eighth place.

As always, the Ford F-Series remained the top-selling vehicle in Canada during the second quarter of 2021. However, bogged down by microchip-related shortages, the F-Series secured only a 4.0% sales increase for the quarter.
In sharp contrast to the F-Series' struggles, the Toyota RAV4 surged forward with a 127.5% sales increase, claiming a very secure second place for the quarter while remaining third on a YTD basis behind the Ram pickup – another vehicle hit hard by semiconductor-related issues.
Among light trucks, the seventh to tenth positions for the quarter was a tight race with the Hyundai Kona, Ford Escape, Hyundai Tucson, and Nissan Rogue. All recording similar sales increases and falls within a few hundred units of one another.