Very tight new and used inventory has essentially created a sellers' market so far in 2021.
In 2021, the focus up to now has been on survival in every way, both from a health and an economic standpoint. As the saying goes, time allegedly flies when you are having fun.  However, I certainly do not expect any of us in the auto industry, or in our country for that matter, to declare 2021 as fun in any way, shape or form.
From a new car sales perspective (numbers all come courtesy of DesRosiers Automotive Consultants) at the end of Q1 2021, sales were up 15% over last year, which is impressive, yet this is down about 8% from 2019 down 12% from 2018.
May 2021 new car sales were estimated to be up almost 36%, which is still almost 24% below 2019.  This represents stunning volatility for the industry, but of course, there are multiple factors at play. It is not as simple as consumers just not shopping for vehicles, although that can play a high unemployment condition.
Positive outlook
Current research says quite the opposite in fact—the Canadian outlook is very positive indeed. Consumer confidence in the future of the economy is at a 13-year high, according to a recent poll published by Nano Research on June 4.
The main factor holding back industry sales is the widespread shortage of new products caused by a global shortage of microprocessors.  The number of vehicles lost from production is now estimated to be approaching four million units globally.  The monthly sales numbers really don't tell the story, as we do not have natural levels of supply, but rather a severely constrained production arrangement.
How long will it be until this situation rights itself? It would seem to depend on which microchip expert you listen to.  Resolution by the end of this year, or a more pessimistic "well into 2023" are two ends of the silicone spectrum.  If you take a rough average of the estimates—it pencils to about 18 more months of shortages.
The pent-up demand for vehicles may take auto factories much longer to recover from. It will also create a deficit of used car supply for 2020 through 2022 model year vehicles. Certainly not every model and every brand, but there are too many affected to be listed here.  Some factories are closed for extended periods of time lasting months, and others idling for an occasional day of production.
For those OEMs with factories open, they are juggling a tight supply of microprocessors and often cancelling some production at one plant so that production may take place at another.
Used vehicle impact
The shortage of new cars is also impacting the used car market, both directly and immediately.  When new car sales drop, that means that trade-ins are simply not entering the used market.
There continues to be a strong appetite for vehicles to be exported to the U.S. as well. Demand is strong south of the border, where they are also facing critical vehicle shortages. Even with the Canadian dollar at $0.82—up a remarkable $0.13 from last spring—the demand has yet to slow with the higher currency, but this is expected to be a factor in cooling the market once the new product shortage lessens.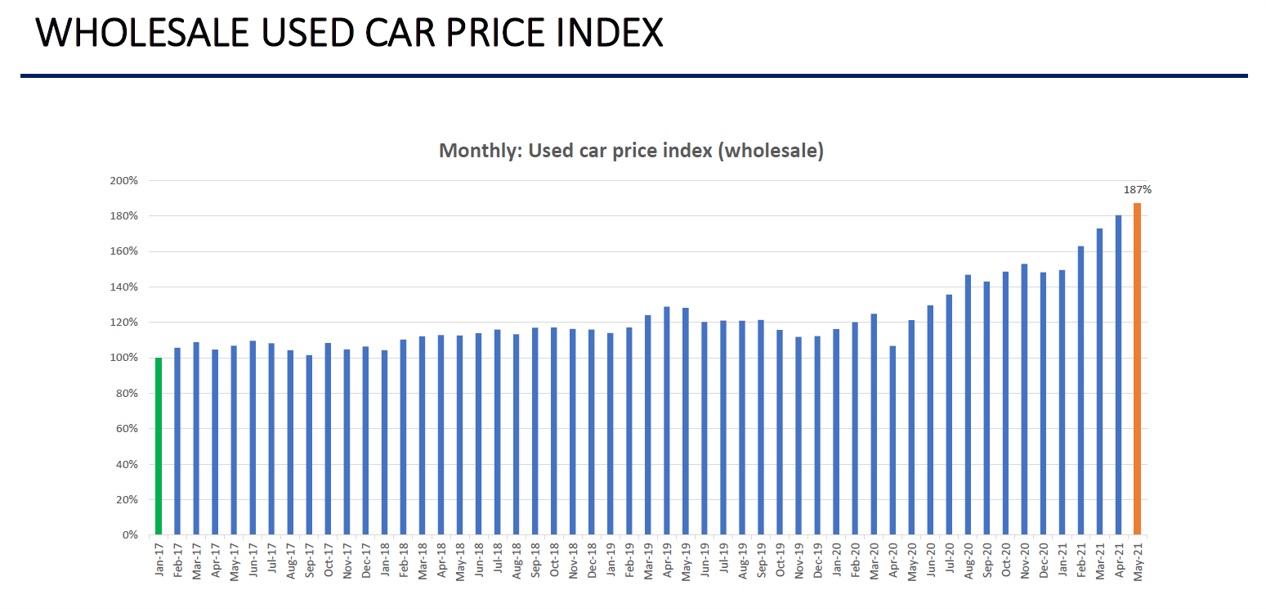 These shortages also are compounded by many consumers buying out their end-of-lease vehicle when they can't easily source a replacement. Many consumers have noted that since they have not been driving as much, they are significantly under their mileage allotment and there is equity in their leased vehicle.
The main reason so many vehicles are in equity at the end of their lease is the "rocket ship" that is used car values lifted off last year and has yet to return to earth.  The Manheim auction price index (which considers all model years) is up over 87% from its starting point in 2017. Our team has noted that the biggest increases have been seen in the pickup truck and sports car segments.
Some lightly used cars are selling for prices that are close to, or in some cases even above their original selling prices. Consumers are paying more for used cars today—the average price based on data from Dealertrack—is currently $25,945, which is up 11% from 2020.
Volumes up
Used car volumes themselves are up significantly in 2021, even with the shortage of products. Cox Automotive Canada's Dealertrack online credit application network has seen an 8% increase in loan activity so far this year, as compared to 2020, but still down 13% from 2019.
Somehow, through some minor miracles, modern science, and perseverance, we have collectively arrived at the mid-point of 2021. Through a monumental struggle—it appears the end of the pandemic crisis is now in sight.
As our country and industry emerge, the outlook is certainly improving.  There will be some very good days ahead for the business in Canada if only we can all just find the vehicle stock to sell!
---
Brian Murphy is Managing Director, Kelley Blue Book & Data Solutions, Cox Automotive Canada & Brazil. You can reach him at [email protected]