Tire manufacturer Sailun took advantage of a cross-country snow day tour to celebrate the introduction of its Ice Blazer WSTX winter tire.
As part of the Winter Ride & Drive days, two of which were held in Mirabel on January 24 and 26, the Canadian team at Sailun Tires Americas wanted distributors, wholesalers and retailers to put this new tire to the test in real winter conditions. It was a return of the winter tests after several years for this manufacturer active on our territory for 20 years now.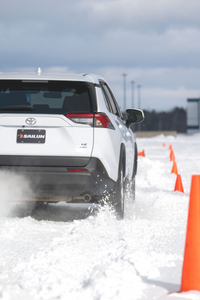 Snow in abundance awaited the participants of these snow days on the ICAR circuit in Mirabel, north of Montreal. Approximately 80 participants had the opportunity to test drive two vehicles, a Toyota Corolla and a Toyota RAV4 on the same grade of tires as the Ice Blazer WSTX, before driving identical vehicles on the new Sailun tires.
Quality and safety
"Our goal was to establish a comparative match," said David Pulla, Sailun's National Sales Manager. "This tire is an evolution of the WST1 and we wanted the participants to experience it on a winter course. At the conclusion of the test, these experts found the Ice Blazer WSTX to be a more affordable tire than its competitor. All this without compromising on quality and safety."
This winter tire is already available on our market in 64 sizes, which can be mounted on rims from 14 to 20 inches, and covers passenger cars and crossovers. It can be fitted with spikes.
100% winter tire
This dedicated winter tire has been redesigned in this new version to better respond on icy surfaces. The sole, which features new compounds, 3D diagonal sipes and V-shaped blocks, is more flexible and offers a wider footprint. The manufacturer also took advantage of this redesign of a tire that, introduced about ten years ago, has found its place with consumers looking for a reliable, yet economical winter tire, to add dimensions for better market coverage. Additional sizes will also be offered gradually depending on demand.
Jack McClure, Director of Product Development for Sailun Tire Americas, says Canada is a cold country and real winter tires are needed. "There are no compromises to be made. A dedicated winter tire designed to handle the cold will remain flexible and will offer convincing results, especially when braking. In designing the Ice Blazer WSTX, we thought first of all about the safety of motorists, then about its wallet."
Note that this tire is covered by a limited warranty against manufacturing defects and road hazards.