This new tire could be the ideal all-weather solution for many Canadian drivers.
General Tire introduced Canada to their all-new AltiMAX 365 AW tire with an entertaining and informative half-hour online show hosted by SportsCentre anchor, Lindsay Hamilton.
Attended by industry professionals from across Canada (along with media), the March 3rd event introduced our nation to what General Tire believes could be the ideal product for many Canadian drivers.
With everyone in isolation due to the pandemic, General Tire came up with a virtual program that exceeded expectations.
"We knew we wanted to really push this product in the market because we are confident that it will be the best-performing tire in its segment," explains Tina Alessi, National Sales Manager, Continental Tire Canada.
"We usually host two product launches per year but in this current climate, we had to adapt. We wanted to give this product the launch it deserved, so we chose to go the virtual route. Our intention was to educate our partners while making the event interesting and captivating. We think we did exactly that with Outperform."
Typical Canadian families
"According to the latest winter study by the Tire and Rubber Association of Canada (TRAC), 26% of Canadians think that all-season tires are good enough to get them through the winter," Alessi says.
"This is where the AltiMAX 365 AW presents itself as a safer alternative for consumers who avoid seasonal tire changeovers. The AltiMAX 365 AW may sound like the perfect tire but it's always important to understand a driver's lifestyle before making any recommendations."
Alessi recommends tire retailers ask their customers the right questions in order to determine if the AltiMAX 365 AW meets their needs. "Questions such as do they live in temperate regions? How often do they drive? Do they own a set of winter tires?" she explains.
"These are all key questions when determining whether the AltiMAX 365 AW is the right choice for them."
"The development of the AltiMAX 365 AW focused on enhancing winter performance without compromising wet, dry and wear capabilities of an all-season tire," explains Alessi.
"The tire is designed specifically for consumers looking for all-weather convenience and versatility, making it the tire of choice for Canadians, 365 days a year."
And while some Canadians will continue to prefer dedicated winter tires for the cold months, and either summer or all-season tires for the warmer months, this all-weather tire with Three Peak Mountain Snowflake certification will be a welcome option for many consumers and many fleets.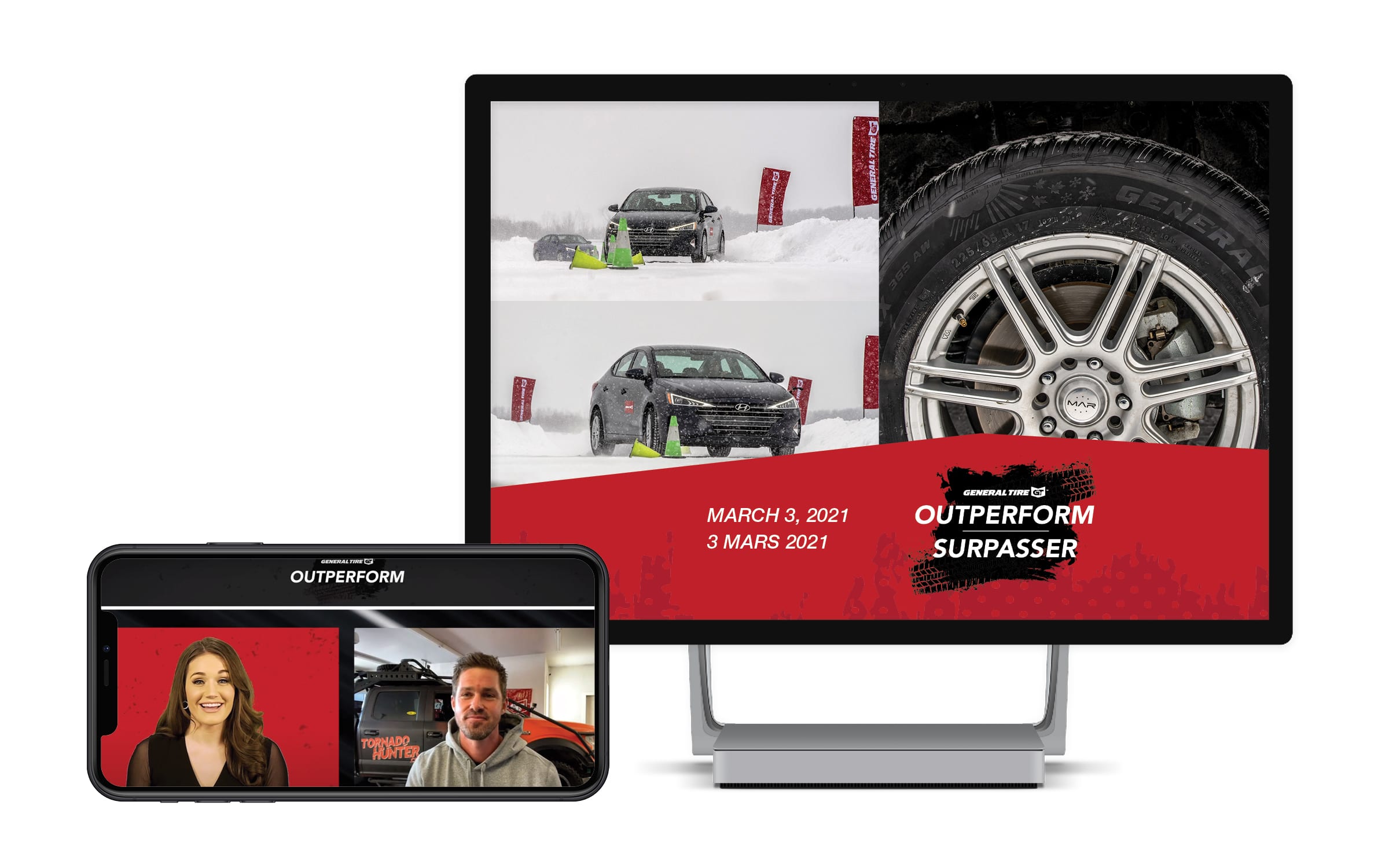 "Let's not forget about the opportunity this tire presents for the fleet business," Alessi adds. "Fleets are always looking for the convenience of one set of tires. With this product, they can have that along with added winter safety."
While General Tire is not saying the AltiMAX 365 AW is ideal for all Canadian drivers, it could be the perfect choice for many drivers especially those who don't normally drive in extreme weather.
Okan Sen, General Tire Canada's Director of Marketing summed up the matter in a recent news release:
"While winter tires are still recommended for harsh winter conditions, the AltiMAX 365 AW is a great option for consumers looking for year-round safety and convenience, in relatively milder winter regions of the country."
Features and innovations
The secret to the AltiMAX 365 AW's capabilities is in the tread pattern. Extensive engineering resulted in a design that makes the AltiMAX 365 AW a true four-season tire.
To maximize grip in the winter, the AltiMAX 365 AW comes with high-density sipes on the side of the tread to boost grip in the snow. The Sinusoidal Siping System improves snow braking and handling, while the interlocking of siped blocks enhances dry performance.
The centre has fewer sipes, which increases lateral pattern stiffness for better dry handling, promoting even wear. In addition, the silica tread compound helps with wet braking and wet performance.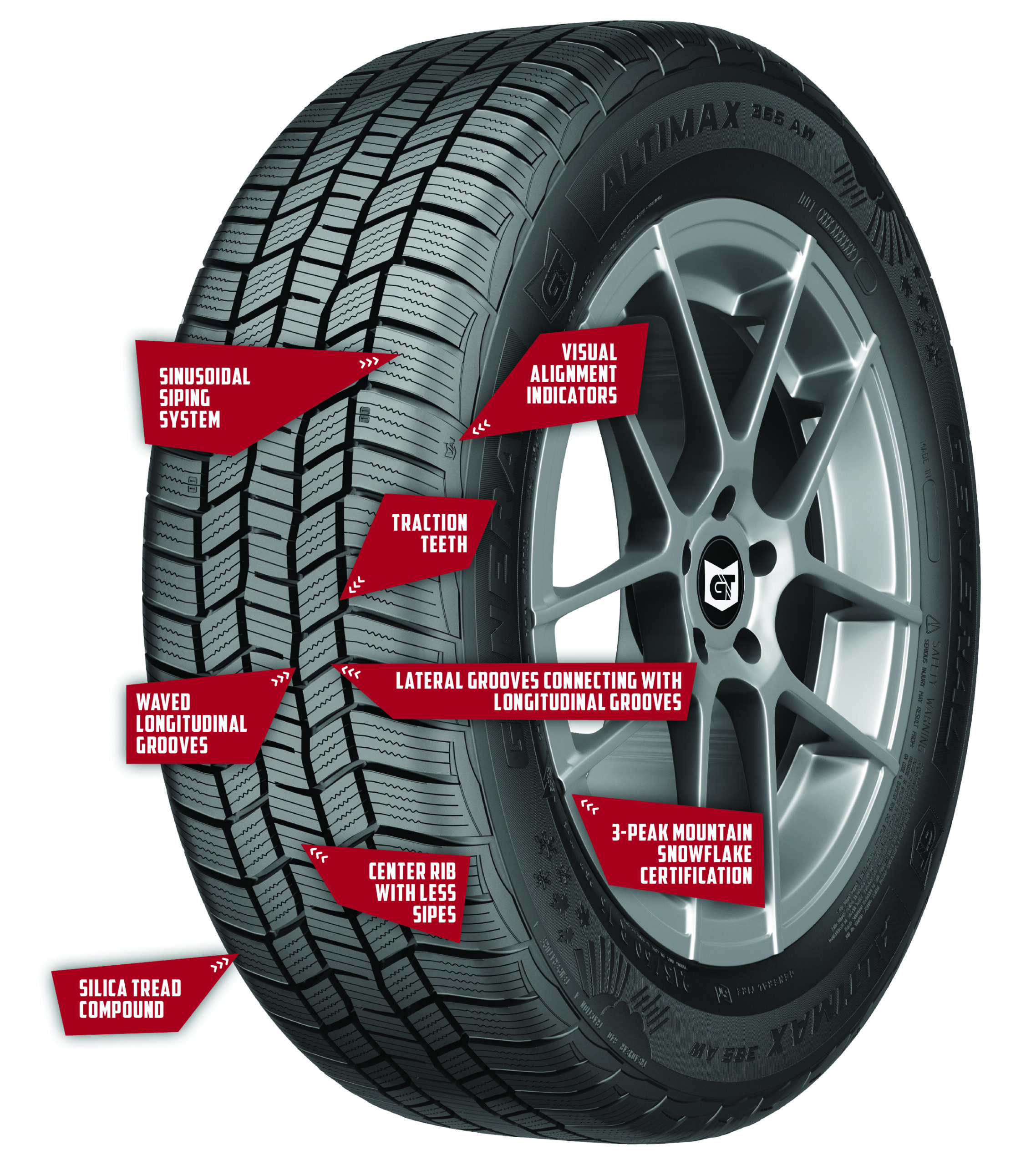 The tire also features General Tire's all-new Traction Teeth technology. These "teeth" offer more bite, creating additional traction in deep snow and slush conditions.
Another key feature is something General Tire calls VAI Technology, which is currently in use on a number of General Tire products. VAI employs visual alignment indicators in order to give consumers a heads-up that their alignment might be off. If one wears down faster than the other, that's an early warning that the alignment needs to be checked.
Finally, wide longitudinal grooves boost hydroplaning performance, while interlocking snow-blocks improve traction on snow-covered surfaces.
The AltiMAX 365 AW is available in 52 replacement sizes (15 – 20 in.) and comes with a 105,000 km limited treadwear warranty for H-rated sizes and a 95,000 km limited warranty for V-rated sizes.
"We stand by our product," Alessi concludes. "With the AltiMAX 365 AW specifically, it comes with a Customer Satisfaction Guarantee, Mileage Warranty and this spring, we are offering an increased $60.00 consumer rebate."