Tuesday, June 21st saw Shad's R&R kick off its 47th event at the challenging and scenic Station Creek Golf Club in Stouffville, Ontario!
And it proved to be a very successful one at that. Brad Shaddick, as Chair of the annual tourney, gave attendees a short history of the event started by his father, Fred and how it came to be named Shad's R&R—the R&R standing for 'remorse' and 'regret' because of the funny circumstances surrounding the original event!! To date, the automotive aftermarket industry totally and collectively comes out on this day to take part in this historic event… competitors play golf together and support the great cause this tournament now represents.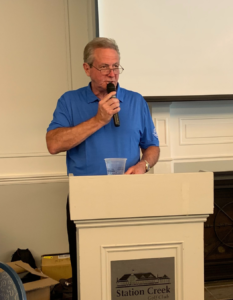 Brad thanked everyone because as he said, after the years of not being able to hold the golf tournament, Shad's Board of Directors was not sure what the industry's reaction would be to the 2022 event. But all sponsors—and some fine new ones—rose mightily to the occasion and the Board was truly overwhelmed by the amazing response to the t2022 Shad's R&R. In fact, more golfers than ever turned out—270 in all, a higher amount than was initially anticipated.
Of course, this event has a greater purpose—it is a charity event, and the chosen charity is the Muscular Dystrophy Association of Canada—a truly great organization that devotes much time and great effort in their work to find a cure for Muscular Dystrophy. To date, Shad's has been one of their largest contributors. As Stacey Lintern, Chief Executive Officer of the Muscular Dystrophy Association of Canada, told me in an earlier interview, "We don't receive a lot of funding for research for neuromuscular disorder—SMA, but to raise money for research is life changing! I hope that explains it in a way that shows it is life changing for our MDC community and we are so thankful for Shad's support!"
The 2022 donation
And Shad's has lived up to this… the Board of Shad's R&R presented Stacey with a cheque for $170,00.00 at this year's event—bringing their total donations over the years to $5,300,000.00! Exceptionally well done everyone!
In addition, a couple of draws—the 50-50 draw raised $3,830 for Shad's and the 7 for 20 draw was the highest amount ever collected from the 7 for 20 was added to the bank balance for next year. The prizes for the 7 for 20 were donated by more than 25 companies, so there were a lot of happy people rewarded for purchasing from the 7 for $20.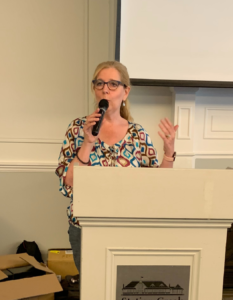 Stacey was on hand to receive the cheque and once again was gratified by the amount raised by this event and thanked all, expressing her gratitude on behalf of her organization saying that this indeed would certainly help them continue in their research as it is so critical. She divulged that they had made headway—they now have three treatments for this type of disorder which has evolved from the research they have been able to do. She also said, "But once there's a breakthrough in this treatment, you can use those learnings for other neuromuscular disorders. The other positive thing is that this treatment is so wonderful and is so effective for this neuromuscular disorder type. We're working with provincial governments and right now in Ontario, for example, every baby who was born in Ontario is now screened for SMA."
Keynote speaker, Dr. Alex Mackenzie spoke on behalf of Muscular Dystrophy and educated the attendees about the disease and their fight to come up with treatments that work and of course, a cure. This is an ongoing situation, and as they say, research is all important and they are so grateful for the contributions that come in from individual donors, companies and events like Shad's R&R. Each gift—no matter the amount—is most welcome.
Many companies helped with this event
Prizes were also awarded—with trophies supplied by Specialty Sales and Marketing. In addition to that, many companies came to the table to sponsor Tent Cards (Matthew Scott Marketing), Golf Goodies (Mevotech, Modern Sales, Robert Bosch), OK Tire sponsored the breakfast and CARQUEST Canada provided water bottles for all attendees. Sponsoring lunch were Bestbuy Distributors, CARQUEST Canada, NAPA Auto Parts, Uni-Select Inc. and VAST Auto Distribution. Dinner benefactors were Continental Ccontitech, Dayco Canada and Gates Canada. And Lordco Auto Parts from British Columbia sponsored the golf carts. What a great contribution from many companies to make this day the success it was and thoroughly enjoyed by all!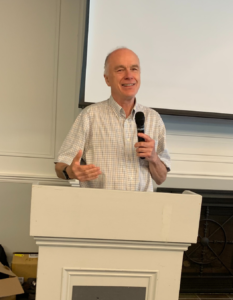 Again, Shad's R&R for Muscular Dystrophy has lived up to their status and come up with a sizable donation to the organization. Well done everyone from Board members—Brad Shaddick, Bill Hay, Mike Fazackerly, Kristine Brown, Andrew Connor, Luc Champagne, Dave Fifield, Scott Stone, Pat Lazzarotto, Steve Gushie, Charlie Grant, Cam Young and Malcolm Sissmore, and all the 'volunteers who helped with the 2022 event! Marilyn James and Samantha Cianfarani were also a very great help to the Board with all the arrangement that had to be made.
As Brad Shaddick says in an email: "Well, another wonderful day and a very successful one, too. I can't thank the Board enough for all their help yesterday. Everyone stepped up and did their duties perfectly. I am so proud to be part of this amazing group!"
This was truly a wonderful day for the 47th SHAD's R&R and Muscular Dystrophy Canada.