Special Industry Leadership discussion touched on EVs, semiconductor chip shortages and changing consumer expectations.
As part of this year's Cox Automotive Fall Expo, a special Industry Leadership panel discussion brought together key industry influencers and decision-makers to highlight current trends happening in and shaping the industry and how to prepare for what's coming down the road.
Moderated by veteran automotive journalist and industry analyst Michelle Krebs, the panel discussion featured Olabisi Boyle, Vice President, Product Planning; Mike Stanton, President of the National Automobile Dealers Association (NADA) and Bill Himpler, President & CEO, American Financial Services Association.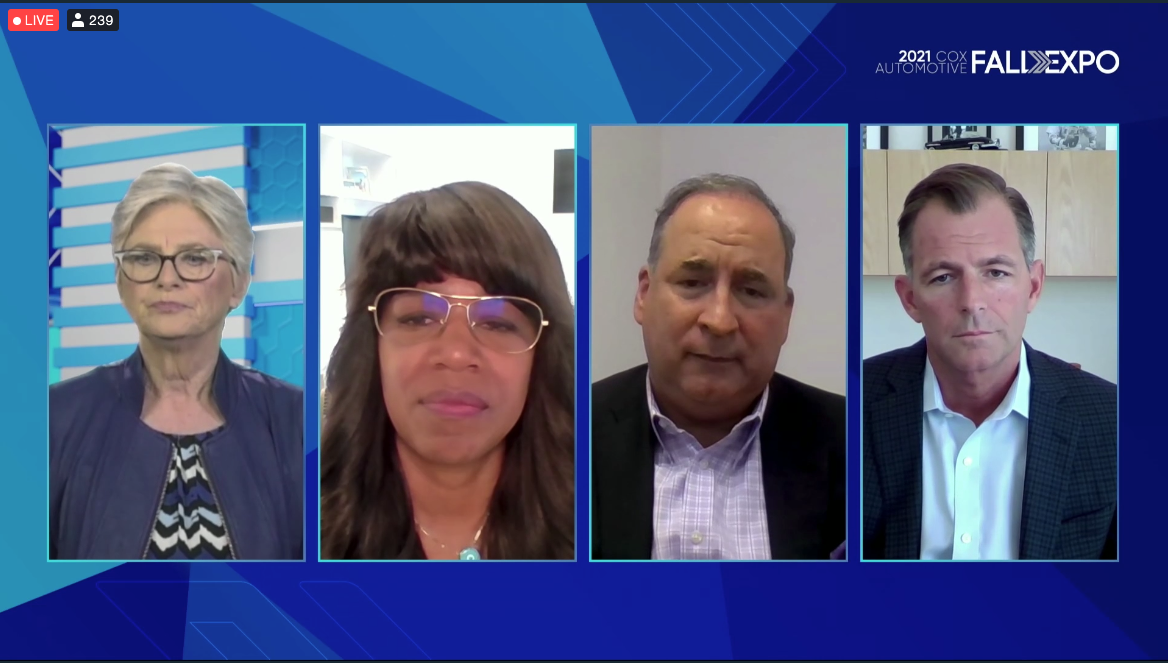 Quick to adapt
The COVID-19 pandemic caused disruption across the board with its arrival in North America last Spring.
Mike Stanton said that as far as dealers were concerned, initially, it was simply a question of trying to figure out how to operate in this new environment, by keeping employees and customers safe.
In some jurisdictions, showroom closures saw some dealers having to furlough large numbers of staff, though, with personal transportation and businesses that support is recognized as an essential service, associations, including NADA, fought hard to ensure dealers remained open for business.
"I'm really proud of our dealers," said Stanton, "but I'm really not surprised. Dealers quickly find ways to adapt and make a situation better and take care of their employees, customers and communities overall."
Stanton was quick to point out that dealers have embraced digital technology for quite some time prior to the pandemic and while it is now possible to conduct a vehicle sales transaction completely online, most customers still want to visit the dealership, talk to somebody one-on-one and physically test drive the vehicle they are thinking of buying.
Olabisi Boyle noted that from an OEM perspective, with many disruptions occurring simultaneously over the last 18 months, it has been a challenging time.
From the COVID pandemic to semiconductor chip shortages hampering vehicle production and supply, along with pent-up demand and new buyers in the market, along with the current focus and push toward electric vehicles, all of it has required significant changes in the way business is handled.
New training requirements for dealers, readiness plans for EVs and finding ways to mitigate the current supply/demand imbalance have all been key priorities.
Boyle was quick to acknowledge the adaptability of dealers to this new environment, from new policies and procedures, as well as new online solutions such as shoppers' assurance and click-to-buy offerings that incorporate shop from home and remote, test-drive options.
Boyle said that Hyundai had seen online transactions reach almost 24 percent of total sales volume over the summer.
She explained that the adoption of these digital and virtual technologies will have long-term implications far beyond the vehicle transaction itself.
Boyle said that OEMs and dealers are learning to adapt quickly to changes taking place within the automotive industry, providing solutions that consumers both want and need.
Constantly in flux
On the lending side, Bill Himpler said that in terms of the overall economic environment, trying to understand the impact of market disruptions in the financial services sector, whether stimulus payments, financial aid for businesses or supply chain disruptions, it was still very difficult to gain an accurate view on true market conditions, because things remain constantly in flux.
Such an environment makes it challenging for lenders to plan, whether it's staffing, technology, investments or partnerships.
Himpler noted that on the financial side, rising inflation is a real concern at present and the lack of action taken by the Federal Reserve and the Biden Administration could make things problematic down the road.
On the other hand, Himpler noted that the job market remains fairly robust at present, which should minimize the risk of loan defaults, even though, that with government stimulus programs winding down there has been an uptick in default rates.
Overall, however, the rate of loan defaults is still historically low.
The pandemic has seen many lenders, as well as OEMs and dealers, step up and help their customers navigate through these trying times, while different approaches to work environments regarding employees have seen the financial services industry work with state legislators to optimize remote working practices will complying with their expectations.
"Overall," said Himpler, "I think we [as an industry] have done well."
Supply and demand
Regarding the current inventory shortage that has impacted numerous OEMs and dealers, Olabisi Boyle said that in Hyundai's case, a decision to not reduce semiconductor chip orders globally has resulted in the automaker weathering the chip shortage fairly well.
That said, Hyundai has still felt the impacts caused by the overall supply shortage, though is looking to stronger Q4 sales.
Boyle said that in a situation like this where demand and supply are lopsided, it becomes critical to effectively monitor and manage demand.
She stressed the importance of flexibility down to a daily basis.
"Sometimes you don't which components you are going to receive on a certain day," said Boyle.
Therefore; it's critical to monitor supplies on a daily basis and adjust production plans accordingly.
One way to help mitigate disruptions in the supply chain is by locally sourcing parts for vehicle manufacturing as much as possible, something she said, Hyundai is focusing on at present, as well as diversifying the supply chain and working with multiple partners to source semiconductor chips and other key components.
On the plus side, because demand is currently strong, there are good margins available to dealers which for OEMs, provides an opportunity to support their dealers not only with existing inventory that's available but what's coming down the pipeline.
On the financial side, Hyundai, in partnership with Hyundai Capital has added a pre-order and pre-qualification program that allows consumers to take advantage of current and or future financial incentives when their pre-ordered vehicle arrives.
Getting creative
Mike Stanton acknowledged that the current supply/demand issues in the automotive sector are proving frustrating for everyone, whether it's OEMs, dealers, vendors, lenders and consumers.
"Dealers love selling cars and moving products and they thrive by making customers happy," he said.
In the current climate, however, such a scenario is increasingly difficult since it is much tougher to find the exact vehicle a customer is looking for.
In order to get around that dealers have had to become creative, by selling inbound vehicles, finding new ways to source used inventory and placing more emphasis on fixed operations.
"We know the situation will even out eventually," said Stanton "and in the meantime, we will do what we can to take care of our customers."
Regarding "optimal production," Bill Hempler explained there is the question of what that will actually look like and for lenders, this is a critically important business risk.
"We're still uncertain about the true conditions of the market," he said.
With the reduced inventory the industry is currently facing, however, along with the introduction of more EVs to the marketplace, Hempler noted that OEMs, dealers and lenders have, moving forward, a "real opportunity to re-set the customer experience," providing them with the car they want, the way that they want it."