DesRosiers Automotive Consultants partnered with the Used Car Dealers Association to see what impacts the ongoing pandemic and the supply-side microchip issues have had on the used vehicle market.
Nearly 500 UCDA members—including independent used vehicle dealers, and the used vehicle operations of franchised new-vehicle dealers—responded to our survey and offered their take on what the first half of 2021 had brought.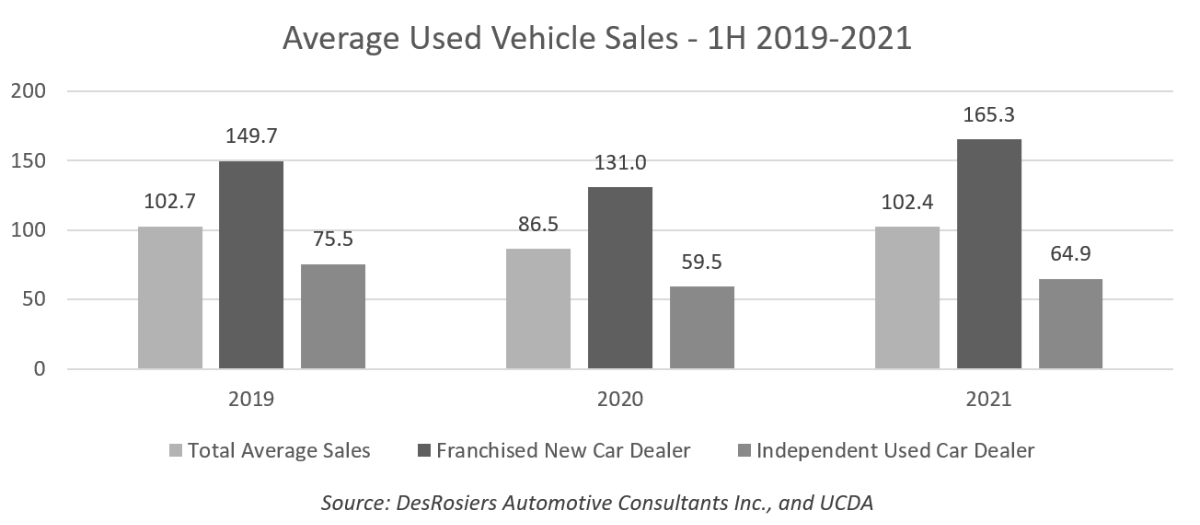 The used vehicle market outperformed the new vehicle market in 2020, but the first 6 months of 2020 were nevertheless difficult for the used vehicle dealer community.
Respondents indicated that average sales in their stores fell from 102.7 units in the first half of 2019 to 86.5 units in 2020.
However, this average sales figure bounced back to nearly the same pre-pandemic levels—102.4 units on average—in the first half of this year.
Of note, new car dealers exceeded their 2019 sales volumes while independent used car dealers noted a smaller recovery – a dynamic directly related to access to vehicles in a market where demand often exceeded supply.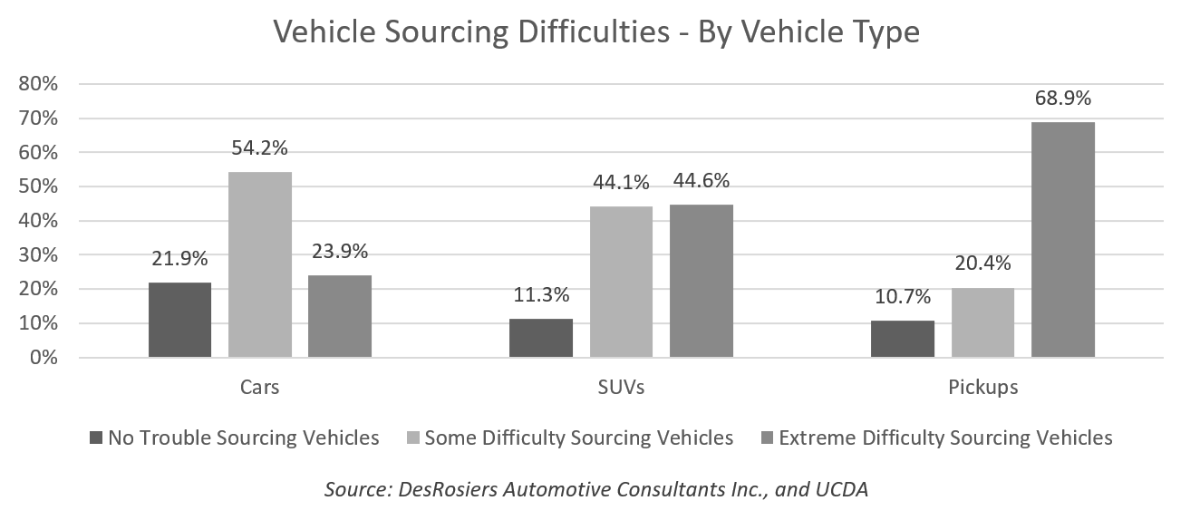 Ongoing supply issues facing both new and used vehicle dealers were a topic of particular concern in the first half of 2021 with dealers noting extreme difficulties sourcing pickups and SUVs.
Comparatively, passenger cars were easier to get hands-on although difficulties were present there as well.
In terms of age groups, younger vehicles—both 1-3 and 4-7 years old—were unsurprisingly harder to source than older vehicles.
Among the surveyed dealers, only 6.2% noted overall price decreases for their used vehicles.
The largest category—at 38.3%—cited average price increases of eleven to twenty percent.
On the more drastic end, 18.2% of respondents cited price increases in excess of twenty percent.
"The sentiments of used vehicle dealers paint a clear trend for the first half of this year, " commented the Managing Partner of DAC.
"Although sales volumes bounced back, limited supply led to clear increases in the prices of used vehicles as demand spiked and vehicles continued to flow south across the border."