In a study about automotive industry consumers, the firm Deloitte draws a portrait of new vehicle purchasing trends in Canada.

Their recently released study is based on the results of a survey completed by more than 1,000 Canadian driving-age participants in online focus groups.
Comparing the results of the same survey conducted over the past three years, the report highlights that consumer interest in internal combustion engine (ICE) vehicles are returning.
This trend can be explained in part by the financial concerns that have arisen since the beginning of the COVID-19 pandemic. For example, in 2020, 46% of respondents wanted their next vehicle to be a gas or diesel vehicle, while in 2021, this percentage has risen to 59%.
The remaining 41% of consumers who are considering switching to electric, hybrid, natural gas or hydrogen vehicles are doing so, for the most part, to save on fuel and maintenance.
Environmental concerns are also part of this thinking, as well as the possibility of taking advantage of government incentives or enjoying a new driving experience.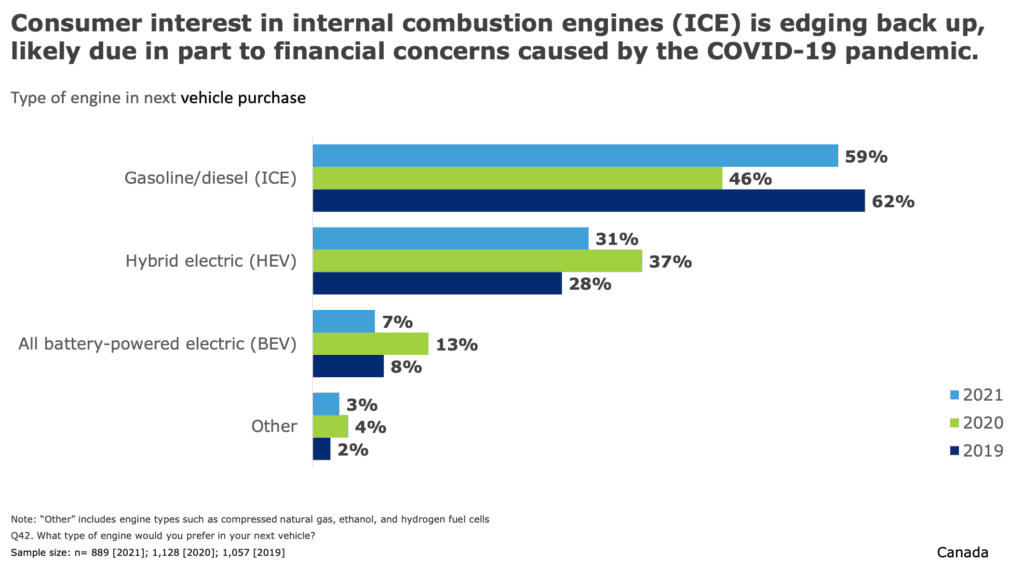 Areas of concern
However, some concerns remain in consumers' minds about electric vehicles. Firstly, the autonomy, followed closely by a higher cost.
27% of respondents are still concerned about the range and 25% by the higher price compared to a gas-powered car.
A significant percentage of consumers are also concerned about the accessibility of public charging stations and the time needed to charge their EVs.
The Deloitte study also indicates that 77% of consumers want to pay less than $50,000 for an EV and regret the lack of supply in this price range.
The majority of future electric vehicle buyers, 74%, rely on charging at home, with only 22% considering charging at public charging stations. A small 4% consider charging at work, at a charging point made available by the employer.
Doubts surrounding autonomous vehicles
The study also reveals that consumers have serious doubts about the safety of fully autonomous vehicles.
Almost half of the respondents believe that these vehicles will not be safe. Consumers also fear the dangers of their connected vehicles being hacked with almost 60% of them expressing concern.
However, wireless connectivity technologies makes next-generation vehicles more attractive to 44% of respondents.
Deloitte also asked participants how important advanced driver assistance and comfort technologies are to them.
In order of importance, consumers consider important or very important:
Blind-spot detection
Heated or cooled seats
Automatic emergency braking
Integrated navigation system
Physical control buttons
Lane departure warning
360º view camera system
Adaptive cruise control
Dual-zone automatic air conditioner
Integrated wifi
Electronic parking assistance
Apple or Android interface
Remote software updates
Semi-autonomous driving mode.
Financial support
When it comes to financing, the study found that the three most important factors for buyers are the lowest possible rates, a simple payment process and a flexible loan account.
It should be noted that younger consumers are more interested in digital account management. They will also be interested in carrying out the transaction via a website or mobile application.
However, the majority of consumers over 55 years old will prefer to speak directly with an agent.
The lack of transparency in the funding process, the complexity of terminology, the waiting time, the need to share personal information as well as the necessity to fill in paper forms are also identified as irritants in this process.
Shift in habits
The pandemic also had an impact on the decision to delay the purchase of a vehicle in all categories. A quarter of respondents said they intended to postpone their purchase.
The financial uncertainty caused by the pandemic would cause 12% of consumers to reconsider buying a cheaper, smaller or more fuel-efficient vehicle.
Social distancing has the effect of causing 14% of all respondents to consider buying a personal car.
Although there is a growing trend for consumers to shop virtually, respondents expressed that they are still eager to see and test drive a vehicle before purchasing it.
For example, 80% say they want to see the car, take it for a test drive (67%), to negotiate the price in person (46%) and to have someone they can ask questions to (43%) before closing the deal.
The same percentage of respondents (43%) said they were reluctant to make such a large transaction online.
Almost a quarter of respondents also expressed a desire to establish a relationship with the dealer in the event of a problem or in order to schedule maintenance on their vehicle.
In short, 13% of consumers say they would buy their next vehicle without trying it out, which may still seem like a high percentage.
Respondents were also asked about their openness to a subscription service, allowing them to change vehicles periodically.
About one-third of respondents aged 18-34 would like to be able to change their vehicle on a regular basis to a different used car, a different make of car or a different model within the same brand.
In the 55+ age group, on average, less than 15% of respondents are interested in the exercise.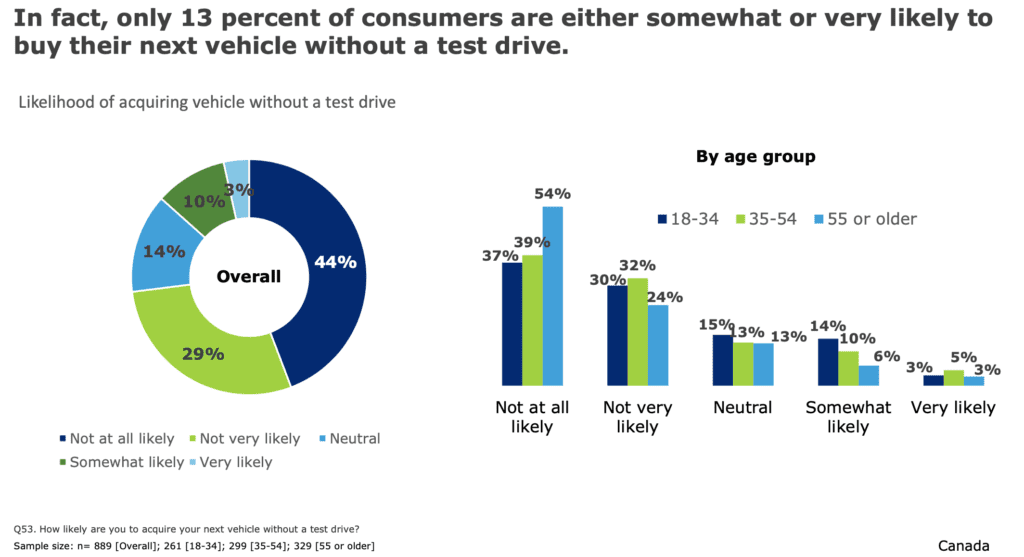 Brand loyalty
The final part of the questionnaire focused on consumer loyalty to a brand or dealer. Overall, when making their next purchase, 36% of respondents would trust the dealer where they bought their last car.
Respondents also demonstrate a certain attachment to the brand as in 21% of cases they would buy a vehicle from the same manufacturer.
Consumers also showed an interesting level of confidence in the dealer who is currently servicing their vehicle, at 19%.
All of these factors combined suggest that three quarters of consumers would be loyal to the dealer they have dealt with in the past if they were satisfied with the vehicle and the services offered.