New ultra-high-performance models combine power and exclusivity. 
It was perhaps fitting that, Cadillac choose the day after the 2021 Rolex 24 Hours of Daytona to unveil its latest V-Series Blackwing models, the 2022 model year CT5 and CT4.
These new Blackwing editions follow in the illustrious footsteps of their predecessors, such as the legendary CTS-V and feature powerful engines, track-ready suspension and rolling stock, while at the same time boasting luxury appointments not out of place in a premium condominium.
Most powerful ever
The CT5-V Blackwing sports a hand-assembled and individually serialized 6.2-litre supercharged V8 that cranks out 668 horsepower and 659 lb-ft of torque—ranking it as the most powerful production Cadillac ever built.
Its smaller brother, the CT4-V Blackwing, comes equipped with a 3.6-litre twin-turbocharged V6, that generates 427 horsepower and 445 lb-ft of torque.
In a rare but happy turn for a modern performance car, both the new Blackwing models come standard with a TREMEC six-speed manual gearbox, though a 10-speed automatic transmission is optional for those who prefer the shifting done for them.
On manual gearbox models, a stout twin-disc LuK clutch handles each engine's considerable torque capacity while allowing the driver to shift gears without needing bodybuilder thighs.
Manual gearbox equipped CT4 and CT5 V-Series Blackwing models also sport Active Rev Matching that allows the driver to automatically adjust engine speed to match downshifting, while a No-Lift shift feature also allows them to change gear without lifting their foot off the accelerator.
Multiple modes
Automatic equipped models boast unique calibrations with multiple modes including Sport, Dynamic Performance (for track duty) and a manual shift mode that allows the driver to select the gears using steering wheel-mounted magnesium paddles.
To support extended high-performance use, a transmission and rear differential cooler are fitted to all CT4 and CT5 V-Series Blackwing models, whether equipped with a manual gearbox or automatic transmission.
Other high-performance touches include monster brakes, with those on the CT5 V-Series Blackwing being the largest ever fitted to a Cadillac production vehicle (the front rotors measuring a staggering 15.67-inches in diameter).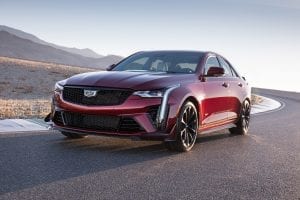 Both new Blackwing models also feature chassis and suspension enhancements, including fourth-generation Magnetic ride control and are designed to be track-ready right out of the box.
Functional aerodynamic aids and specially developed Michelin Pilot Sport 4S tires are designed to keep the CT5 and CT4 V-Series Blackwing editions glued to the tarmac, whether it be racetrack or road.
Unique appearance
Besides the special performance features, both Blackwing models feature unique main and secondary grilles, as well as body panels, rocker extensions and front and rear splitters.
Inside, a thick sports steering wheel and unique lightweight seats designed with maximum lateral support are designed to maximize both ergonomics and driver comfort, while technology features, including a standard 12-inch diagonal HD configurable instrument cluster that offers multiple display options, along with a special version of the Cadillac user experience infotainment system and onboard performance recorder are also included.
Both the CT5 and CT4 V-Series Blackwing models go on sale in late summer 2021.