Robert Camerlain is definitely an antique car enthusiast. His constantly evolving collection is a series of favorites.
The Mirabel retiree bought his first antique car when he was only 18 years old, a symptom of an early passion. It was a 1940 Ford Coupe with a manual transmission powered by a muscular engine.
Businessman owner of a hardware store and a window and door factory, it is around the year 2000 that he started to find more time to devote to his passion.
"Originally, I wanted to get my hands on a first-generation car, the legendary Ford Model T," says the collector. But, as sometimes happens, while visiting a show, a 1930 Ford Model A Tudor caught my eye, and I bought it."
A rotating collection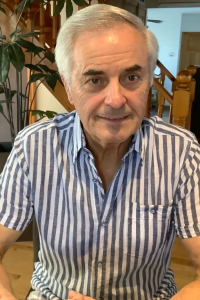 No matter, his wish would be fulfilled afterwards as he got his hands on a dozen Model T's over the following years. Let's mention right away that to acquire the object of his desire, Mr. Camerlain regularly rotates his collection. He will sell some models if the offer is interesting and even in some cases, will simply exchange with another collector. In total, about fifty beautiful cars from the past have gravitated to his collection.
To find the coveted model, the collector spares no effort. He once flew to Texas just to see a car he was interested in.
Camerlain is most interested in Ford and GM vehicles, where parts are more readily available. "I like to acquire cars in near perfect condition," he explains. "However, I do have a workshop where I have restored a few. I also do maintenance on my vehicles, as they don't sit behind a window and I like to get them running as soon as spring returns."
Indeed, between his two large garages where he stores his rare gems, the retiree has set up a workshop where he can do the necessary maintenance. Operations made easier because the mechanics of these cars are much simpler than on today's models.
Museum pieces on the road
In order to make these rides and visits to the antique car shows he was interested in more recent models, offering more driving pleasure. We are talking about the period from the 1950's to the 1970's where classics such as Corvettes or Thunderbirds figure prominently.
When we ask him which car remains his favorite in his mind, his answer is simple. "They are all favorites. I'm not in a hurry and sometimes I'll pass up a beautiful opportunity because it's not the color I want."
Member of the association Voitures anciennes du Québec, Mr. Camerlain carefully chooses the shows he wants to participate in and takes great pleasure in selecting the car he will present. "If I charged five dollars for every picture visitors wanted to take of my cars, I would make a lot of money," he says humorously.
And his wife, who also loves these cars, doesn't mind getting on board during these expeditions where both of them can meet as many enthusiasts as they do.