Analyzing electronic data on vehicles before and after they are repaired is becoming common practice. Let's see what analyzers are available to perform this task.
Michel Julien is an important reference in this field as he works closely with collision shops to help them assimilate this new diagnostic technology. For him, several analyzers (or commonly called scanners) do the job well, but the most important thing is to have a recent and updated device on hand.
He also recommends having a PC computer in the shop that is dedicated to analysis. This computer will be the gateway to interpreting anomaly codes detected during analysis and to the repair processes of car manufacturers.
According to Julien, the shop would have to invest about $3,000 for the purchase of a good analyzer and monthly payments of $150 for the database code interpretation platform. As he explains, the objective is to note the condition of all vehicle systems before submitting the estimate to the insurer.
He has set up a specific training session on this subject to help collision shops put together a complete file based on the analysis. Regarding the necessary equipment, there is no need to invest in a printer for these operations as all operations are now digital.
Some solutions
On the vendor side, several solutions are proposed.
"In terms of equipment recommendations, ALLDATA offers a complete solution in this area," says François Latendresse, Director of Business Solutions for this supplier.
"That is to say: a high-performance scanner in terms of the number of vehicles covered (updated several times a year to cover the latest vehicles), speed of execution and ease of use. With one click, the scanner identifies the vehicle, analyzes all the modules and produces the report in less than a minute, in most cases."
"All that's left is to identify whether it's the "pre" or "post" scan, and the email is sent through the scanner. No need to save and send with another email application. You can even do it from an Android smartphone (soon on Apple too)," Latendresse notes.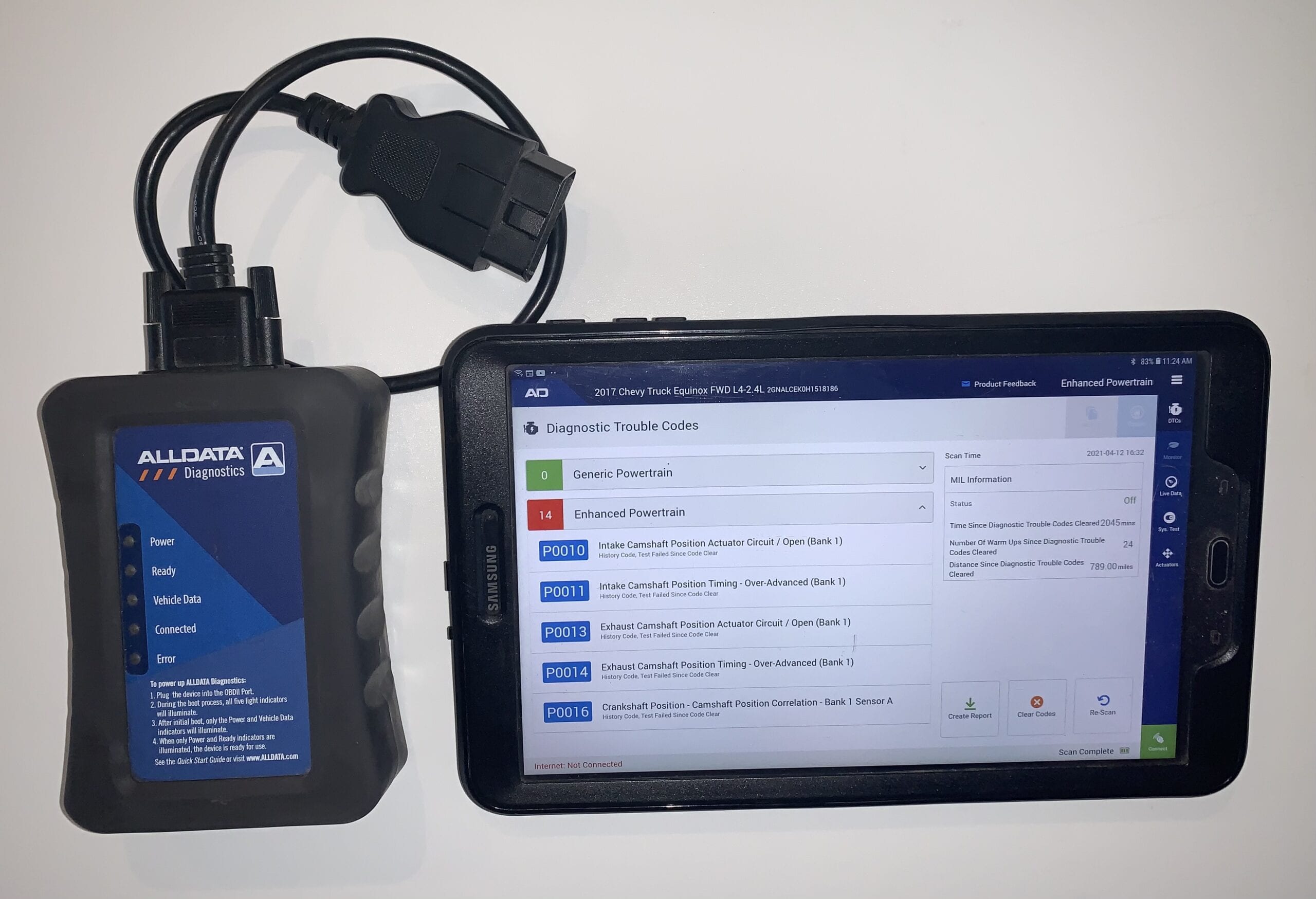 Technical support
This scanner also offers several calibration functionalities for various electronic systems. If there are any anomaly codes, ALLDATA collision is integrated into the scanner. Freeze frames and additional code information can be viewed to determine if the problem was present before the collision or not.
The technician can see the definition of the code and the diagnostic procedure. For less experienced technicians, ALLDATA also offers diagnostic support by certified technicians.
At Autel, which offers the Autel MaxiSYS MS906TS scanner, Daniel Bemiss, Director of Marketing, explains that the capabilities of this device make it stand out in the market.
"This scanner is recommended as an affordable, yet very versatile solution for pre and post-scanning in the shop. To push further and identify needed calibrations on ADAS systems, I recommend the more powerful MS908 or MS909 / MS919 tablets."
As Bemiss mentions, it was common practice in the past for a shop to present a diagnostic report to its customer or insurer indicating that repairs had been completed. Over the past six years, he has found that the need to document work has completely changed the industry's processes.
As a result, Autel has upgraded all of its MaxiSYS analyzers to include pre-and post-scan applications. The interface was also developed to transfer the data to a tablet or into the shop's computerized management system for easy record creation.
Identifying ADAS
For Bemiss, it's important that the analyzer accesses software that will identify all modules related to driver assistance systems, as Autel offers.
"The technician must know which systems are found in which model of vehicle, giving them a global picture of the repairs and calibrations to be done, without forgetting. "
The next step, of course, is to get those sensors back in shape before giving the keys back to the customer. As he points out, these calibrations are made easier because the analyzer will have already detected the nature of the modules involved and will present the calibration processes.
Jean-Luc Sauriol, Senior Vice President of Business Development at asTech, has always been involved in the world of electronic diagnostics. He confirms that analyzers such as those offered by Autel, Launch and Snap-On are currently very popular in the collision shop market.
However, he notes that cars that come into the shop which are less than three years old most likely require an OEM scanner to do the job.
"I've noticed that since 2018 several manufacturers have implemented safety gates to prevent aftermarket tools from accessing certain modules. In 2021, this is becoming an increasingly common practice."
Tightening access
According to Sauriol, access to a complimentary support service sometimes becomes essential.
"The use of after-market scanner does not indicate whether the scanner has performed a complete coverage of all modules. AsTech services are becoming more and more indispensable with new technologies. This allows all modules to be scanned to get a complete estimate and perform calibration, initiation, coding and module programming tasks as needed."
"The adasThink software is also interesting, because it gives any necessary operation according to the estimate, calibration, relearning, and alignment according to the parts to be replaced on the estimate," he says.
AsTech offers a turnkey remote service of scanning, calibration, initialization and in some cases, programming of modules using original scanners and specialized technicians.
In short, regardless of the choice of tool, the operation still requires solid technical knowledge, rigour and, if necessary, a technical service offering a helping hand.