Supply chains and availability are improving, but many uncertainties remain.
There's no question that 2023 has so far, been rather unpredictable. Sticky inflation, high interest rates, supply chain disruptions, and fears of an impending recession—all have been weighing on the minds of business owners, including the transportation sector. 
In this article, we wanted to examine what's happening in the tire distribution channel, from the manufacturer, distributor, and retailer perspective. 
Looking for savings
When times are uncertain, there is a tendency for both businesses and consumers to look for cost savings. In the tire sector, it's one reason why value-oriented brands like Sailun have been gaining traction in the marketplace. According to James McIntyre, Vice President Sales, Canada, Sailun Tire North America—while consumers might be more price sensitive, they still want a tire that performs and delivers premium quality. 
Additionally, as more and more vehicles come from the factory with larger diameter wheels, there's been an increase in demand for 18 and 19-inch fitments. "We're seeing this, even on something as mainstream as a Toyota Corolla," says McIntyre. "Not too long-ago replacement tires for these vehicles were typically 15 or 16 inches—it wasn't uncommon for 80% of shipments to be 16-inch tires. Today those same replacements are far more likely to be 17 or 18 inches and more performance-oriented, with shorter sidewalls. When we look at the top 15 most popular size of passenger vehicle tires today, there's only one 15-inch option among them."
Crossover demand
Not only has this trend been driven by vehicle OEMs leaning toward sportier mainstream offerings, but also the huge surge in demand over the last several years for crossover utility vehicles, many of which also boast increasingly larger diameter wheels and tires. 
On the retail side, Phil Shaw, General Manager for Ontario and Manitoba stores at Fountain Tire, notes that while demand for tires has remained fairly consistent over the last few years, supply interruptions and shipping costs have driven up prices significantly. With that said, conditions have stabilized in 2023, meaning shipping costs have ebbed and tire manufacturers have realigned pricing, easing the pressure on retailers.
Shaw says he's seen a shift in consumers wanting to obtain the best value for their money when it comes to tires and notes that in the Canadian marketplace, it's the sales of mid and lower-tier products that have been growing the most in recent months. 
"Customers are searching for the best deal, and we are running promotions to make sure we remain competitive in this tight market," explains Shaw. He notes that Fountain Tire's message to consumers "We're on this road together," is most definitely resonating. "It really is about offering a range of options and price points to help meet our consumers' needs and budgets."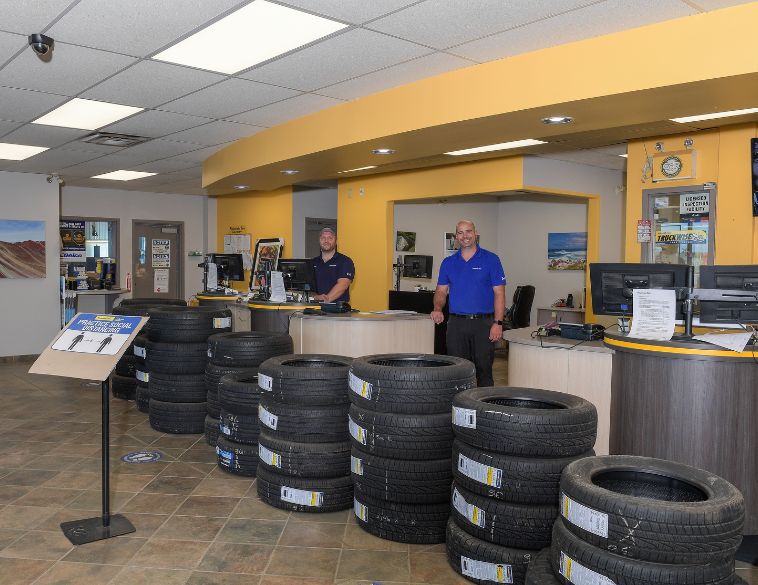 Busier than ever
At the store level, Jason DiBartolo, Owner/Manager at Fountain Tire Winnipeg (Henderson Highway), says his store has been busier than ever this year. "We've been able to keep up with demand for standard fitment sizes and popular movers," explains DiBartolo, but notes that a large part of that has been made possible by careful and early forecasting.
"We work with Fountain Tire's corporate office and our supplier partners that have data-driven forecasting tools to help us build our stocking strategy," he says. However, we're still finding a challenge accessing some high-performance and specialty tires. If a unique vehicle comes in, we might have to wait for the product. That's the case for some parts on the mechanical side of our business too."
DiBartolo's sentiments are shared by Jordan Fraser, who owns and manages Fountain Tire Calgary (Crowfoot). While he's seen improvement when it comes to supply chain disruptions, "some brands are still difficult to find. Nevertheless, diligent forecasting and the ability to order product well in advance has paid dividends. "We've not run into major inventory issues," says Fraser. Furthermore, customers have been pleasantly surprised. "Many consumers are still thinking that there is a shortage of tires, so it's been good when we're able to show them we have more tire options available this season".
Nonetheless, customers looking for specific types of tires, such as UHP products, are still finding it harder to get what they want, due to low inventories among suppliers and manufacturers. "Some sizes of tires had only one or two sets available this year in total," says Fraser. "Luckily, we have a strong network and partnership philosophy at Fountain Tire and we're able to call on our distribution centres and other stores to source hard-to-find products.
Shrinking lead times
On the distribution side, David Pulla, Vice President, Sales at Dynamic Tire, says he's seen lead times from manufacturers shrink over the last year. "We're a value tier specialist, so our product is coming from overseas, but we're seeing plenty of production capacity and shorter lead times."
Yet while speed to market has improved, there are still challenges. "Although inventory levels are much healthier, there is still a hesitancy in ordering product," notes Pulla. A delayed spring tire season, and a reluctance from some dealers to place orders, including for the upcoming winter tire season has added complexity. Nevertheless, Pulla is cautiously optimistic. "The fall season will soon be upon us and being well-prepared for it is essential. From our side, we're providing dealers with production capacity and lead times. Ocean freight logistics have been improving and timeframes continue to compress. We're doing everything we can to inform [our customers] as to when the tires based on their orders will arrive—and making sure we provide the best recommendations possible."