Quintessentially Canadian, these tire professionals understand the market and the needs of the Canadian consumer.
What do you get when you bring a team of seasoned tire industry professionals under one roof, and ask them to develop tires that cater to the specific needs of the Canadian market? Sailun Tire Americas (STA).
Headquartered in the Greater Toronto Area, the STA team has a combined 305 years of Canadian automotive and tire industry experience. When it comes to understanding the market, the tire retailer, and the end user, these professionals know what it takes to bring a quality product to market while helping all stakeholders, including retailers, succeed.
Sailun tires are manufactured in state-of-the-art facilities in a number of Asian countries. James McIntyre, VP, Canadian Sales for STA is quick to point out that many tire brands make tires in Asia.
In fact, many quality products are made in Asia. The same can be said about STA. "Like many other tire companies, we have manufacturing facilities in Asia," McIntyre says.
"But all our design and engineering work is done here in North America. We have offices in the States and in Canada, and when we identify a need in the market, our product development team, which is based here in North America, will look at the opportunity and see if it's an idea that will work here in Canada."
STA's product development team, which includes five individuals with a combined 148 years of experience in the tire industry, is responsible for developing, designing, testing and expanding the products that are specifically engineered to meet the demands of the Canadian market.
They work together with STA's retail partners to develop and produce tires that meet current and future demands within the Canadian marketplace.
"Our team is focused on designing and developing tires for our market alone," McIntyre adds. "Whereas some tire companies might have a team that needs to design tires for all global markets, we are focused on Canada and the United States."
Industry-specific talent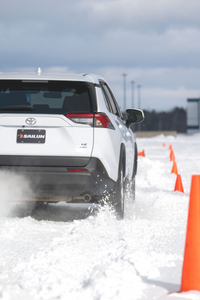 What sets STA's team apart from many others is the fact that each team member has a very tire-focused resume.
"We understand the Canadian landscape, we understand the tire industry, and we're all tire enthusiasts," explains David Pulla, Manager, National Sales – PLT for STA. "We have all worked our way up through the ranks in different channels throughout the tire industry, which means that we have a full grasp on the industry that we're selling into, and that we're developing products for."
You won't find any former furniture designers or appliance engineers working as part of STA's core team. Rather, STA's leadership team has recruited and hand-picked individuals from other parts of the tire industry to join the STA family.
That leadership team includes two veterans, Peter Koszo (CEO) and Ron Dolan (President), with a combined 65 years of experience in the tire industry.
STA was established 10 years ago, and with their leadership and vision, the company continues to build and expand their customer base, which now includes almost every major retailer in Canada.
Not selling toothpaste
The passion the STA team has for the tire industry is nicely summed up by Mark Pereira, Director of Marketing – North America for STA. "I could've been marketing toothpaste last year, but that's not my passion," Pereira says. "Tires are my passion, and I've been marketing and promoting them for almost 20 years now."
Pereira is part of STA's marketing and communications team, which is challenged with promoting the many tire brands that are part of the STA family of products. Each brand (including Blackhawk, Rovelo, RoadX, Ironhead and of course, Sailun), has its own voice, unique product lineup and retail network.
The five members of the marketing and communications team have a combined 35 years of automotive and tire industry experience. "The one thing that all STA brands have in common is great performance at an unbeatable value," Pereira adds. "Our job is to communicate that value to Canadian consumers, and to help our retail partners succeed in today's competitive marketplace. We understand Canadian consumers and we try to over-deliver on affordability and value, especially now as we head into a tougher economic climate. Why should consumers spend more when they don't have to?"
Made for Canada
Every STA tire sold in Canada was specifically made for Canada. That's the message the three-person STA sales team, with a combined 57 years of experience, is working to drive home with both Canadian retailers and Canadian consumers.
The sales team, which is lead by James McIntyre and includes David Pulla and Derek Diette, Manager, National Sales, TBR continues to increase STA sales and market share as STA partners with some of the most well-known retailers and established distributors across Canada, from coast to coast.
"We do manufacture overseas, but so does almost everybody else," McIntyre adds. "The difference is the fact that our product planning, our sales support, and our marketing is custom-tailored for the Canadian market. What sets us apart from other manufacturers is that all our people are on this side of the pond, and we are here to support all our dealers."
With more than three centuries of combined experience under their belts, and with multiple brands under the STA umbrella, the common denominator that brings all the products together is the fact that all the engineering, the design, the sales, the marketing and the support is done in Canada, and for Canadians.