Kumho Tire will supply Crugen EV HP71 as an OE (Original Equipment) to Volkswagen's pure electric SUV model 'Volkswagen ID.4'. There are four detailed specifications:
Volkswagen ID.4 is dominating the global market by ranking first among European-branded electric vehicles (as of 2022) in 10 major European countries, including Germany, thanks to its high price competitiveness and superior marketability in the semi-medium SUV market. In the ID4, there are 4 detailed specifications—235/55 R19, 255/50 R19, 235/50 R20, and 255/45 R20.
Kumho Tire's CRUGEN EV HP71 is a high-performance premium comfort SUV product that has been renewed to suit electric vehicles. EV optimal compound, including high-dispersion precision silica, was used to maximize ride and braking performance. Additionally, CRUGEN HP71 EV improves driving stability by significantly improving wear performance and braking power compared to other products.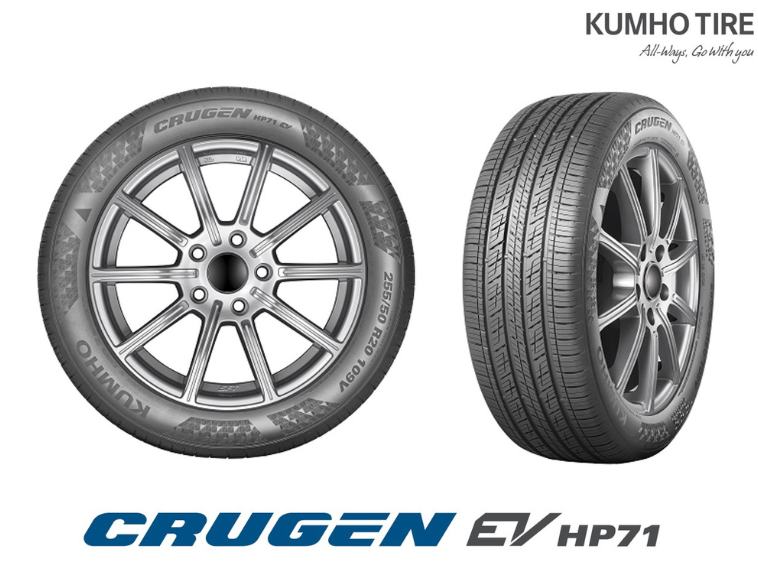 Tire noise reduction
In particular, it applied a tire noise reduction technology that distributes noise generated from tire grooves by a design called 'dimple' design. It was developed using a pattern design analysis system.
"The supply of electric vehicles is increasing as automakers aim for full carbon neutrality. Kumho Tire is also striving to supply tires for cars that can maximize electric car performance," said Insoo Kim, Senior Vice President of OE Sales at Kumho Tire. "We will provide customers with a better mobility experience by collaborating with premium automakers and releasing leading products through continuous research and development."
Meanwhile, Kumho Tire is developing OE tires for next-generation electric vehicles(EVs) with major global car makers. Kumho Tire has supplied EV tires to KIA EV6, which has been gaining popularity worldwide since August last year. These new vehicle tires show superior technology and excellent quality.