Over the years, Bridgestone has developed a great deal of expertise in remote condition management for commercial tires.
Its new division, Webfleet Solutions, has expanded this technology to apply it to intelligent fleet management. In a presentation at the CES 2021 technology show, Raj Bajaj, international vice president of Webfleet Solutions, explained that for Bridgestone, monitoring the condition of tires on commercial trucks using telematics is first and foremost a safety issue. "The tire is the only part of these heavy vehicles in contact with the ground. Knowing its condition is very important for the fleet manager, but also for the driver," the vice president explained.
Bridgestone partnered with Microsoft last July to use its MCVP Connected Vehicle Platform to measure tire condition in real-time, but also to alert other drivers of the source of tire damage. For example, if the damage was caused by a particularly deep pothole, other vehicles connected to the MCVP platform will be notified by their browser. The information can even be shared with road services so that they can intervene to repair the hole and remove debris from the road.
Going further
Inspired by the effectiveness of these new technologies, Bridgestone acquired TomTom Telematics in 2015 to further advance the management of vehicle data. With so much information already being shared by vehicles, Bridgestone launched the Webfleet Solutions division to capture and analyze it and turn it into useful parameters for fleet managers.
"Data management allows for more efficient route planning, tracking driver behavior, measuring fuel consumption and seeing delivery times in real-time," said Bajaj. "Sensors can even indicate the temperature of the cargo. Since this is a division of Bridgestone, tire pressure and temperature are also captured and shared live."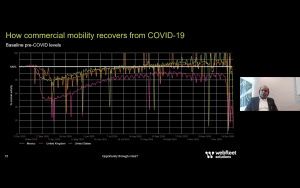 A pilot project conducted in Australia, SaferFleets, enabled delivery truck drivers to see, directly on their navigator, the red zones of the pandemic in order to avoid them, whenever possible, by taking one of the suggested alternative routes. For fleet managers, this information facilitated the application of health measures, prioritizing, for example, screening tests on drivers who had to drive through high-risk areas.
Mr. Bajaj emphasizes that real-time data management will be of paramount importance in vaccine distribution. "These critical deliveries will put our logistics capabilities to the test. But with telematics, managers have access to data that will help them make the right decisions. I believe that the companies that adopt these new technologies will stand out. »