If there's one thing that's certain about the future, at any step of the way, it's that no one knows exactly what it will bring.
Chris Hudson, Owner of OK Tire Transcona at 1600 Regent Avenue West in Winnipeg, Man., wasn't initially sure if he should take his shop in under the OK Tire banner, but the decision turned out to be the right one for him.
"It was a very hard decision, as we have always prided ourselves on being an independent shop," he says. "However, the OK Tire model is such that we are still able to retain our independence, but now have a support system in place. That can assist us in various areas of our business, such as website design and maintenance, tire distribution, and discounts.
"The ability to call other OK Tire shops when needed, and speak freely about struggles and advice, has been a real bonus."
Perfect timing for a move
The business dates back to 1986, when Hudson's father had an opportunity to acquire a Firestone company-owned store. His father had spent thirteen years running a service centre at Canadian Tire, and saw an opportunity when Firestone decided to get out of retail stores and concentrate solely on distribution.
"After eight years at that location, a proposed rent increase forced us to look at other location options," Hudson says. "This coincided with an old Firestone location becoming available at the second-busiest intersection in Winnipeg.
"The timing was perfect, and we were able to relocate everything, including our staff, across the city with very little disruption. Many of our old customers continued to support us as we worked to build a new customer base in this new location."
Upgrading from the old
Both buildings were older ones—the previous garage was built in 1959, and his new location was part of a strip mall built in the late 1960s, so an upgrade was necessary to bring it up to a current design. "It was originally twelve bays, but we had it reduced to eight, and renovated, as part of our new lease agreement.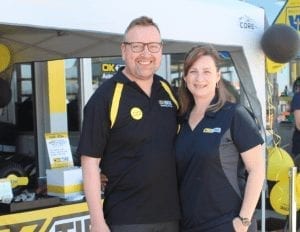 "The location of our store is, in my opinion, one of the best in the city. Our exposure is very high, and the area is constantly growing and changing to attract new people. Three and a half years ago, my parents retired and my wife, Leanne, joined me as co-owner."
Running a busy shop
The OK Tire Transcona store is approximately 5,000 sq. ft., with a customer waiting area that seats eight people—who enjoy complimentary coffee, water, and WiFi while their vehicles are being serviced—and a large showroom. Along with Chris, there are five technicians, including four Red Seal certified and one apprentice; two full-time service writers; and Leanne, who handles accounting, bookkeeping, and many of the other requirements of this busy shop.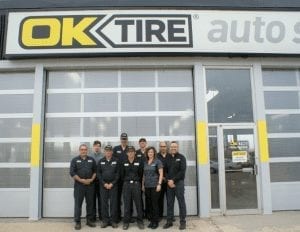 The shop's services include tires; under-car requirements such as brakes and chassis; under-hood for tune-ups, diagnostics, cooling systems, air conditioning, and oil changes; scheduled maintenance work; and most electrical repairs. The store also offers winter and all-weather tire financing through the Manitoba Public Insurance Winter Tire Program.
Upgrades and improvements
"Over the last three years, we have made many upgrades and improvements to our shop," Hudson says, which includes all-new overhead doors, exterior paint, new front-end counters, two new hoists that replace the previous in-ground hoists, and a four-post alignment lift. "The new hoists were safety-motivated, as the in-grounds were thirty-plus years old, and unable to lift a lot of the newer, heavier trucks on the market today," he said. "And as able, we have been working at improving the look of our showroom, to keep it modern, and adapting it to suit current customer needs.
"We are currently exploring scanning tool options. Our Snap-On Verus Pro is coming to the end of its life, and newer vehicles are requiring more updated scanning equipment. One we are looking at is the Autel MaxiSys Ultra."
Hudson recently adopted AutoServe1 digital inspection software as the shop's main customer communication tool, showing owners what needs to be done on the vehicle and helping them to monitor its progress throughout the repair. "The feedback has been very good from our customers when Autoserve1 has been implemented," Hudson notes that, "more than ever, the smartphone has become a main form of communication through texting and photos. Sales per work order have gone up significantly as a result."
Awards and accolades
Of course, COVID-19 affected almost all businesses to some extent, but while it did create some changes for his store, Hudson said the issues weren't extreme. "We installed shields on our front counter, we have a hand sanitizing station at our entrance, and our techs wear gloves when touching any interiors of the cars. We sanitize all keys when done, and store them in small Ziploc bags."
Ok Tire Transcona is obviously doing something right. It's had 20 years of accreditation with the Better Business Bureau, and currently has an A-Plus rating for 2020. And in 2017, it was named OK Tire Prairie Store of the Year.
"Going into the future, I see more and more customers checking us out online first, and even shopping for tires and other automotive-related things online through our website, which is among the most up-to-date and current on the market," says Hudson. "We hope to move into a more e-commerce model, where customers can research, shop, and pay for their auto-related products online."