Groupe Del Vasto used the backdrop of its recent annual conference to roll out a new brand, supported by a structured program, to help their repair shop and distributor network in the transition to electric.
During their Annual Convention, which took place at Manoir Richelieu from February 24 to 26, members of the management team announced the creation this new strategy as a response to the growing number of electric and hybrid vehicles requiring service in independent vehicle repair shops. As a result, the new Verified Electric by VAST-EV brand was unveiled.
"As you know, our industry is continually evolving," explained Steve Bujold, Canadian Sales Manager for Groupe Del Vasto, to the vehicle repair and parts distribution network partners attending the conference. "We are going to adapt to the changes in technology, as we always have. And to do so, we will give you tools and support. Together we want to be part of the change."
Time to get ready
For Steve Bujold, transportation electrification is a fundamental movement that will gradually take place over the course of the current generation. He believes that the time has come to embrace it.
This value-added banner program will be reserved for the group's vehicle service shops—M 360 Mechanic, Auto Value Certified Service Centres, Auto Mécano, OCTO Auto Service Plus and Mister Transmission—that have completed their personalized training program.
Facilities that are willing to participate in the program must commit to installing an electric charging station at their premises within a year.
In terms of training, a technical advisor will complete a short program. At least one technician from the facility will be required to have completed Level 3 of the electric vehicle maintenance and repair EV Skills training and be committed to achieving Level 4. The organization strongly encourages technicians to complete the entire program to obtain their certification. Furthermore, the facility will have to acquire the safety equipment required to work in a high voltage environment.
Only when these conditions are met will the shop be able to display the Verified Electric by VAST-EV sign in its place of business.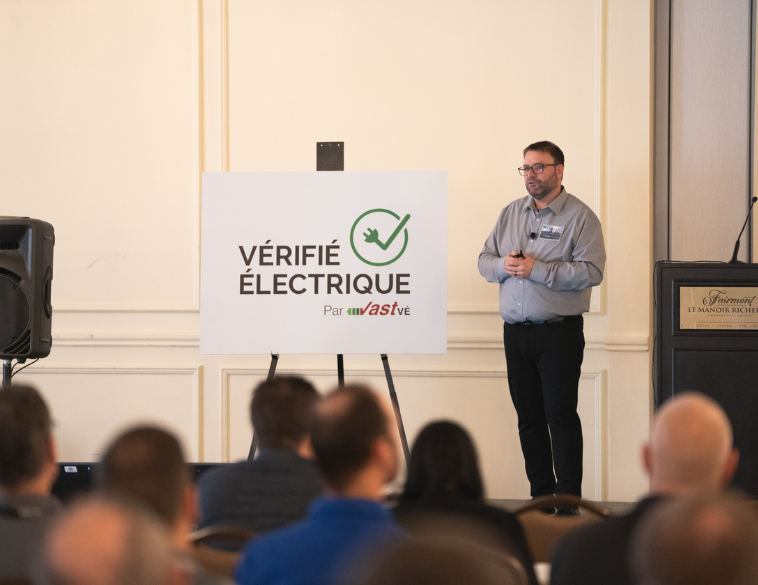 Taking the lead
Director of Installer Programs Daniel Paul, who spoke during the presentation, explained that this is a great opportunity for shops to take the lead. "It's a lot more than just rebranding," he cautioned. "We don't want to fool the consumer. The expertise required to service these technologically advanced vehicles has to be available in-house."
VAST-EV offers purchasing and financing support for specialized EV tools and equipment.
By integrating part of the training for this new brand to the EV Skills program, Groupe Del Vasto has avoided the duplication of a training program which has already proven its results. What's more, Vast-Auto Academy Training Director Wilson Almeida is also an EV Skills program Master Trainer and will be able to guide the network's shops through this new technological shift, as he has been doing for years.
"An electric vehicle is still a vehicle," notes Wilson Almeida. "Training is offered throughout Quebec and 50% of the learning is done in hands-on work. We can repair these vehicles, but you have to put in the hours to develop the skills."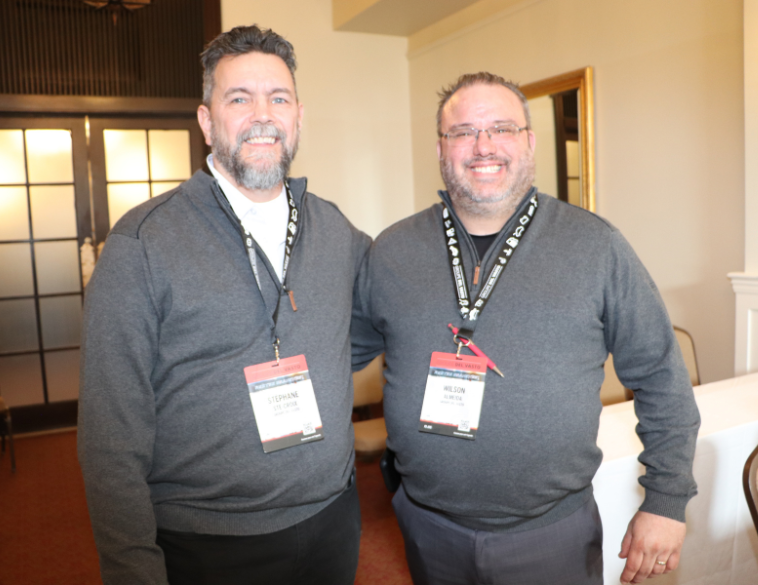 New brand
Groupe Del Vasto Marketing and e-Commerce Director Sophie St-Pierre explains that this strategy will evolve over time and that an advisory committee will be involved in the deployment. "We are introducing a new brand that aims to attract a new clientele. Most of these customers are our current vehicle repair shop customers. Surveys show that more than 70% of Canadians are thinking of choosing an electric vehicle for their next purchase. This is a growing reality in Canada, including Quebec, and in every region of the province."
The Verified Electric by VAST-EV program will officially launch in September to allow the parts distribution and repair network partners time to prepare for the program.
The coming months will be used to promote the new brand and to inform existing and potential customers that they will soon be able to benefit from a new level of support and expertise. Marketing tools will be rolled out gradually to parts and repair shop network partners who have achieved the Verified Electric certification.
Simon-Pierre Rioux, President of the province's electric vehicle association, Association des véhicules électriques du Québec (AVEQ), was on hand to talk about the state of transportation electrification. He explained that one in thirty-two vehicles in Quebec currently runs on electricity, but that this proportion will reach one in three by 2028.
"The myth that these vehicles are maintenance-free continues to be disseminated," comments the industry expert. "Not only do these vehicles need to be serviced, but their owners want an option and don't necessarily want to go to the dealership."
Network partner recognition
During the Convention, Groupe Del Vasto took the opportunity to recognise the commitment and expertise of its repair shops, stores, and partners who have distinguished themselves over the past year. Here is the list of organizations honoured during this event.
AUTO VALUE PARTS STORE of the year – QC: Peinture & pièces d'auto DR
AUTO VALUE PARTS STORE – Ontario: London Auto Parts
AUTO VALUE PARTS STORE – Atlantique: MGL Auto Parts
M 360 MECHANIC of the year: M 360 St-Vincent-de Paul
AUTO VALUE CERTIFIED SERVICE CENTER: Garage Syldan
OCTO AUTO SERVICE PLUS of the year: Duplessis Mécanique
AUTO MÉCANO of the year: Multi-Service Automobile
CBRC MANUFACTURER REPRESENTATIVE of the year – QC: Patrice Lanthier, Gates
VENDOR PARTNER of the year: Mevotech