The CARQUEST  Conference recently held at Blue Mountain was filled with supporting programs and processes for the independent CARQUEST jobber.
Amongst all the new information provided to jobbers on Thursday, a Friday trip to the new DC was also on the program. The new DC is humongous, very state-of-the-art… downright awesome!
At 579,000 sq. ft., this structure has a 40-foot ceiling, motion sensor lights, 128 docks doors complete with infrared lights providing winter warmth. To keep the air moving at good temperature year-round, large fans are constantly revolving. There are three completely contained Hazmat rooms—26,000 sq. ft.—plus a system to handle spillage. There are 18 shipping lanes with the ability to expand.
Amazing machinery
The specially designed conveyor system is amazing—it does everything but pick the products! It sorts, packs, labels and then sends the order onto one of the shipping lanes. Most of the battery-operated forklifts are new as they need to access items at the  top of the 40-foot racks. They are equipped with cameras and have a charging station right in the area.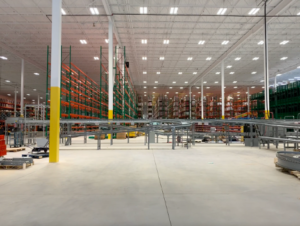 The 'return' area is 44,000 sq. ft.—280% more room than in Rexdale! In addition, a Plan-O-Gram room is on display to show jobbers how to set up their stores.
A Training Room, two cafeterias and numerous offices/working areas for the CARQUEST and WORLDPAK staff are all upstairs. There are four break rooms in the DC and two more in the offices area.
CARQUEST and WORLDPAK are together in this amazing DC with their own separate areas…. WORLDPAK is already working from this new location. CARQUEST, with more product to work with, should be operational by October 24th.
All in all—a massive, truly state-of-the-art, amazing new CARQUEST/WORLDPAK Distribution Centre—complete with charging stations!
Trade show and presentations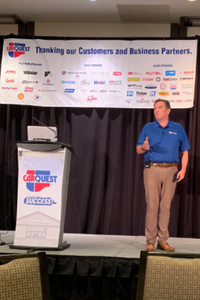 CARQUEST hosted a busy Supplier Trade show with Jobbers seeking new products/services, asking questions and sourcing information from the 48 suppliers.
The next morning was filled with presentations from Dr. Peter Frise, Associate Dean, Professional Programs, Mechanical, Automotive & Material Engineering, University of Windsor; Marnie McBean, Olympic Gold Champion (Rowing), and Donald Cooper, Professional Business Management Speaker.
Steve Gushie started it off with "What drives our success?" The answer—partnerships, the fact that CARQUEST has built a sustainable brand together with their members to become a family, a brand, a culture! He spoke about the well-received TechNet program, their Diehard brand, their Charitable Foundation which helps their community involvement plus the fact the CARQUEST brand will be refreshed.
Vince Salfi, Director of Merchandising, spoke about how the Canadian economy was changing; the challenges obtaining supplies; how the vehicle parc is increasing; Canadian light vehicle sales; the size of the Aftermarket by region, etc. and how 'CARQUEST must lead by our actions!'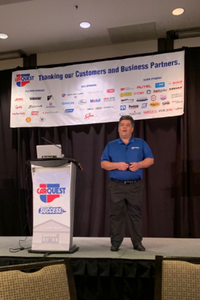 Dr. Peter Frise talked about consumer desires, government demand, industry impairments, EVS and the dangers in servicing one. He warned about autonomous vehicles—i.e. don't use the auto pilot on a Level 3 vehicle—it cannot do all things, sometimes can't determine the correct feature it sees!
Marie McBean, the most decorated Canadian Olympic performer and a Sports Hall of Famer, said, "Small steps help us achieve big goals and to be a leader in communication is to listen!" She said you are stronger, better, faster when communicating together… much like CARQUEST is doing now!
Donald Cooper presented his eight essential steps to attract, lead and engage a top-performing team—Winning the Talent Wars. The handout told attendees how to find the right person for their business.
These jam-packed few days had a lot of good solid information, an amazing new DC presentation, informative trade show and valuable takeaways.