Some of the most vital parts for reliable vehicle operations are drive belts, timing belts, and cooling system hoses.
When it comes to belt systems and hoses, the quality of the product, along with the installation procedure can make or break a customer's relationship with their local service centre.
It's also important to consider that when it comes to drive belts, technicians need to look at the entire system and not just the belt itself. Jay Buckley, Director of Product Development for Dayco North American Aftermarket, explains that when performing an inspection on the vehicle, the technician should examine the tensioner and pulleys as well as the belt and replace all of them at the same time. "Replacing the tensioner and the pulleys, along with the belt can give the customer another 160,000 km of trouble-free driving," says Buckley. "When a technician only replaces the belt and leaves the old tensioner and pulley in place, it will almost always generate a customer complaint approximately 32,000-48,000 km down the road since the bearings are worn and will likely fail."
The entire system
While belt technology has advanced to the point that service intervals have increased significantly, Buckley can't stress enough the importance of understanding the concept of an entire drive-belt system and that if one component needs to be replaced, they all need to, for continued reliable operation.
To help save technicians time and improve the installation process, Dayco offers complete drive belt and timing belt kits, where the tech has every component needed to perform the work in a single box. When it comes to timing belts, there are also some special considerations.  "Timing belt repair requires real attention to detail due to the relationship between the crank and cam gears," states Buckley. "On many engines, if this relationship is altered by even ONE tooth in belt alignment, it can cause valves to crash into pistons, resulting in bent valves and possibly a ruined cylinder head." That's why he says, it's critical to follow OEM scheduled maintenance intervals for timing belt servicing.
Buckley notes that Dayco's timing kits are designed to meet critical OEM fit, form, and function requirements, with an emphasis on ease of installation and long-term performance and durability. Furthermore, the water pumps included in these kits also feature superior gaskets that retain bolt torque, a roller bearing hub, and composite seals to prevent leaks. A critical aspect of offering a quality product is the ability to stand behind it 100% and as Buckley explains, "these kits have a 200,000km warranty, which is one of the best in the business."
Significant issues
Tom Lee, Marketing Manager for Automotive Aftermarket Products at Continental, says that although replacement rates for drive belts, accessories, and timing belts have declined over the years due to improvements in product quality and durability, there are still significant issues where lack of information and delayed maintenance is resulting in product failure.
Given Continental's close ties to OEMs and its ability to work with automakers to optimize belt design and performance for installation on the vehicle at the factory, constant improvements are being made in belt design, function, and durability. On the timing belt side, Lee does note that it is critical technicians inspect timing belts at the correct, OEM recommended interval. "Because they are located underneath the timing cover in most vehicle applications, they are more difficult to examine than typical visual belt drive inspections," explains Lee.
That's why if timing belt service is required, having all wearable components replaced at the same interval is essential to keep the vehicle operating at peak performance. "Our Pro Series Plus timing kit includes all of these wearable components," plus, relates Lee, because Pro Series kits contain OE replacement parts, these kits also enable the fulfillment of the original warranty period—an important consideration for many motorists.
Hose considerations
Alongside belts, underhood hoses are a critical part of reliable engine and vehicle operation. A cracked or damaged hose can lead to significant cooling issues and ultimately, engine failure. Some considerations, according to David Hirschhorn, Brand Director, CRP Automotive, include regularly inspecting the hose fittings at each vehicle service interval and on many modern turbocharged engines, inspecting the oil lines that feed lubricant to the turbo. "Quick connect fittings are used by many OEMs to simplify the process of installing hoses and the components they connect," explains Hirschhorn.
The downside he says is that because a lot of these fittings are made of plastic, they become brittle after multiple heat cycles, plus they are sealed with O-rings which means they are one-time use only. Additionally, we've seen OEMs adopt more plastic parts for underhood plumbing including pipes, T-fittings, and even plastic intake manifolds which also become brittle and crack over time. As for turbocharged engines, if regular oil changes are not performed and the turbo itself is not allowed to cool before switching the engine off, oil coking in the lines can block lubricant flow to the turbocharger bearings, causing premature failure.
Another consideration on the hose side is using a material that is compatible with the recommended anti-freeze for the engine. "Hoses have changed a lot over the years from neoprene rubber to EPDM," explains Dayco's Jay Buckley. "Some low-cost hoses still use neoprene rubber compounds that are not designed to last as long as EPDM and may not be compatible with modern coolants. Using a higher-quality brand is key to ensuring performance and reliability."
Dayco Timing Belt Water Pump Kit
Dayco's Timing Belt Water Pump Kits have been designed for the most popular vehicle applications, ensuring that the technician or end-user has all the parts needed to perform a 'complete' job.
Because failures in the timing system can cause significant damage to the engine, the water pump must be systematically checked to guarantee the correct flow at every engine rotation speed.
Dayco kits offer OE or equivalent components for passenger cars and complete replacement of all standalone parts (belts and rigid components). These kits are updated according to the vehicle manufacturer's instructions.
Technical instructions are included with a recommendation to always check and replace (when necessary), all drive components to ensure optimum quality and vehicle reliability.
Continental Pro Series Plus Kit
Developed with quality OE components, this kit includes a water pump, camshaft and balance shaft seals. The Pro Series Plus also provides a best-in-class guarantee for all consumers and is considered a dealer alternative. Each kit includes the timing belt, tensioners, idlers, water pump, cam seals, balance shaft seals, OE components, and full guarantee to ensure a complete and reliable installation.
Additionally, Continental offers more than 135 Pro Series Plus kits that cover nearly 1,600 vehicle applications. Just like OE parts, Continental's Pro Series Plus Timing Belt Kits are covered for the replacement interval of the belt'—a guarantee that rivals many dealership programs, allowing service centres to differentiate themselves in the marketplace.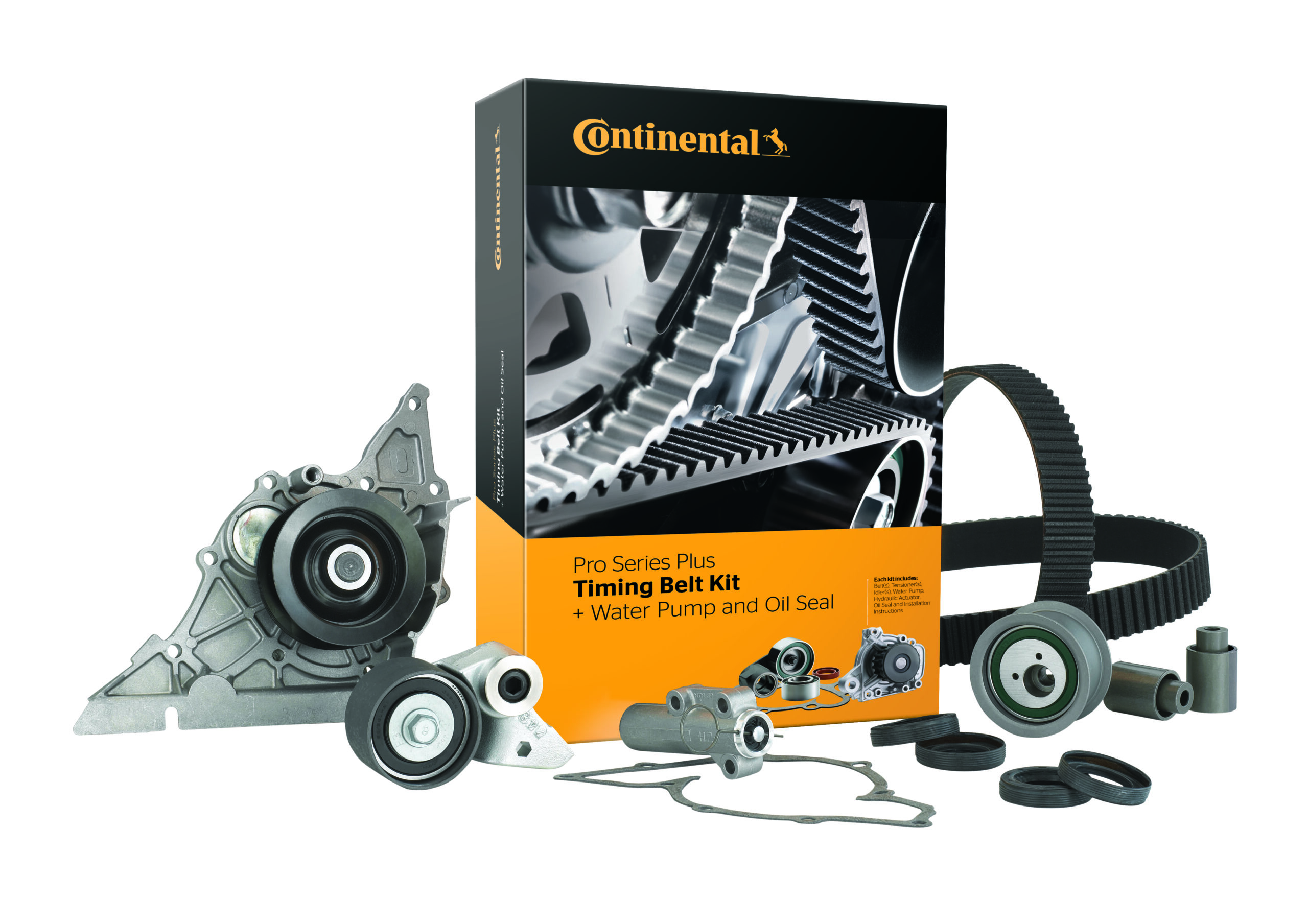 Rein Turbo Coolant Return Hose (CHT0688)
Rein Automotive offers this Turbo Coolant Return Hose (part number CHT0688) as a direct replacement for Audi P/N 06H121492D on a wide range of Audi models. This hose is designed to ensure trouble-free installation, which saves time and money and does not require any adapters. The part also comes complete with the needed washers and hose clamp.
Rein Turbo Coolant Return Hoses are designed to withstand the high demands of automotive turbo systems. They are manufactured with premium OE quality materials to offer maximum protection from premature failures. Excessive heat, oil, and ozone are factors that can break down rubber and cause hose failure.