CR-V Touring Hybrid represents HCM's current success and it's future.
On Monday, May 29, 2023, Honda of Canada Manufacturing (HCM) held a special event and press conference at its manufacturing campus in Alliston, Ontario. This event signified the production of the 10 millionth vehicle at Alliston since production of vehicles began there, back in 1986.
The vehicle in question was a 2023 Honda CR-V Touring Hybrid, appropriate since the CR-V is one of the top-selling vehicles in Canada and Alliston is now the global production lead for CR-Vs as well as the lead plant for hybrid variants in North America.
Quality, value and fun-to-drive
At the ceremony, Jean Marc Leclerc, President and CEO of Honda Canada explained that while the 10 millionth CR-V Hybrid represents the significant progress HCM has made over the last 37 years [with its plethora of advanced technologies, including hybrid powertrain, infotainment and safety features], what hasn't changed is the fact that like all Hondas before it, it remains a fun-to-drive vehicle that delivers quality and value.
Honda was the very first Japanese automaker to establish a manufacturing footprint in Canada, and the creating of a production facility in Alliston brought new life and prosperity to the Simcoe County region, as well as becoming one of the most significant assembly plants for global vehicle production. Alliston started off building the third generation Honda Accord in 1986, then began assembling the fourth-generation Civic from 1988.
Examples of every vehicle, including the very first Honda Accord off the production line were displayed at the ceremony, providing a glimpse at the rich heritage of the Alliston assembly complex. Today, Alliston continues to build the Civic at Plant 1, while CR-V production is concentrated at Plant 2, plus for the last 15 years, an additional onsite facility has handled engine production.
"CR-V is a key model in our lineup and hybrid technology is an important step in Honda's transition to an electrified future," stated Leclerc, "one that will ensure this plant, our suppliers and the community move forward together in this new era."
Major progress
Yoshiyuki Nakazawa, General Manager and Executive Vice President, HCM, noted that in addition to the significance of achieving 10 million units, the amount of progress that has been made at the Alliston campus is hugely significant. Back in 1986, when Accord production first began, the target was for 18,000 units annually at a single assembly plant.
Today Alliston encompasses three manufacturing facilities, that exceed 400,000 vehicle and 280,000 engine units annually. In addition, the workforce has grown from a few hundred associates to several thousand. "Since HCM's inception, the key to our success has been the passion and engagement of our associates," said Nakazawa. "And, moving forward. It is our associates' strong committment to quality and continuous improvements that will lead us into the future. As we mark 10 million vehicles here at HCM I would also like to recognize the importance of our suppliers, community and our customers in achieving this great milestone."
Exclusive interviews
During the event, Autosphere had the opportunity for exclusive one-on-one interviews with Jean Marc Leclerc, Jeff Hansen, Honda CR-V Engineering Project Leader, plus Chris Ewles and Laura Yates, tenured employees at HCM who have worked at the complex for more than 20 years.
Jean Marc Leclerc: "There's a lot of Canadian pride in achieving this milestone [of the 10 millionth vehicle manufactured in Alliston]. That's especially apparent when you consider we were the first Japanese automaker to establish a manufacturing footprint here in Canada. Given the competition that exists both here in North America and abroad, that quite a feat and one reason we're able to celebrate here today. [Going forward] I'm very confident in HCM's capability as we move toward a more electrified future. The fact that we are the lead plant (globally) for the current Civic as well as the CR-V and Hybrid speaks volumes about the dedication and commitment of everyone here at HCM."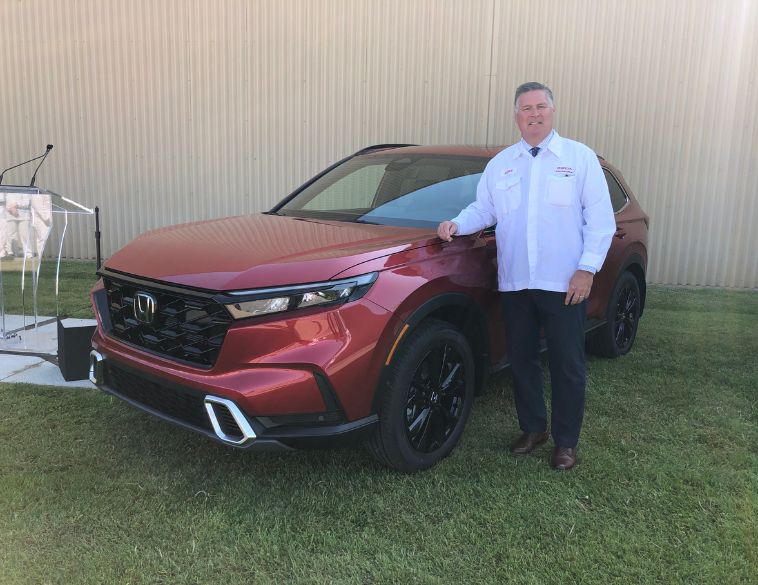 Jeff Hansen: "I think we're very fortunate that the 10 millionth vehicle assembled in Alliston turned out to be a CR-V Touring Hybrid. For us, the Hybrid is really a steppingstone—the right vehicle for our customers to step into electric vehicles. They can feel the regenerative braking when slowing down and great fuel economy in the city, which will make it easier for them to tradition to BEVs when the time comes. I think the CR-V has been consistently popular with Canadians due to its quality, practicality and reliability and the Hybrid further builds on that. I drive one myself and for a family of four, it's proven to be a very versatile machine."
Chris Ewles: "I've been here for 24 years. The first vehicle I worked on was the Honda Odyssey minivan here at plant two. I work in the paint department on the sealer lines. When I first started, there were still a lot of manual processes, but as the years have progressed, we've seen more automation and today we're up to more than 40 robots used for sealing. Going from manually shooting sealers to 100% automation has been a huge benefit, not just in terms of processes, but also safety and morale for our associates."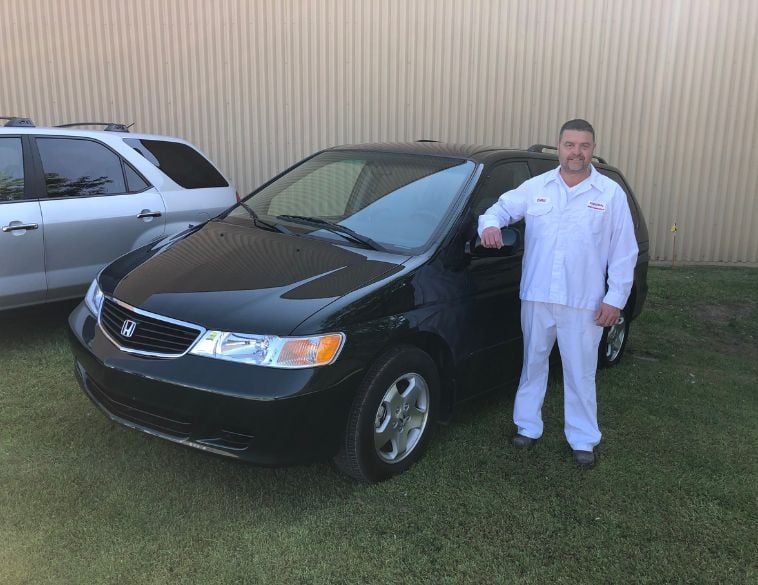 Laura Yates: "I began working at Plant 1 (Civic production) 25 years ago. When I started there, features like power steering were an option, we still had roll-up windows, and no airbags. Over the years, as we've progressed to safer vehicles, our controls within the department have become a lot stronger. Today, critical fasteners on the vehicles are installed with electronic tools which allow us to track and make sure every installation is done properly. I really like working here because [HCM] really supports their associates, it's a great place to work."