A recent AutoTrader.ca study indicates that consumers' desire to acquire an electric vehicle is waning.
As most automakers offer electric vehicles (EVs) and governments implement regulations mandating the sale of EVs, consumer research indicates that interest in EVs remains high, even as the novelty wears off, the report says.
AutoTrader.ca's electric vehicle consumer study conducted last March revealed that one in ten respondents owns an electric or hybrid vehicle.
However, while 68% of non-electric vehicle owners surveyed in 2022 said they would consider purchasing an EV, the 2023 update shows a 12-point drop in intentions, to 56%.
Consideration for Tesla, whose vehicles have long been the benchmark for consumers, has also declined from 51% of EV users considering a Tesla in the last survey to 37% this year.
Not so long ago a rare sight on Canadian highways, EVs no longer turn heads at red lights.
Consumers to inform
In addition, virtually all Canadians are aware of public charging stations and know that home charging stations are available.
However, many consumers still have many questions about the difference between hybrids and plug-in hybrids (PHEVs) and remain hesitant about battery electric vehicles (BEVs), clinging to outdated information from the early EV era.
AutoTrader recommends that dealerships that want to increase their EV sales be proactive in educating their customers and trying to overcome their reluctance, whether it's one customer at a time in their showroom or by publishing factual information on their website.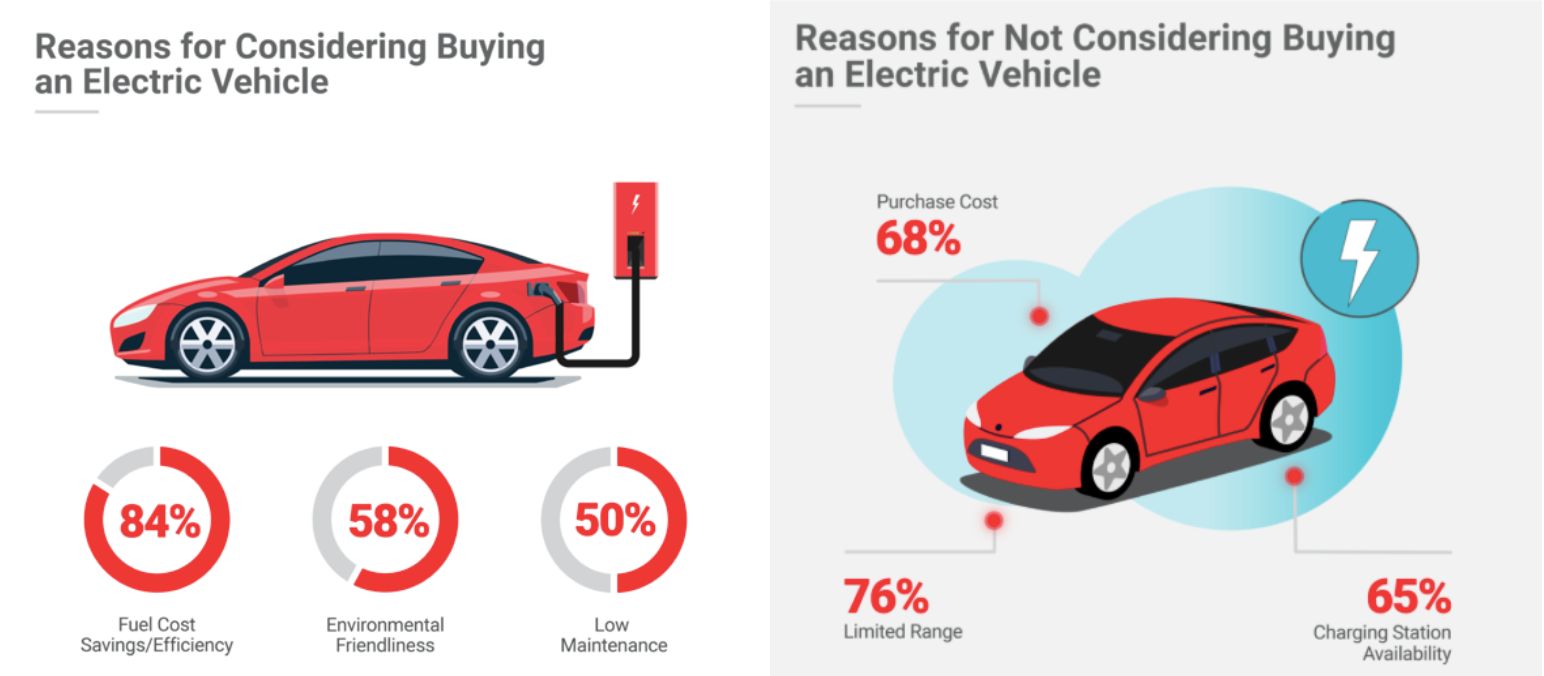 Some uncertainties
The survey found that among gasoline vehicle owners with no intention of purchasing an EV, 76% cite uncertainty about limited range, 68% say they are hesitant because of the cost of purchase, and 65% have concerns about the availability of charging stations.
It's understandable that range is the primary concern of buyers, the study says, but too many are relying on outdated information from a time when batteries were far less efficient. According to Natural Resources Canada's official ratings, almost all 2023 model year EVs have a rated range of at least 330 km and many exceed the 400 km or even 500 km mark.
For most drivers, this is more than enough to get to work, especially if they consider their EV as a household backup vehicle to their gasoline vehicle.
AutTrader therefore suggests that dealers and merchants quickly determine with their potential buyers if the autonomy of the desired EV is adequate for their needs.
With the availability of public charging infrastructure still limited, it's best to talk about the benefits of home charging to increase the chances of making a sale.
Benefits to promote
Of those considering the purchase of an EV, 84% say they are attracted by the fuel savings, 58% say they want to do their part for the environment and 50% mention the ease of maintenance of an EV.
"Yes, price is a major concern, but buyers are generally unaware of available rebates and government incentives," the study says. "It's also important to factor fuel and maintenance savings into the total cost of an EV."
Dealers and merchants should also promote the many other benefits of EVs, such as ultra-long battery warranties, resale value, and in some areas, preferred parking or HOV lane privileges.
The better informed prospects are about EVs, the more likely dealers will "hook" them up with an electric vehicle!