La Force Kia Group, which includes Kia Quebec, Kia Ste-Foy and Kia Val-Bélair, recently unveiled the first Electric Inspiration Center in Québec, second in the country.
Opened on Monday, April 17, 2023, the 10,000 square foot building next to Kia Ste-Foy houses the Electric Inspiration Center, the Kia Force Academy and a large mechanical workshop.
Open Monday through Saturday, the Center even has a fleet of 14 Kia electric vehicles available at all times for test drives, by appointment.
No vehicles are sold on site.
Today, Kia is certainly establishing itself as a mainstream brand that is seriously committed to its electrification efforts and investments.
That's why the country's largest Kia dealership group is now offering a unique new test drive facility to inspire the public, educate customers without pressure and even train their teams about electric vehicles.
"Knowing that everyone in Quebec is looking for a place where they can test drive an electric vehicle, we decided to create this center that offers the entire Kia electric, PHEV or hybrid lineup on a permanent basis and has answers to all the public's questions without pressure", says Serge Beaudoin, President of La Force Kia.
This inspiration center is not a car dealership, nor a place of sale, but rather a center to learn and understand how to make the electric shift: demystify the charging stations at home or on the road, understand the total cost of an electric vehicle compared to a gasoline vehicle, evaluate the autonomy according to needs, etc.
Get informed, get inspired and try
The Kia Electric Inspiration Center is an initiative of Groupe La Force Kia of Quebec City.
This new feature allows visitors to discover the path of vehicle innovation towards electrification.
Thanks to the presence of specialized personnel, explanatory videos, electric charger simulators provided by the Association des véhicules électriques du Québec (AVEQ) and, of course, electric vehicles in the showroom, the public can come and immerse themselves in the electric world.
With this center, La Force Kia is simply committed to informing and making the public think about the future, without asking for any commitment in return, and without pressure.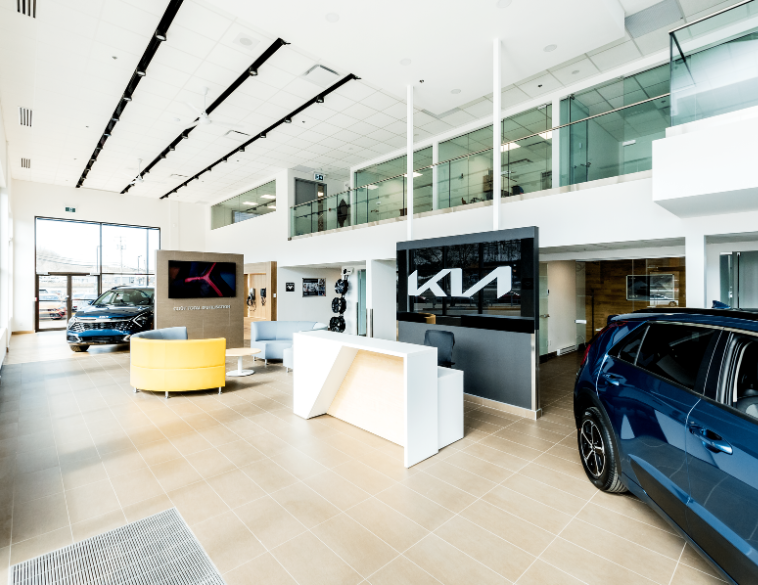 Official opening
On May 24, the Kia Electric Inspiration Center will welcome a number of Quebec political figures and Kia executives based in South and Central America for the official inauguration.
Kia Canada is considered an electric leader, with its dedicated platform and new vehicles including the EV6, Niro and EV9 SUV. By 2023, 15% of Kia's domestic sales will be PHEV or hybrid electric vehicles, and that number will reach the 25% threshold very soon.
As one of the largest suppliers of electric vehicles in Quebec, La Force Kia currently offers a range of six hybrid and electric vehicles on the market.
For Steeve Michel and Serge Beaudoin, co-owners of La Force Kia and founders of the Centre d'Inspiration Électrique, the creation of this space represents a major step forward for the Quebec City region, and for all of Quebec, which will have this unique place in the country to inform, inspire and offer test drives.
Founded and managed by Serge Beaudoin and Steeve Michel, La Force Kia is composed of Kia Quebec, Kia Ste-Foy and Kia Val-Bélair dealerships, the Kia Academy and now the Kia Electric Inspiration Center.
The group has positioned itself for more than 10 years as the largest Kia electric vehicle company in the country and has acted as a national pioneer by opening its new center in a major Canadian city.