On February 21 and 22, the all-new 2023 GV70 Electrified, currently on tour through Genesis distributors, was unveiled at Genesis in Quebec City.
The GV70 Electrified 2023 is currently on tour through Genesis distributors. To celebrate the presence of the luxury automaker's latest electric SUV, Genesis of Quebec City organized festivities on February 21 and 22, including an official party on Monday, February 20. It was in a warm atmosphere that the distinguished clientele was able to discover the characteristics of this brand new vehicle.
The gasoline-powered GV70 was named Best Premium Midsize Utility Vehicle in Canada in 2022 by the AJAC and Best Luxury Compact SUV in the 2023 AutoHebdo Awards. The electric version is part of this approach to excellence.
Noteworthy features
The GV70 is a smart, sporty vehicle that offers a fun driving experience with great power and a dynamic design.
The electrified version is no exception and keeps the signature G-Matrix grille, while hiding its charging port.
In Canada, only the Prestige version is available for $84,000.
With an upscale finish that includes leather seats, wood trim and ambient lighting, the SUV is also equipped with all the latest safety and driver assistance technologies.
The 2023 GV70 Electrified has an estimated range of 383 km and can reach 80 percent of its charge capacity in just 18 minutes (under optimal conditions) and develop up to 483 horsepower in boost mode with 516 lb-ft of torque.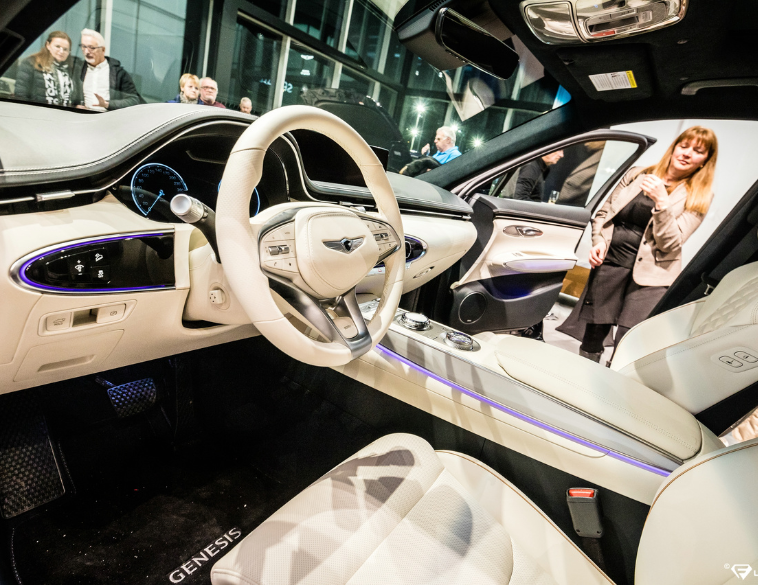 The 2023 GV70 Electrified will be delivered at various times throughout the year.
The first demonstrator will arrive in the Old Capital in March, while the first owners will be able to take possession of their new vehicle in April.
"The magnificent new premises, which were inaugurated just a few months ago, have been equipped with an EV Lab since April 2022. This arrangement allows us to serve customers looking for an electric vehicle," said Paul Daigle, President of Groupe Daigle, in a statement released after the event.
For those who couldn't make it to Genesis in Quebec City to see the 2023 GV70 Electrified, they will be able to see it at the Quebec City International Auto Show from March 7 to 12.