All-electric vehicles win both categories for the first time.
Just prior to the opening of the 2023 Canadian International Autoshow at the Metro Toronto Convention Centre; on February 15, the Automobile Journalists Association of Canada (AJAC), announced the winners of its 2023 Canadian Car and Utility of the Year Awards. Winning the Canadian Car of the Year award was the BMW i4, which beat out finalists the Hyundai Elantra N and Mazda3.
A full, battery-electric compact, four-door sedan (even though BMW calls it a Gran Coupe), the BMW i4 comes in three different configurations. The eDrive35 variant features single-motor rear-wheel drive and boasts the equivalent of 281 horsepower and delivers an estimated 400 km of range.
There is a second rear-drive option (eDrive40) packing 335 hp and an estimated 480 km of driving range, plus the M50, which boasts standard 19-inch wheels, all-wheel drive, and the equivalent of 469 hp or 536 horsepower in so-called "Boost Mode." Roughly equivalent to a traditional M car; this one, although boasting a shorter range than the eDrive40, (at approximately 420 km), makes up for it with hot performance—0-96 km/h takes just 3.3 seconds and super taut handling, resulting in it being the true enthusiast's choice of this trio.
Under the Government of Canada's current EV rebate criteria, both the i4 eDrive 35 and eDrive40 models qualify for a $5000 rebate, plus provincial incentives where they are available. While many EVs continue to polarize public opinion, BMW's i4 is, without doubt, one of the most dynamic and exciting currently available on the market and a fitting AJAC Car of the Year champions.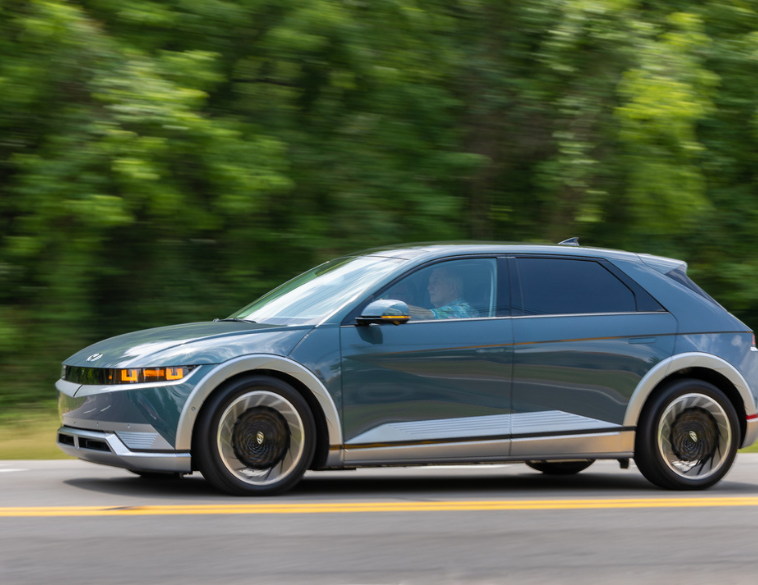 Electric utility
The other big announcement at the 2023 AJAC Awards, was the Canadian Utility of the Year, which went to Hyundai's IONIQ 5, another electric vehicle, which beat out the likes of Mitsubishi's Outlander and Kia's Telluride to gain top honours. Deliberately futuristic in its design execution, the IONIQ 5—a tall, crossover-style hatchback, was conceived to re-think the concept of both what an EV and an electric Hyundai should be.
Offered with a choice of different electric motor setups, one single and a top-of-the-line dual motor configuration with AWD, in the latter form, the IONIQ 5 can dash from 0-96 km/h in under five seconds aided by a total of 320 equivalent horsepower and 446 lb-ft of torque. Two battery packs are offered, a standard 58kWh unit or a larger 77.4 kWh unit that boosts range from 354 to 428 km in AWD form.
Well received since its introduction in 2022 and gaining traction among consumers, the IONIQ 5 was a worthy Utility of the Year winner for 2023.