Canadian Black Book (CBB) presents their Weekly Automotive Market Update as of February 17, 2021.
Average wholesale used vehicle prices in Canada remained almost flat this past week, however, there was a slight decline in prices similar to the prior week's performance. This week's declines in prices were far better than seasonal norms (2017-2019) for the overall market, as well as for Car and Truck/SUV segments. Furthermore, this past week's price decline is also much improved from the same week last year, which we continue to view as an early sign that dealers are beginning to stock up on product for the spring.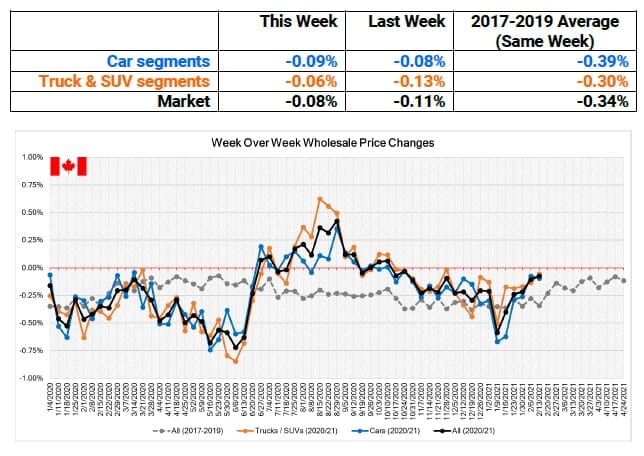 Car Segments
Used cars posted a weekly change of -0.09% last week, almost unchanged relative to the preceding week's decline of -0.08%.
Near Luxury Cars led increases last week with a +0.16% gain.
The Premium Sporty Car (+0.04%), Compact Car (+0.02%), and Luxury Car (+0.02%) segments saw marginal increases.
The Sub-Compact Car (-0.66%) segment led the declines again this week, followed by the Mid-Size Car (-0.61%) and Full-Size Car (- 0.33%) segments.
Prestige Luxury Car (-0.28%) and Sporty Car (-0.26%) also declined for the week.

Truck Segments
The average decline in Truck values for the week was -0.06%, slightly better than the decline from the prior week (-0.13%).
Sub-Compact Luxury Crossovers posted the largest increase for the week at +0.56%, followed by the Mid-Size Luxury Crossover/SUVs with an increase of +0.20%.
The largest decline came from Compact Crossover/SUVs, which declined by -0.46%, followed by Full-Size Vans (-0.29%), Compact Vans (-0.29%), Full-Size Pickups (-0.27%) and Minivans (-0.24%).
Used Retail Prices & Listing Volumes
Listing prices took another slight dip last week after the strong run of increasing average retail listing prices that began in September 2020. Although average listing prices ended the week down at around $24,950 (28-day moving average), average listing prices are still above listing prices from the same week last year. This analysis is based on approximately 130,000 vehicles listed for sale on Canadian dealer lots.
As we head into the spring season, the seasonal trend would point to prices continuing to rise. There is still uncertainty around the impact of current stay-at-home orders and social distance measures, and the degree to which these measures may cool the spring selling season. However, Canadian Black Book continues to monitor the potential impact from the chip shortage on new vehicle inventory that will most likely continue to push used vehicle demand up, and therefore stronger retail prices in the short term.
While the general shortage of used product in the market remains, we continue to see a steady increase in the number of vehicles listed for sale as shown in the graph below (right). Active listing volume continues its upward trend that began in the fall of 2020 and is currently above 130,000 units, well above the trough in late August of 110,000 units.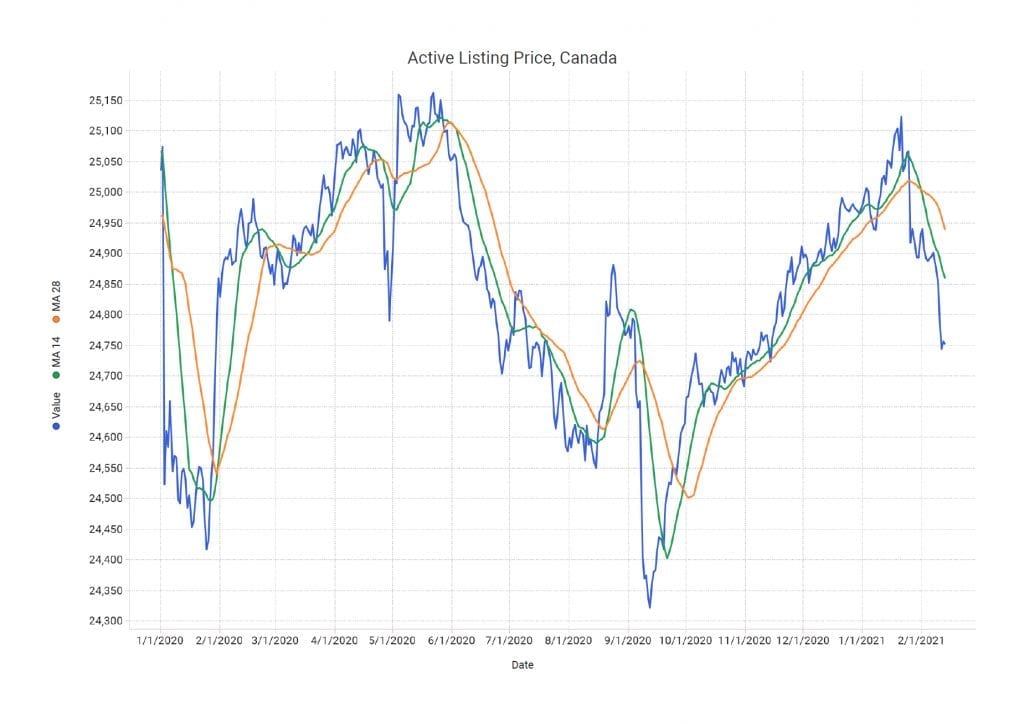 Volume
Used Retail
The CBB Listing Volume Index continues to show that the market is at a higher level compared to this time in 2020, yet far below stock levels available in 2019. And given the potential softening in the new vehicle market (chip shortage), we expect slower February new vehicle sales, which will reduce the number of used trade-ins, further depleting the influx of used inventory. Tight used vehicle inventory levels will continue to be a key factor in the near-term.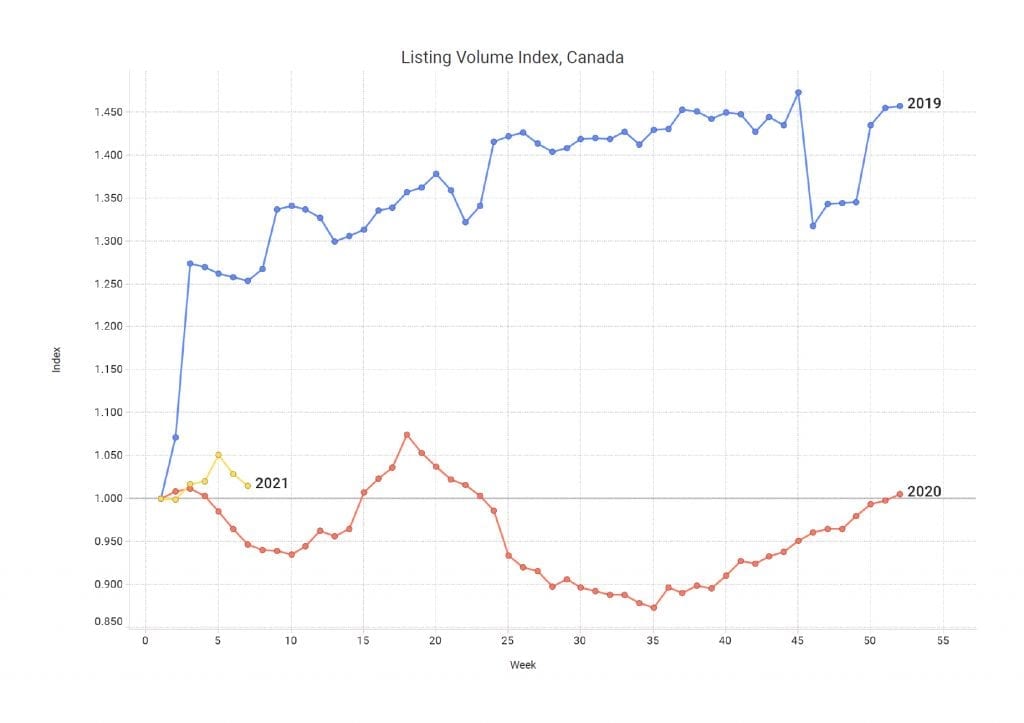 Wholesale
Auction activity was strong this past week, with increased bidding activity and improved conversion rates. After weeks of milder activity, the level of buyer interest improved and gave some signs that the Canadian market may be seeing early signs of Spring.
The CBB analyst team continued to see variability in success among lanes last week, with some lanes surpassing the 70% conversion mark, while others did not make it past 30%. However, lower sales rates were seen on fewer lanes this past week, with most seeing greater than 50%. Sellers are still holding firm to floors, but buyers are showing more willingness to increase bids to ensure they are the successful bidder.
With the US market remaining strong and the exchange rate favourable to exportation, buyers exporting vehicles to the US has remained on par with pre-COVID levels.
Canadian Black Book's Market Insights
U.S. Market
This past week, both U.S. Car and Truck segments saw wholesale values continue to increase as auction activity showed continued signs of an early Spring market.
Car segments increased in value by 0.39%, compared to 0.23% the week prior.
Compact Cars, a segment that traditionally sees increased demand as a result of Spring and tax season buying, has been seeing continual increases in recent week. This past week was no different with the rate of increase growing to exceed 1% (compared to 0.77% the week prior).
The Near Luxury Car segment was the only Car segment to see a decline last week, but it was minimal at -0.07%.
Truck segments increased by 0.22%, compared to 0.09% the prior week.
The entry level crossover segments, Sub-Compact and Compact, are gaining steam with increased rates of appreciation this past week. The price point makes them a desirable option for dealers preparing for the Spring/tax season market.
Sub-Compact Luxury Crossovers have been on an upswing in valuations in recent weeks, but last week values took a dip as the available volume on the lanes increased.