The two key trends that Canadian Black Book (CBB) expects to chart the course for 2021 are the essential economic fundamentals of supply and demand.
On the supply side, CBB foresee intermittent interruptions to vehicle assembly and parts production worldwide. This will persist until such time that immunization and the health of the people involved in making cars, and their tens of thousands of parts, are fully resolved.
Given that there is some resistance to vaccination, and in some cases an inability to receive a vaccine, there could be some lingering after-effects. Hopefully, they are expected to be significantly less of an issue after the end of the third quarter.
Regarding demand, consumer confidence and the level of perceived personal safety to go out of the house to shop for a new or used car will be equally critical. Currently, with various restrictions nationally, as well as leaders encouraging Canadians to stay home, this is not expected to set the stage for a strong start to retail sales for 2021.
Current Wholesale Market Overview
Auction Insights
The Canadian wholesale auction environment begins 2021, as it ended 2020, in an online-only format. Restrictions imposed by various jurisdictions across the country, forced in-person remarketing channels to operate in this manner, beginning in the spring of 2020. The expectation is that "online-only" will continue to be the only option for much of the country, at least until widespread vaccinations are completed and daily case count numbers have sustainable low levels.
For the last two weeks of December, the team at Canadian Black Book reported fewer bidders, which is not surprising given the typical slowdown over the holidays. Leading up to the holidays it was typical to see fewer than 200 bidders in a lane, which is down considerably from the typical number of bidders noted earlier in the fall.
Auction operators continue to allow potential bidders to visit auction yards to review vehicles before sales begin. This is helpful at building bidder interest and confidence in the product.
Auction Volume
Typically, the end of December is a slower time for all remarketing channels. CBB reports that auction volumes have been slowly declining since mid-September. For the last two weeks of the year, CBB estimates that open auction volumes are now approximately 50% compared to October levels. Some of this decline is caused by natural Canadian market seasonality, as well as shorter supply across all segments.
That said, 2020 has ended with a stubborn shortage of used vehicles. This has been an issue since August when the rebound in sales consumed the limited stock available in the market. With a 10% decline in new vehicle sales for November, and an expected weak December (yet to be reported), the number of vehicles entering the wholesale market as a trade-in continues to trend downwards.
Feedback from the market to the CCB team indicates that a much larger than normal percentage of grounding dealers are continuing to buy up end-of-lease vehicles. Some desirable vehicle brands and segments are almost at zero returns at end-of-lease. This persistent trend means that a substantial amount of the normal natural supply of used vehicles is not coming to market at all. Further adding to the diversion of stock from open auctions are the various upstream closed auctions, which divert more stock from the open auction.
For the first quarter of 2021, it is Canadian Black Book's outlook that the wholesale market will continue to see lower than ideal inventory levels of used vehicles. Over the past two weeks, CBB's proprietary market analytics tools reported that the 14-day moving average (it is denoted by the green line below) number of days to turn for used vehicles, listed for sale by retailers, has remained at 47 days.
This key metric has remained around this mark since mid-October. Indeed, it is positive that it has not trended lower during this time, however, it also means that the market remains chronically short of stock. Inventory was at a high of 75 days at the end of May, but then sharply declined and has remained essentially flat since mid-October. The low for 2020 was 45 days, back on October 11th.
For the level to be more "normal," we would need to see a gain to above 60 days, which is a significant gap, considering we are well into the slower time of year. CBB expects that many retailers, given all the market uncertainty, may also be strategically keeping inventory levels much lower than normal, for the time of year.
Auction Sales Rate
For the last two weeks of the year, the sell-through rate at auction remained unchanged, as compared to the second week of December, with an average of 40%. This is a much lower level than what CCB has observed in recent months and frankly continues to be surprising, given the market feedback on short supply. The assumption is that buyers are looking for year-end deals and consigners are not willing to compromise their floors to sell units.
Overall, recent rates are much lower than the elevated rates (consistently 90%+) seen earlier in 2020. Given these low sales rates and softening prices, CCB anticipates that sellers will be forced to lower floor prices in order to sell more product, early this year.
Current Wholesale Price Trends
As has been the trend since early October of last year, Canadian Car and Truck segments' average wholesale values both declined last week. Car segments fell by -0.30%, and Trucks by -0.13%. For the preceding week, Trucks declined marginally by -0.09%, and Cars declined by a significant -0.33%.
The results at the end of December make for twelve consecutive weeks of average declines in wholesale values. For Trucks the average weekly decline during that period is -0.16% and 0.19% for the Care segments.
December 2020 ends with an average weekly drop of -0.22% for Cars and -0.24% for Trucks. This continues the trend of milder declines than the same time in 2019, which saw a reduction of -0.36% for Trucks and -0.34% for Cars.
Of the nine Car segments Canadian Black Book tracks, all of them declined last week.
The largest decline in value was seen in the Sporty Car segment, which was down by -0.51%. Sub-Compact Car yielded the second largest decline for the week at -0.46%. The third largest decline was in the Near Luxury Car segment, with a decrease of -0.45%.
Truck segments yielded milder declines compared to Car, with an average decline of -0.13%. Of the thirteen Truck segments CBB tracks, four gained value and nine saw losses for the week.
Full-Size Pickup trucks had the largest increase for last week at a gain of 0.37%. This follows an increase from the preceding week of 0.29%, halting five weeks of declines for this key segment. The commercially oriented Compact Van segment was up by 0.30% making it the second largest gainer. Rounding off the top three was the Small Pick-up Truck segment, which increased in value for the week by 0.21%.
The graph below indicates weekly changes, on a percent basis, in wholesale values. This is the output from one of CBB's proprietary wholesale market analysis tools- Canadian Black Book Visual Analytics. In their line graph below (Canada – Weighted % Change in Value by Segment for 2- to 8-year-old models), CCB illustrates trended changes in wholesale value week-over-week. The data set is based on CCB's review of transactions collected and analyzed from the Canadian wholesale market.
In the graph, car segments are in blue, and Trucks are in red. Light Trucks include Vans, SUV/ Crossovers, and Pickup Trucks. In April 2020, values began their decline as a result of the chaos created by the pandemic due to mandatory shutdown orders and voluntary closures. This caused by an even sharper rise in values, and subsequent softening to where the market rests today.
Canada & USA Market Comparison
Last week, the U.S. wholesale auto market continued its streak of significant week-over-week value declines. Both Car and Truck segments again decreased for the week. Trucks were down for the seventeenth week in a row, with a loss in wholesale value of -0.33%, similar to the -0.35% loss from the previous week. U.S. Car segments showed losses of -0.70%, steeper than the previous week's -0.62% decline. This performance extends the run of value deterioration for Cars, to eighteen consecutive weeks.
For the last week of 2020, the Canadian dollar continued to show strength, ending the year very close to a two-year record of $0.7854 US for $1.00 CDN. The two-year record high was set on December 17, 2020 at $0.7863. For 2020, the CDN had a net positive change of $0.02. What is truly remarkable is the end of the year rally to gain a remarkable $0.10, from the low of $0.6898 back on March 18, 2020.
There is still about a $0.05 buffer before the Canadian dollar enters the range that CBB feels is where exports of vehicles to the U.S. become much less desirable. If the Canadian dollar continues to strengthen, this of course makes Canadian vehicles more expensive for U.S. buyers, decreasing demand and putting downward pressure on prices.
Used Wholesale Price Projections
As illustrated by the CBB Used Vehicle Retention Index for December 2020, CCB notes an average month-over-month price increase of (when adjusted for seasonality) 0.7%, which results in a total increase of 2.9%, from December of 2019. This places the CBB Used Vehicle Retention Index at a new all-time high, since the beginning of the Index in 2005.
There was an unusually broad range of changes over the past year. They range from a gain of 3.4% for February, to a decline of -5.3% for June. The year-over-year change is 3.2 index points or 3%.
CCB expects that used vehicle retail demand will slowly weaken and the market will see a gradual increase in supply of used inventory. Due to these market forces, Canadian Black Book forecasts a continued drop in wholesale prices this winter, relative to highs seen in recent months. This will be followed by a more lasting recovery and greater stability of values, depending on the general state of the economy and demand for vehicles.
Short-Term Outlook (Fall/Winter of 2020)
CCB projects a continued slow decline in wholesale prices compared to their pre-COVID-19 baseline forecast. The largest contributor is the economic damage as a result of the impact of COVID-19. In August 2020, they revised their outlook based on positive signs, in terms of used vehicle pricing trends. They expect that wholesale prices will still be 10% lower, on average, compared to their spring 2020 pre-COVID-19 projections, over the next three to nine months. CCB expects to see more declines through the winter months, with a lasting recovery beginning later in 2021.
Their outlook forecasts Car segments will decline by 13% during this period of time. However, they do expect that Truck and Crossover/SUVs will lose less value and will only decline by 8%, an optimistic revision to their previous mid-August forecast as the initial rebound in values has been stronger and earlier than expected.
They also anticipate that older (more than six-years-old), less expensive vehicles in average condition will not decline as much due to increased demand for these units. The selective demand lift is expected to be driven by consumers seeking low cost, reliable transportation. COVID-19 and the resulting social distancing practices are expected to cause some regular transit riders and ride sharing customers to transition to vehicle ownership, which will fuel some incremental industry sales.
Long-Term Projections (36-Month Residual Values, Summer/Fall of 2023)
The effects of the pandemic will continue to be felt three years from now. However, CCB projects that residual values will return to the pre-COVID-19 baseline as used supply will decline, as a result of lost retail and fleet sales throughout the remainder of 2020 and into 2021.
Retail Environment
Retail Prices
For the last week of 2020, the average asking prices for vehicles listed for sale on dealer lots remained essentially flat. The 14-day moving average is now at $28,477 and has changed very little from early December. Prices were at their highest in early May, but then declined until mid-September, when they began a rebound and stabilization phase. From mid-September to the end of December, prices rose approximately 2%. With inventory continuing to be short, it is not surprising that recent price trends are positive. This estimate is based on analysis of just under 100,000 vehicles on a weekly basis, listed for sale by retailers in Canada.
Retail Insights
At the time of writing this update, the final retail sales tally for 2020 remains unknown.
For December, the expectation is another significantly depressed month, especially given the various measures of lockdowns impacting so much of the population.
At the end of Q3, sales were officially down by -23.7%. Since that time, there has only been estimated industry sales numbers, based on the voluntary reporting from a minority of manufacturers.
DesRosiers Automotive Consultants estimated for October that new car sales were down by -2.1%, followed by an unexpectedly large decline of -10.4% for November, which is the largest decline since the -16% result in June.
New Vehicles Sales Outlook
CCB's New Vehicle Sales Outlook remains unchanged from their last update and they continue to expect the 2020 official results to show a significant reduction in Canadian new vehicle sales. Last year saw a dramatic impact on both retail and fleet sales, due to weaker overall demand, interruption of operations and great economic uncertainty.
There are a number of other factors at play. This includes a reduction in the number of kilometers driven by consumers, due to millions of Canadians working from home. The various social distancing initiatives, resulting in high unemployment, and a severe erosion of consumer confidence, have all radically cooled the market. All these factors negatively impact consumer demand.
In their base economic scenario (A) from the spring of 2020, CCB
zhad projected a 25% drop (compared to pre-COVID-19 projections) in new sales in 2020, to 1.436 million units. The market is currently at a decline of 21.6% and the end result is expected to be similar to that value. In the initial deep economic recession scenario (B), they projected a 40% drop in new sales in 2020 to 1.149 million units. This was the scenario that was expected had retailers remained closed in large numbers, as they were in early April. Thankfully, that did not occur. In the longer-term, we expect new sales volume to return to pre-COVID-19 levels within five years' time. For 2021, the return of sales to more normal levels hinge on our ability to deal with the effects of the virus and to rebuild the Canadian economy.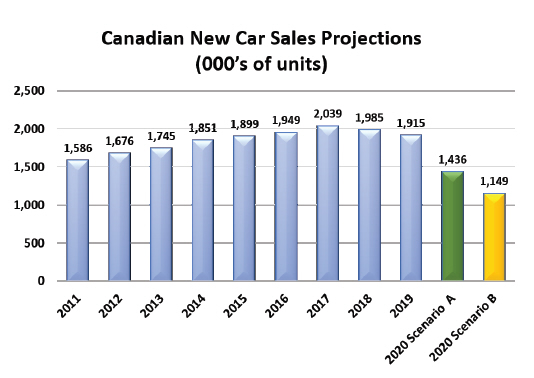 Used Vehicle Supply Projections
Canadian Black Book projects a slow build-up of used vehicle supply in the wholesale marketplace, for the winter months. The days to turn for used inventory remain considerably shorter than earlier in the pandemic, when inventory turnover stagnated, due to shutdowns of operations and consumers being in lockdown. For this past week, the 14-day moving average for days to turn for used cars remained static at 47 days.
November's estimated 10.4% drop in sales, means there are fewer trade-ins coming into the market.
Many months of reduced new and used sales and a resulting reduction of trade-ins, have depleted the number of vehicles available to be bought and sold on the wholesale market.
CBB believes this shortage to be temporary, with more supply expected in the coming months, especially as repossessions will begin to happen in greater numbers as personal bankruptcy filings increase and lenders begin to focus more resources on collecting past due accounts.
For 2021, there are well over 400,000 leases expected to terminate, similar to the record number in 2020. These units coming to market in 2021 will help provide much-needed supply relief.
Repossessions
There has been a mild uptick in repossession activity in the industry, but it remains much lower than expected by many in the industry. We expect a slow increase in repo activity into 2021 which will bring some much-needed supply to the remarketing channels.
The number of insolvency filings in October rose by 6.1% compared to the previous month. The total number of insolvencies was still 38% lower than October 2019. The positive side of bankruptcy and repossessions, if there is one, is that they do create used vehicle supply for the wholesale market.
There are several reasons for the lack of repossessions in 2020. At the beginning of the crisis, lenders offered relief for customers' loan and lease payments (anywhere from 30 days to, in some cases, up to six months). This certainly could help many consumers get back on better financial footing and hopefully resume payments, when the deferrals concluded.
Even for borrowers who are behind in their payments, it appears that many lenders are continuing to work with them to arrange plans for repayment that avoids the repossession of the vehicle. Prudent lenders realize that flooding the market with thousands of repossessed units will result in lower proceeds as prices will be depressed by a surge of supply.