Is the electric vehicle (EV) revolution over before it really even got going? Is it really that bad out there?  Of course, it isn't.
Remember only a few months ago how the big story within the auto industry was the rapidly approaching electrification of what appeared to be every product segment?  Today, most of that news has been unceremoniously pushed off the front page and out of the minds of many, being relegated to around about page four due to the pandemic crisis.
There have been a few pundits who have suggested that EV sales are going to endure a bigger proportion of the COVID-19 hit, simply because they are a new technology. One research firm, (let's not name names) reported that global EV sales would plummet by 43% this year, in a market that is expected to fall around half as much. I for one don't agree at all with that statement, for several reasons.
Big ship
The auto industry is a lot like a very, very large ship—think supertanker. It is hard to turn it left or right or to get it to stop quickly or reverse course. Vehicles take many years to develop. It is a long process. Even with today's much more rapid development process, OEMs have mapped out their line-up and begun work on retooling and engineering five years or more in advance.  If it is an all-new platform, as many EVs require, it would be an even longer planning cycle.
There is also the process of getting a new product the management resources and financial approval to proceed as well as the funding to start the work. There is also the matter of lining up all the suppliers of the 30,000 some odd parts, and determining which factory will build it, or in a rare case, perhaps a completely new factory is needed. To stop a project aimed at creating a truly "all-new" vehicle, after it has begun, certainly has happened, but in most cases is decidedly rare.
These projects, much like our supertanker example, have a lot of inertia once forward motion is in progress. During the 2008-2009 financial crisis, more than a few OEMs did have cold feet and some projects were shelved or delayed many years. The vast majority of these projects did continue as they are essential to the future health of vehicle manufacturers.
OEMs need EVs
What has changed since that financial crisis is that OEMs, in many cases, need EVs more than end consumers do. It's not the same as cancelling a gas-powered vehicle.  What I mean by that is the convoluted maze of rules and regulations for vehicles.  As the world moves towards a less-carbon-dependent future, there are all sorts of government regulations that OEMs currently have to meet. Many of them admittedly are going to be really difficult to fulfill.  To achieve these green goals, be they units sold or grams of CO2, the manufacturers need to sell EVs in the worst possible way. It must be successful.
In Canada, for example, both Quebec and British Columbia have EV mandates in place forcing OEMs to sell a certain percentage of EVs by a certain date, to be able to sell internal combustion engine products. This is just one of a plethora of examples of the types of rules that exist. If the OEMs wish to keep selling profitable ICE cars, they are going to have to sell potential unprofitable EVs. If sales don't go well OEMs are going to offer up incentives to consumers to close deals, even if today they tell you they won't be doing that.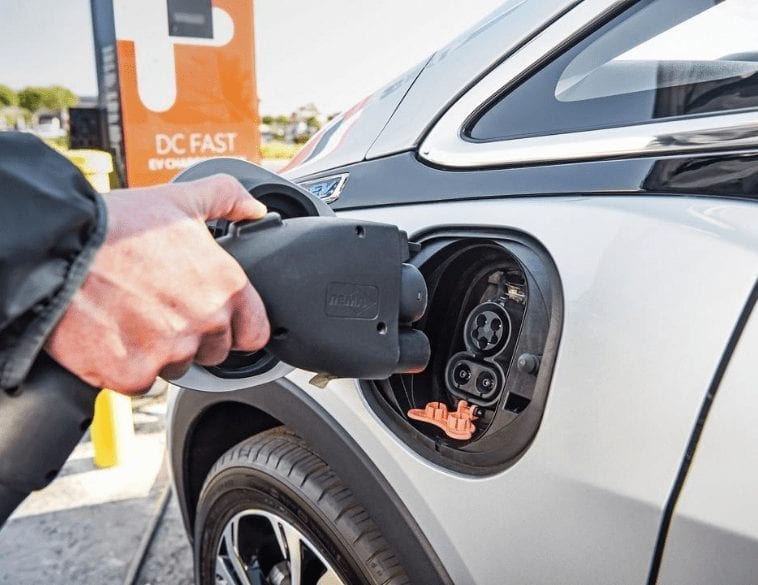 Lesser impact
Surely there must be some effect of COVID-19 on this little revolution?  Well, yes there is, just not as dramatic as you would think. It's best described as delays that could stretch into several months. Several car plants were offline for 60 days or more so there is some catch-up to be done in assembly and parts building.
That said, Tesla, for example, had a battle with the local authorities in Freemont, California and allegedly defied orders and opened a factory anyway. With so many working at home, engineers are still busy doing engineering of products that are still yet to come.  Work is going ahead, don't you worry.
The number of products coming to market is impressive.  Soon the Tesla Model Y, Ford Mustang Mach-E, Volkswagen ID. 4, Audi Q4 e-tron Sportback, Cadillac Lyriq, Nissan Ariya, Hummer EV (yes, really) and a bevy of BMWs and Porsche offerings are all waiting in the wings to bolster the EV revolution.
By the way, if you should ever wish your insides to be temporarily re-arranged, I highly recommend trying wide open throttle (is it still a throttle?) on the new Porsche Taycan. Watch the speed limit signs and hang on.
Too much inertia
The whole EV movement simply has too much inertia.  More evidence is the announcements of so many new EV start-ups. Most of these will fade away into obscurity, due to the financial brutality of the auto industry. Others may be bought by established players in efforts to take a competitor out or to inject technology or people into their own EV programs.
Consumers themselves might be the biggest hitch to the revolution. Consumer confidence in Canada is a close indicator of the likelihood that the masses will buy a car. Due to COVID-19 that metric has moved to painfully low levels but is rebounding slowly. Unemployment levels, businesses closing or shrinking and economic problems are now becoming obvious and are huge issues.
Canadian Black Book forecasts that new car sales will fall by 25% this year. Let's face it, an EV is a want and not a need and this crisis will not change that.  After all, if you desire transportation from A to B, there are many more affordable options. For that reason, I don't see EVs being as responsive to the downturn, in terms of demand, like many other products on the car market.  Consumers will seek these vehicles out.
At present, there are government EV incentives to be had at the Federal level and in the provinces of Quebec and British Columbia. This makes it a good time to buy. If you live in Quebec, you can pocket $13,000 ($5,000 Federal and $8,000 Provincial) in government cash to help fulfill your EV dreams. That money is not going to be available forever, so act now.
Gas prices
Some of you might be thinking about gas prices as a factor, which can't be helpful can it? Yes, gas prices are certainly more attractive than they have been for a long time, but it's a temporary holiday. Gas fell from over $1.30 to just over $0.75, then back up to about $1.05 a litre. Eventually, fuel prices will be back up to higher levels when the world economy and oil market return to more normal operations. Also, low gas prices won't discourage those already sold on the EV revolution.
So, in conclusion, the revolution will continue. The current crisis will not significantly slow down the already slow change spreading around the globe. The crisis, like most crises, will pass. Wear a mask, practise social distancing and we will all get to be part of this revolution in the days, months and years to come.
---
Brian Murphy is Managing Director, Kelley Blue Book & Data Solutions, Cox Automotive Canada & Brazil. You can reach him at [email protected]