But there are still challenges ahead
Global auto sales continued to strengthen in June for the second consecutive month, providing some hope as we move further from April's all-time low. June's sales were up 22% from May, but were still down 18% from June 2019.
Worldwide, annualized sales were 51 million units in June, a 29% decline from first-half sales in 2019. We expect a positive trend to continue and are forecasting 59 million units for 2020, reflecting an estimated 20% decline y/y for the second half.
In some markets and auto segments, demand is actually outstripping supply. The rebound is due to the gradual reopening of major economies, and while there was some fear that sales might not recover due to people working from home and not driving, or being able to afford a vehicle, we're not seeing that play out so far.
Auto sales surpass other activities
In Canada, the strength of June's auto sales surpassed other traditional signs of activity, including job growth, manufacturing activity, and broader retail sales. It's even stronger when fleet sales are netted out of the total June sales. Retail sales were positive, while preliminary estimates showed fleet sales were down 50% YTD.

But we are not without headwinds. A CarGurus survey found that respondents felt "less confident" about their ability to afford a vehicle due to the pandemic. While an Angus Reid survey found that 80% of Canadians were confident about their financial situation, more than half felt it was a bad time to make a major purchase.
Asia pivots, but not everyone is up
China drove June's global recovery numbers, thanks to earlier reopening, along with low vehicle ownership with more potential new customers. Sales have been strengthening for four months now with the last two in positive territory. While China was down 22% y/y for the first half of 2020, we expect full-year sales to reach 19 million units, a drop of 11% over full-year 2019.
Sales also pivoted in other Asian countries. Japan rose 31% from May to June, although with new outbreaks in Tokyo, the rebound may be fragile. India and Indonesia also experienced large sales increases in June, although both are down significantly from 2019, at 49% and 80% y/y respectively.
Year-to-date sales are down 40% in Europe, with hard-hit countries like the UK, Italy, Spain and Portugal offsetting better performance in Germany and France. New stimulus measures across the EU should help with a rebound, but emissions regulations will likely continue to have a dampening effect.
Better Days Ahead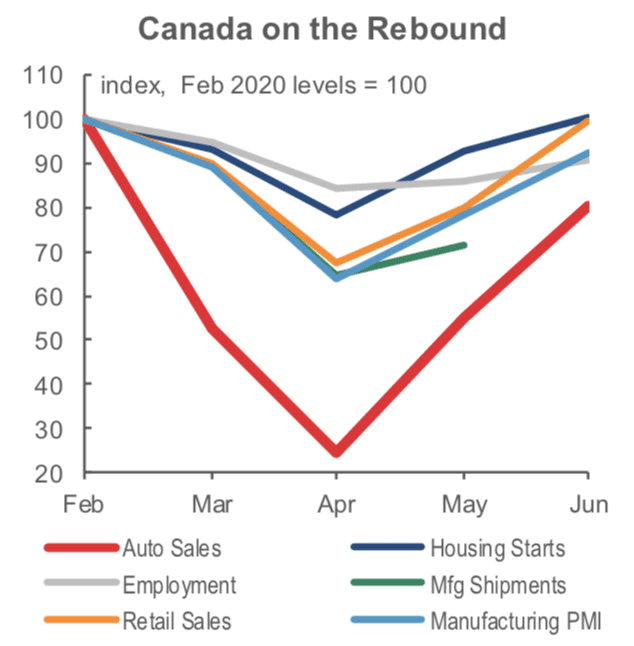 Canada's first-half sales were down 35%, but as mentioned, we expect a better second half. The U.S. marked a 24% drop, as less-rigorous shutdowns minimized sales losses. Mexico picked up the pace in June, but was still down 32% for the first half. It now faces an anemic recovery as COVID case numbers rise in that country.
In both Canada and the U.S., the cyclical sales peaks from 2016 to 2018 were a tough act to follow. Before the pandemic, we expected flat sales in 2020. In line with longer-term economic recovery, we continue to remain conservative in our auto sales outlook, as significant risks still remain despite a relatively strong early rebound for auto sales.