Collision repair shop owner Sylvain Laporte has combined his passion for cars and his desire to give back to the community in an inspiring manner.
Sylvain Laporte owns two collision repair shops: Fix Auto St-Léonard and Fix Auto Métropolitain in Montreal. He represents the second generation at the head of these businesses, having taken over from his father Jean-Marc in 2005.
The state-of-the-art facilities employ 33 people. They are recognized by numerous vehicle manufacturer accreditation programs, most notably Tesla, and have reached the highest levels of the I-CAR technical training certification program.
"The current context in the collision repair industry is undeniably unsettling for its members, given the shortage of personnel, the discrepancy between demand and repair capacity, and the delays in the delivery of parts," explains Laporte. "That said, as businesses owners, and more importantly as individuals, we are in a fortunate position. I realize how important it is to give back to others when I see how many people are going through much
more heart-rending personal situations."
A passion for motor racing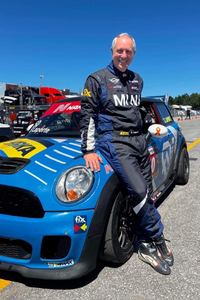 A keen motoring enthusiast, Laporte began racing cars in 1990, first as an amateur, and then more seriously (for the past 11 years) in the Super Production Chanllenge series, which has five races in Eastern Canada, including one during the Grand Prix of Trois-Rivières.
"My son was very ill in his early childhood years, and this brought me in contact with families dealing with particularly trying situations in hospitals. It was then that I discovered the importance of what the Ronald McDonald House offers to sick children and their loved ones," recalls the collision repair
shop owner. "When Fix Auto highlighted the role of the Ronald McDonald Houses at its 2018 conference, and the willingness of the entire network to support them, I was touched… and inspired."
Joint effort
Why not combine his love of motorsport with his desire to give back to the community? "I discussed it with Yves Roy (Fix Auto National Vice President) and he was so enthusiastic about it that he pulled out all the stops to make my project a reality."
As a result of this wave of generosity, since 2019, with a break in 2020, Laporte's team has been offering the children of the Ronald McDonald House, and their families the opportunity to attend the Grand Prix de Trois-Rivières in specially-designed VIP boxes. This is a sensational activity designed to distract them from their daily challenges.
This activity, which will take place for the fourth time next August, also serves another purpose. "We also invite collision repair shop partners to attend these three days of auto racing in exchange for a financial contribution to the Ronald McDonald House Foundation," adds Laporte. "What's more, we have succeeded in attracting several industry stakeholders to this great endeavour, including, of course, the Fix Auto Network, as well as NAPA, Mirka, MagExpress, QuarPro and Progi. This demonstrates, beyond all doubt, how an entire industry can join forces for a worthy cause."