Repairify's Repair OnDemand solution has been designed to improve repair efficiency among collision shops, fleets, dealers, auctions, and independent service shops.
We asked the President of Repairify's Repair OnDemand Business, Tony Rimas about how solutions like this can make a difference.
Late last year, Repairify announced the launch of Repair OnDemand, a two-sided sublet repair marketplace. The aim is to provide a trusted, effective marketplace that connects sub-let repair professionals with organizations that have vehicles in need of repair, including fleets, auction operators, collision centres, dealerships, and independent mechanical service centres.
The launch of Repair OnDemand could arguably, not have been better timed. The automotive collision, service, and repair sector is currently facing a number of tough challenges, including finding qualified, reliable professionals that are able to fix vehicles properly and efficiently.  To find out how solutions such as Repair OnDemand can really help alleviate these issues, Autosphere interviewed Tony Rimas, President of Repairify's Repair OnDemand business.
Autosphere: Can you provide us with a little background information regarding the concept of Repair OnDemand?
Tony Rimas: There were several factors that stood out to us. Prior to the COVID-19 pandemic, 99% of Repairify's revenue came from collision repair. When the pandemic hit, miles driven plummeted. That provided a real opportunity for us to look at scenarios where miles driven, and vehicle use remains volatile. The conclusion was that even though cars may not be driven as frequently or as regularly as before; they still deteriorate and need new parts and repairs. And in those kinds of situations, they often need to be repaired by qualified sub-let professionals. 
AS: Can you give us some examples?
TR: Cosmetic paint/touch-ups, wheel repairs, and glass replacement/repair are all good examples of this. Today, because vehicles have a multitude of sensors; when you're performing any of these tasks, such as performing dent repair, replacing and repairing a wheel or a windshield, chances are there is a sensor that needs to be replaced and/or recalibrated. 
AS: You've done a lot of analysis on this, what were your findings? 
TR: Based on looking at Repairify's growth and acquisition strategy, we've been able to conclude that in some of these acquisitions, we were able to account, year-to-date, approximately $1.6 billion worth of invoices. Also, in Repair on Demand, about a third of that is related to sub-let repairs for collision shops.
AS: As we understand it, Repair OnDemand is really expanding in 2023, following successful evaluations last year.
TR: Through the Repairify Institute and learnings via asTech [one of the companies and solutions in our portfolio], we were able to get a good understanding of what's required during sub-let repairs and ask if the individuals are able to perform sensor recalibrations as well as the repair itself. We quietly conducted testing last year over an 8-9-month period and at the 2022 SEMA Show we were able to officially announce Repair OnDemand, because, by that stage, we already had several pilot clients, outside the collision repair space, that were utilizing the platform on a daily basis. Repair OnDemand was able to quickly establish its footing by combining the software, technology, and people from AutoMobile Technologies (AMT), Mobile Tech RX, One Guard Inspections, and BlueDriver, to bring clients together with its network of over 16,000 sublet repair professionals.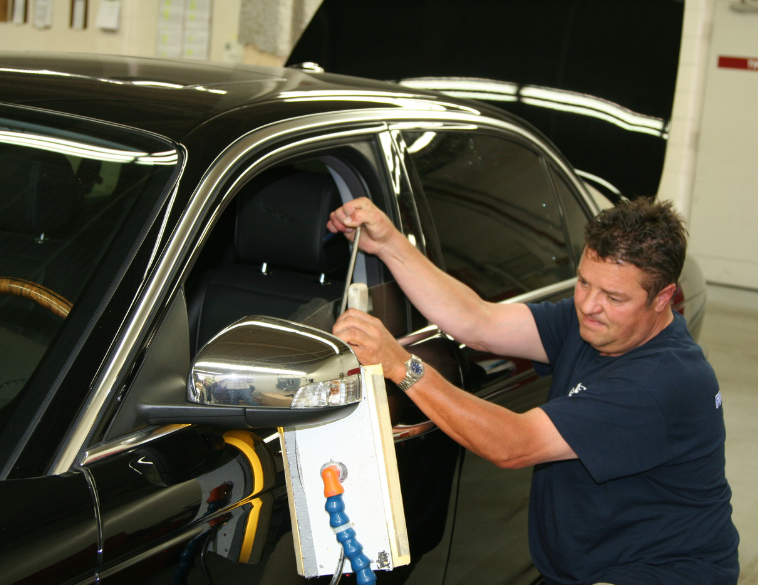 AS: Where do you see a platform like Repair OnDemand having the biggest impact?
TR: The first thing I want to explain, is that while Repair OnDemand is designed to connect repairs with those able to perform the work, it is not a staffing agency. Secondly, the ability to source qualified people to perform sub-let repairs can have a huge impact on auction operators, fleets, dealerships and independent collision and mechanical repairers. In many cases, these businesses have a lot of vehicles that need repairs or reconditioning, but they don't necessarily have access to the right repairers in their local area to perform the work. Technology enables us to fill that gap, by providing information on sub-let repairers such as what they specialize in, where they are located, how long they've been in business, who they work with and invoice for. In the case of Repair OnDemand, it allows us to provide a consistent and easy way to communicate between the business and the sub-let repairer, which saves time and money on the actual repair.
AS: Can you give us an example of this?
TR:  When you think of collision repair cycle times, and length of rental, there are often situations where two or more days are added, simply because the shop is waiting on parts or for sub-let repairs. If, that collision shop is able to find a solution where it is able to quickly connect with a whole network of sub-let repair specialists, many that have networks of their own, the chances of reducing the time to source a sub-let repair specialist and have that work performed increases significantly. Provided efficient scheduling and communication are performed, that can reduce cycle time by a day or a day and a half. 
AS: Looking beyond the collision space, can you provide us with another situation where technology like this can make a big difference?
TR: Vehicle key replacement is a good example. Let's take a big salvage auction operator. They have an internal process where it can take up to 7 working days to have a key replaced on a vehicle. With a solution like Repair OnDemand, that auction customer can input the VIN of the vehicle and we have proprietary software that matches that VIN to the key they specify. With two national locksmith partners and technology, we can cut down that turnaround time from 7 days to just a single working day. 
AS: There's also a scalability component to this, can you tell us a little about that?
TR: In order to scale you have to start with a simple product. Let's take dent repair when reconditioning a vehicle. It's important that the sub-let professionals you connect with have a thorough understanding of the process such as how temperature and humidity impact dent repair. For example, performing a dent repair procedure on a hot dry, 90-degree day is very different than in the rain or high humidity. It is a completely different experience, both for the sub-let repairer and the client that is having the work performed. By having a thorough understanding of this, we can ensure that the repairs are performed properly, and favourable outcomes are achieved. Quality dent repair, is simple, fast and scalable, given the huge and growing demand for reconditioned vehicles. Another is wheel repair. We're seeing this grow exponentially, given the higher cost of replacement wheels and inconsistency when it comes to sourcing replacement items. Furthermore, the growth in Electric Vehicle adoption and the added weight of these vehicles is increasing wear rates on tires and that impacts wheels too. About 20% of our receipts today relate to the wheel repair, and that is going to be a huge business moving forward. 
AS: Any final thoughts?
TR: The ultimate goal is to help automotive fleet owners, auction operators, dealerships, and independent repairers improve repair and reconditioning operations before, during, and after the repair. Repair OnDemand can do this by speeding up the time required to find sublet repair professionals, providing more control over how quickly the repairs can be completed, along with automating invoicing and payment processes.