The growing number of safety technologies on vehicles is pushing bodyshops to become experts in electronic systems.
Scanning and analysis of electronic data from crashed vehicles has become a common practice in bodyshops. Discovering and documenting all crash-related fault codes allows for the construction of an accurate and comprehensive repair estimate. Combined with the manufacturers' repair processes, this form of estimation reduces discussions with insurers who want to see, in a nutshell, what they are paying for.
The advent of advanced driver assistance systems, ADAS, adds a layer of complexity to the operation. Are there any sensors, cameras or other electronics that need to be replaced or calibrated as part of this repair? For many body shops, taking on this type of work, rather than turning it over to dealers, is a must. We spoke to three bodyshops who have plunged purposefully into the murky waters of ADAS calibration.
Cost effective and necessary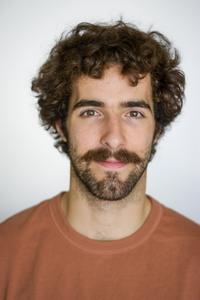 The first question we raised was whether the investment in time and money to set up everything necessary to perform these calibrations was worth it.
"The fact that we can do everything in-house allows us to reduce cycle times, since we no longer have to wait for the car to be processed at the dealership," says Alexandre Kane of ProColor Vaudreuil-Dorion and Saint-Lazare bodyshops. "We were already doing all the electronic diagnostic scans and some module programming. We have a very interested technician who is already invested in troubleshooting electronic and electrical systems. For him, diagnostics and calibration of ADAS components became a logical extension of his duties."
On the subject of cost effectiveness, Kane says he has no problem charging insurers for these calibrations because everything is documented at the time of the damage estimate. When it is clearly stated in the vehicle manufacturer's repair processes that calibrations are required, the discussion with the insurer is shortened if not eliminated.
I have to admit that the investment and everything that goes into the implementation was scary," says Kane. With the positive impact it has had on the entire company, bringing the calibration back to our shop floor has become a profitable position."
Diagnostic and calibration technician
Jérémie Martel of CARSTAR Anjou in Montreal was also one of the pioneers in ADAS calibration. Yes, this is equipment that requires space and training, but I'll tell you, it paid for itself in less than one year," he says. "We have several technicians on our team trained in electronic diagnostics and calibration who can handle 95% of the challenges. You know, today, you can't replace a bumper cover or a headlight without reprogramming or calibration. Managing this technology issue in-house means developing our deep understanding of the repair of new generation vehicles. It's not an expense, it's part of our vision for the future, and by the way, it's a great way for our shop's reputation to shine."
Mr. Martel feels that we have come a long way in terms of compensation for this advanced work. Electronic diagnostics, like ADAS calibration, requires expertise and expensive equipment. Rates are applicable for these operations, but all of our stakeholders agree that a markup would make sense as the calibration processes become more complex in many cases.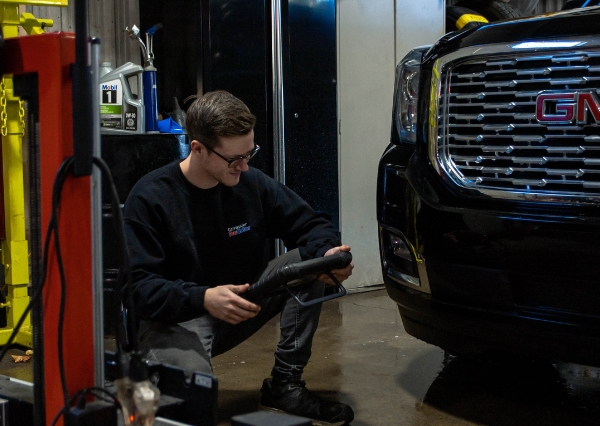 Easier with experience
Our bodyshops also report that after normal initial trial and error, ADAS calibrations become easier and easier as the technician's experience grows. The various training courses available on this subject lay the groundwork, but the real learning is done by plugging in cars, all kinds of cars.
Sébastien Thibault of Carrossier ProColor in Cabano, brings another point about profitability. "We are on the committee of our network that has analyzed this new phenomenon, in particular to try to establish a rate. Even today, an adjustment of the rate paid by the insurer would be necessary, because beyond the calibration itself, there are steps to complete that require time." As a simple example, the customer must often be told to deliver his car with a full tank of gas and an empty trunk in anticipation of the calibration. Otherwise, the bodyshop should take the time to call the customer and ask for permission to fill and empty. Details that add up in the end.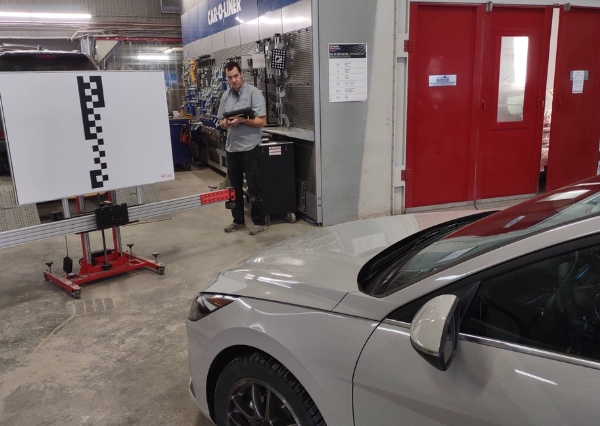 Figures speak for themselves
According to Mr. Thibault, nearly 50% of the cars repaired in his shop require some form of calibration, sometimes even several calibrations. With up to 30 vehicle deliveries per week, it is understandable that the technicians assigned to these tasks are not idle. It is worth mentioning that they work in the evening, when the workshop is relatively empty, as some calibrations on large vehicles require so much space that the operation takes up the equivalent of three service bays.
For him, the key to making the multi-thousand dollar investment in ADAS calibration worthwhile is to take advantage of scanning the vehicles' electronic data–a process that everything in his shop undergoes–and extract any fault codes related to advanced driver assistance systems. "We pay close attention to the processes related to these issues that need to be addressed, to ensure that everything is rigorously stated in the estimate," illustrates the bodyshop. The revenue to be gained is in the rigorous documentation of the files."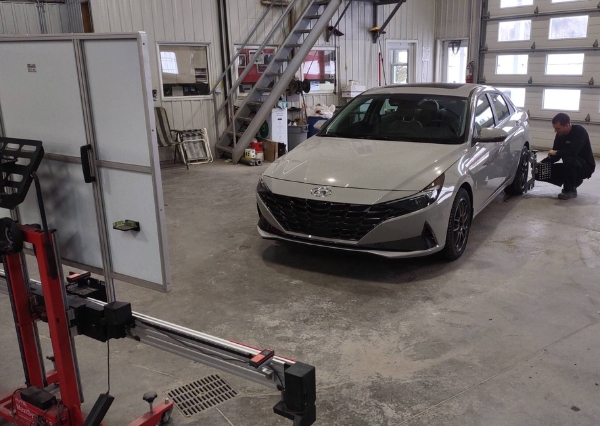 According to our three participants, the whole issue of ADAS calibration also illustrates the technological change that bodyshops must negotiate. "If you don't get up to speed, it won't be long before you can't do anything on the cars," predicts Alexandre Kane. Above all, let's not forget that these calibrations are directly related to the safety of our customers."