What path do collision shops follow to reach the level of knowledge needed to calibrate advanced driver assistance systems (ADAS) for the vehicles they are repairing?
Diagnosing and troubleshooting problems with ADAS requires collision shops to learn a whole new skill set. Few people are able to assimilate this technical knowledge without specialized training.
"Our shops are there," says Michel Bourbeau, President of the Corporation des carrossiers professionnels du Québec. "Scanning electronic data before and after the repair is now an integral part of the repair process. Many shops are now starting to add diagnostic and calibration operations for ADAS components to their operations, which is a desirable development. Desirable as long as insurers recognize these efforts and investments in their pricing."
Collision shops who want to get up to speed on ADAS calibration can follow several paths. Suppliers of specialized equipment generally include training with the sale of their products. This can be done at the shop or in a training center, depending on the formula.
The Fix Network also offers a training program on researching manufacturers' repair procedures and an introduction to ADAS for all shops.
As Sophie Pepin, Fix's Strategic Manager of Network Learning, explains, these comprehensive training days include both theory and active shop demos.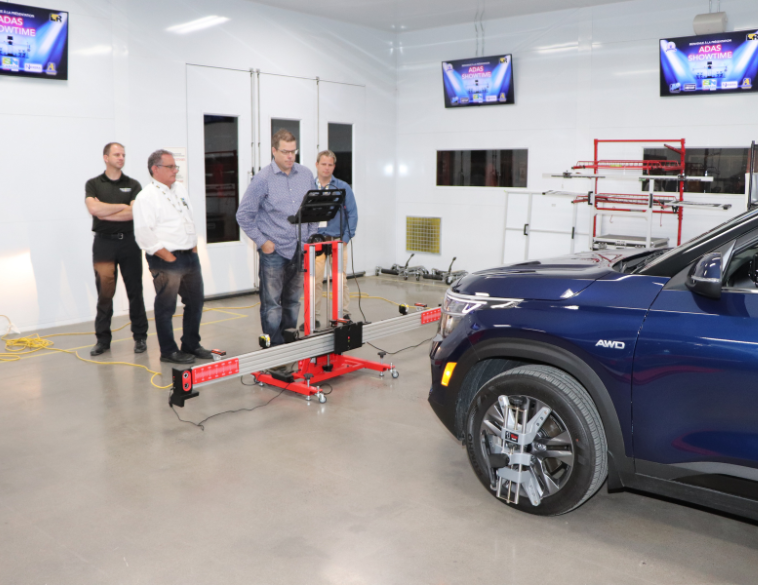 A specific training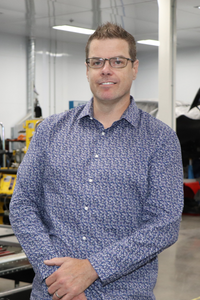 One could not discuss electronic diagnostic training or ADAS calibration without mentioning trainer Michel Julien of MJConsultec and his training program. The calibration component must be preceded by the successful completion of the electronic data scanning and management training also offered by Julien.
The program consists of 25 online training capsules leading to a certification.
"We find that between 60 and 70 percent of vehicles repaired under insurance coverage by our shops have at least one piece of ADAS equipment," Julien says. "The distressing fact is that 6 to 10 percent of those vehicles are properly calibrated before they hit the road." That's why Julien created the ADAP program, which brings together shops that have obtained their electronic expertise certifications. The membership gives access to update capsules, an important element in the face of constantly evolving technology. Julien is working with these leading-edge shops so that insurers can pay them a specific, subsidized rate in recognition of their skills and the investment required to perform electronic diagnostics and calibrations.
Sharing knowledge and the same language
Julien works in collaboration with professional training centers to prepare the next generation of technicians. He also mentions having developed close relationships with insurers so that they understand the impact of electronics on the repair process.
Anne Morin, in charge of public affairs for the Groupement des assureurs automobiles (GAA), mentions that the ADAS calibration component is part of the training of automobile damage estimators who work for insurance companies or estimation firms.
"It's important that everyone speaks the same language," says Morin in an interview with Autosphere. Calibrations are part of standards and procedures and, like all the sophistication of vehicles, represent quite a technical challenge."
GAA auditors also ensure that the estimation work is done according to these rules by both insurers and repairers. It should be noted that the GAA also posts videos on its website presenting short training sessions on various aspects of damage estimation. These clips are accessible to estimators working for insurance companies, but also to those working in workshops.
The I-CAR path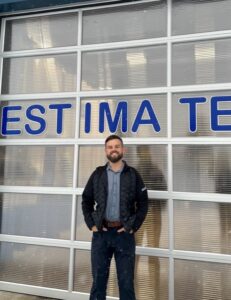 Autosphere had the opportunity to have a lengthy discussion with shop owner Bennett Douglas of CSN Fort Saskatchewan, Alberta, about training for electronic data analysis and ADAS equipment calibration.
"We're in a rural area, away from dealerships, and need to be self-sufficient," says Douglas. In this effort to be self-sufficient, we have always relied on our own mechanics. They are familiar with electronic diagnostics. When we decided to integrate ADAS calibrations, we followed two training paths in parallel. The first one was to go and get the I-CAR training on these operations. The second was to get all the training we could from our equipment suppliers. I would say that even with the training, working on the cars is how my technicians refine their knowledge and perform the operations faster."
Admittedly, insurers were initially lukewarm to the idea of paying for shop calibrations, but time has shown them that the solution is more economical for everyone. By the way, in this Prairie shop, a bay is reserved for electronic diagnostics and calibrations, and this part of the repair process is billed as a separate service, at the hourly rate that applies to mechanical work.