A big highlight each year at the SEMA Show in Las Vegas, is the Battle of the Builders Awards contest. Attendees can register their vehicle in one of four distinct categories.
These comprise of:
Hot Rod & Hot Rod Truck
4 Wheel & Off-Road
Sport Compact, Import Performance, Luxury & Exotic
Young Guns (builders under 29, the winner of which is announced before the overall Battle of the Builders Champion).
This year, 12 finalists (three in each category), were selected. They were as follows:
Hot Rod/Hot Rod Trucks
Ringbrothers, 1948 Chevrolet Pickup Loadmaster, Mothers Booth #22357
Tyler Nelson, 1958 Ford F100, Mothers, South Silver Lot
Tim Devlin, 1934 Chevrolet Roadster, HRIA Booth #23295
Sport Compact, Luxury and Exotics
TJ Russell, 1991 Porsche 911, BAJA Front of Central Hall V052
Shawn Bassett, 1991 Nissan Skyline GT-R, Moton Booth #20555
CJ Pullman, 1977 Ford Pinto, Front of Central Hall Booth #V319
4-Wheel Drive & Off-Road
Ringbrothers, 1972 Chevrolet K5 Blazer, HRIA Booth #23295
Cody Dabney, 1970 Ford F-250, South Hall Booth #CO7
Greg Ward, 1971 Toyota FJ40 Landcruiser, North Hall Booth #10215
Young Guns 29 & Under
Cameron Cocalis, 2015 Scion FR-S, Toyo Treadpass
Austin Phipps, 1966 Chevrolet Nova, Battle of the Builders Booth #10139
Josh Michels, 1966 Chevrolet Corvette, Battle of the Builders Booth #10139
From these, the individual category winners were selected and were as follows:
Mike Ring – Ringbrothers, 1948 Chevrolet Loadmaster Pickup (ENYO); TJ Russell, 1991 Porsche 911; Jim Ring – Ringbrothers, 1972 Chevrolet K5 Blazer and Josh Michels, 1966 Chevrolet Corvette Sting Ray (Young Gun Award winner).
The ultimate winner of the SEMA Battle of the Builders Contest for 2022, was ENYO, a custom hot rod 1948 Chevrolet Pickup from famed builders Mike and Jim Ring (Ringbrothers). Named after the Greek Goddess of War, ENYO took almost a decade to build—the result of many hours of design and engineering expertise to create a truly unique, one-of-a-kind custom truck.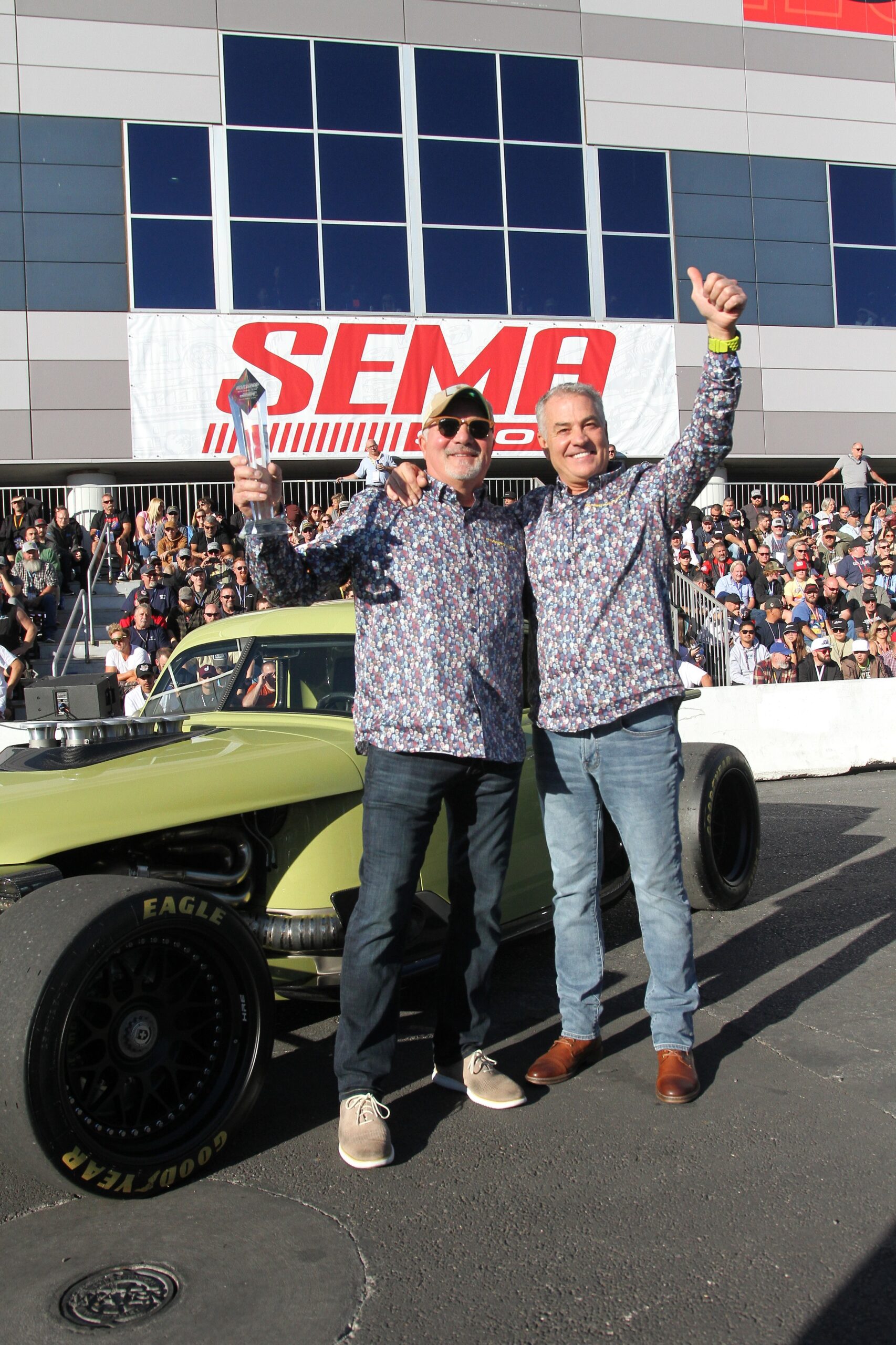 Based on a 1948 Chevrolet Loadmaster (an early example of the famed Bullnose Chevy trucks), this one has been chopped and narrowed by four-inches, lengthened by two inches and wedge cut by 2-4-inches. It sports a two-piece carbon clamshell hood and belly pan, with front and rear diffusers, doors, the bed sides, spoiler, side air intakes, fan shrouds and brake ducts also made from Carbon. An open wheel, fenderless hot rod, ENYO also sports a Porsche 9111 pin drive and HRE wheels shod in race slicks.
Powered by a 510-cubic-inch Todd Goodwin built V8, with a Kinsler multi-stack fuel injection system and custom SS headers, ENYO cranks out 1,010 horsepower on race fuel. Transmitting power to the ground is a GM 48LS transmission, while the vehicle sports an Ahlman engineered-designed chassis with a Roadster shop cantilevered independent suspension (both front and back).
Ringbrothers builds have consistent earned major recognition on the custom vehicle show circuit and ENYO continues that tradition.
Year after year, the SEMA Show gives us the opportunity to showcase what we are most passionate about," said Mike Ring, co-owner of Ringbrothers. "This year, we had the opportunity to unveil four of our most extreme builds, both in design and execution. With the support from our partners and the enthusiast community, we continue to push the boundaries of custom car building which is what we originally set out to do."