The latest generation of welders enable shops and technicians to deliver better quality results in less time.
As vehicle design, engineering and substrates have changed, so have the repair requirements. As a result, modern Mig/Mag and pulse spot welders have become standard equipment in most collision shops. As Nick D'Amico, Field Technical Analyst, Eastern Canada for CSN Collision Centres, explains, "having access to a resistance spot welder is no longer a luxury, but a necessity."
Best ROI
Mike Croker, Global Repair and Training Product Manager for Chief Collision Technology concurs. "Out of all the equipment available, a spot welder offers probably the best ROI you can get." And it's not just the value of the equipment, or how quickly it can pay for itself, but the quality of the work that results from using it. "Using a modern resistance spot welder is about as close as you can get to replicating the OEM process, plus it's fast and efficient," says Croker. He notes that while a top-of-the-line unit might set you back $20,000, the ability for it to cut your repair time in half makes it a very worthwhile investment.
Yet before beginning a welding equipment purchase, collision shops need to have a thorough understanding of their use requirements. As Nick D'Amico at CSN mentions, "what operations will it be used for? What types of vehicles does the shop repair most frequently? What OEM Certifications will the collision centre be looking to obtain?
Essential considerations
Given the options available on the market today these are essential considerations. When it comes to spot welders, should you choose a traditional or inverter model? Traditional, air-cooled spot welders are, as D'Amico mentions, often limited in the type of metals they can be used for as well as the number of welds that can be performed at any one time. Inverter spot welders, which are liquid-cooled, have few limits on the number of welds that can be performed (depending on the thickness of substrate the technician is working with).
With OEMs having taken an ever-increasing role in the collision repair process and requiring specific welding equipment for their certification programs, shops also need to be careful in terms of knowing which programs work best with the types of repairs they perform and also the frequency of the brand and model of vehicles on which they work. Doing so, allows them to make better, more informed decisions when it comes to equipment purchases.
While it might be easy to balk at a $150,000 equipment investment, today, having the correct tools is simply the "cost of admission" notes Domenic Prochilo, Vice President at Simplicity Car Care, particularly given the complexity of modern vehicles and the need to follow OEM repair procedures. "There is simply too much risk to safety if the welding techniques and parameters do not meet OEM specifications."
Smart welding
Over the last decade, we've seen significant growth and demand for smart welders. At Pro Spot, the company's i4s smart spot welder has proven a best-seller and a gamechanger for many shops that have adopted it.
"Smart welding is all about using information and being able to adjust to the changing parameters or the weld throughout the whole welding process," explains Russ Duncan, Director of Sales and Marketing (Canada) for Pro Spot International. "A smart welder can adjust as it welds, providing the technician with the ability to log the weld to assure it has met the OEM's required outcome." Additionally, besides saving time, as well as improving the accuracy and consistency of the weld, a Smart welder can also receive information directly, to ensure the machine stays current to welding requirements—without requiring an external source for those updates, such as from a USB drive.
At Chief Collision Technology, Mike Croker says the technology available in modern welders is nothing short of amazing. Citing the company's latest EMI300T, he says it basically "does everything for you. It performs all the math and all of the process every second you're welding," explains Croker. Extremely versatile and easy to use, with multiple arm configurations and access to more plates, a modern resistance smart welder can be properly utilized by any technician in the shop. "It really is the only way to fix a vehicle today," says Croker. "If you're not using it, you're not performing repairs properly."
Pro Spot i4S
Pro Spot's i4s is the latest addition to Pro Spot's line of spot welders. The i4s continues the tradition of building on Pro Spot's successes and experiences, using the latest technologies to create the ultimate smart 'Auto' Spot Welder available. The i4s provides unlimited access to connected training resources and supports Adaptive Auto Welding. The advanced welding control system senses, reacts and adjusts welding energy based on material composition, thickness, and resistance properties. The automatic, extended force range provides the correct electrode tip force pressure required for the UHSS materials of today and tomorrow.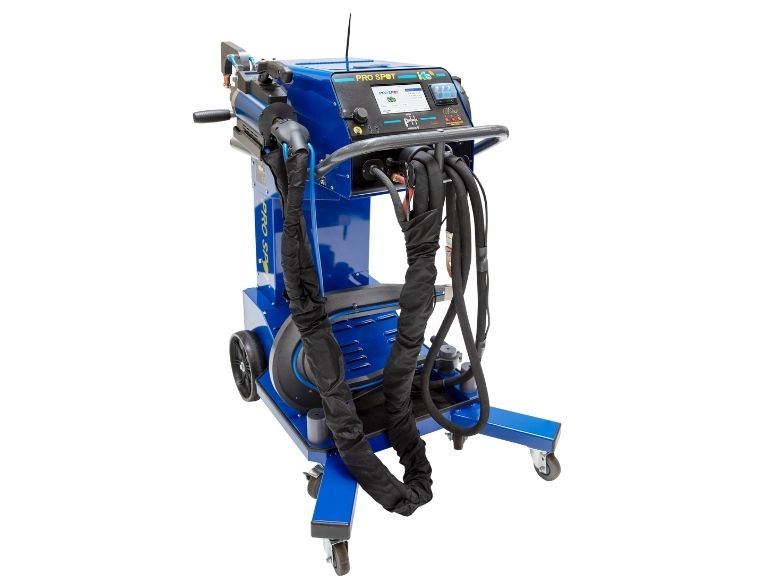 Chief Mi300T STRW
Chief's Mi300T high-performance spot welder has been designed as the ideal solution for all high-strength steel body repairs. Easy to handle with reduced weight Features the new GENIUS clamp allowing an automatic retraction of the electrodes for quick access of the welding area. An Auto-mode feature allows welding without entering any parameters into the machine, cutting the welding time in half. Water lines automatically connect when changing arms which allows for reduced setup time. Other features include water-cooled power cables, electrodes and caps, a 5.7-inch LCD screen—multi-mode functionality, Normal, Manual, Multi, Auto, Manufacturer, and Energy, plus the Mi300T also includes a tracking feature that saves the characteristics of each welding spot on a SD card. There's also automatic adjustment of pressure between electrodes, a spot count feature to determine cap lifetime and an 80mm automatic opening capacity (20mm when not in use).