As part of the SEMA360 training program, a leading automotive industry specialist has drawn a detailed picture of what the future holds for collision repairers.
This conference was held during the Society of Collision Repair Specialists (SCRS) workshops. Author of the book Auto Industry Disruption and an automotive expert for 40 years, Frank Terlep set the table by saying that the next five years will bring more change to the collision repair industry than it has seen in the last 50 years.
First, Terlep explained that the first level of change would come from the insurance industry. "With artificial intelligence, vehicle connectivity, data management for risk assessment, and photo-based estimating, insurers are aiming to reduce operating costs by 40% and will seize every possible technology to achieve this goal."
Aggressive builders
The sector will also be marked by an increased presence of automobile manufacturers, both insurers and body shops. Terlep points out that OEMs have seen an 18% decline in the use of original equipment parts in U.S. repairs since 2003, and will want to make up for lost ground.
Knowing that customer satisfaction in collision repair is critical to brand loyalty, automakers will put pressure on shop certification. Currently, in the United States, 87% of body work is done in non-certified shops.
"The automakers' strategy is already at work, even though they are offering more affordable original equipment parts," says the expert. In order to promote shop certification, they will share repair processes more easily and provide easier access to data. "This sharing would be simplified by the connectivity that sends relevant information from the vehicle directly to the manufacturer. This heralds the development of direct links between the manufacturer and the consumer."
Electricity
Noting an 87% reduction in battery prices since 2010, Terlep sees a bright future for electric cars. All automakers have significantly expanded their offerings, while several U.S. jurisdictions are tightening their standards. California, for example, has announced that all new cars sold after 2035 will be electric.
"When you know the technology behind these cars, it's easy to understand that we're going to have to rethink the way we repair and maintain them," Terlep says. "Think also that on a combustion car, there are 2,000 moving parts compared to 18 for its electric equivalent."
Claim Change
Traditionally, after a collision, the consumer will call his insurer who will guide him to a body shop. The latter will give him an appointment for the estimate and then an appointment for the repair. Once the work is completed, the customer takes possession of his vehicle and is invited to fill out a satisfaction survey.
With the arrival of new technologies, Mr. Terlep sees that this sequence will soon change. "After a collision, the car will directly send the damage detected by the sensors to the insurer after computer analysis. The customer will directly receive an invitation to an appointment for the repair, which will be done according to the manufacturer's processes. The consumer will only have to pick up the vehicle and fill out the survey. It is the vehicle that triggers the whole operation."
According to him, this new approach would save an average of three days of surgery and $600 in repair process costs.
The ADAS Revolution
For the speaker, the most important vector of change in bodywork will undoubtedly be advanced driver assistance systems. The U.S. Department of Transportation and Highway Safety (NHTSA) has mandated that by 2022, Automatic Emergency Braking Systems (AEDs) be delivered as standard on 97% of new vehicles. Already today, some 45% of cars on North American roads are equipped with some version of AED.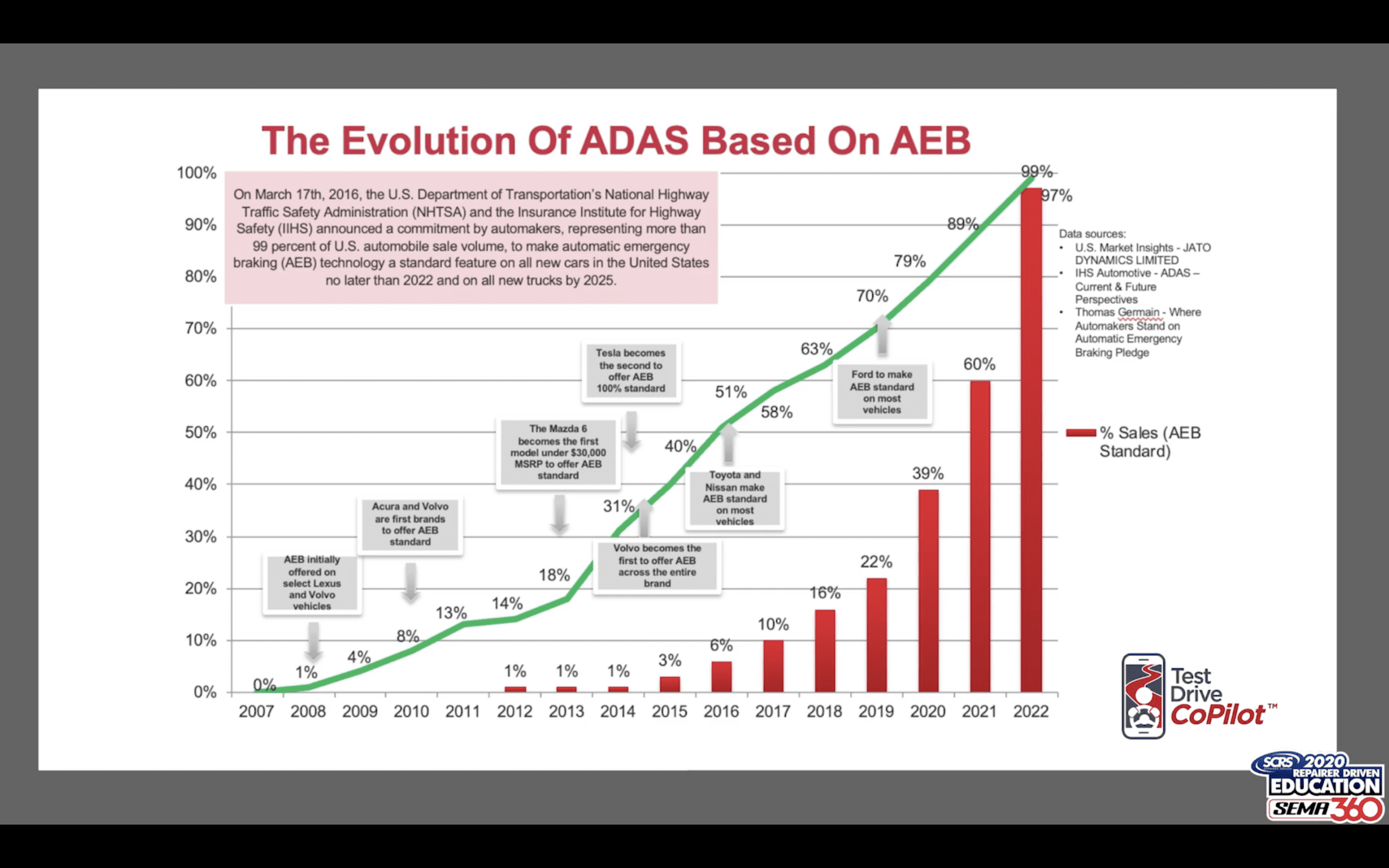 "Both insurers and repairers are going to have to get on board and understand how this works," says Terlep. "The repair process has never been more important because the accuracy of its systems is directly related to the safety of motorists."
The calibration of cameras, long and short-range radars and other lidars of this world represents a very important market. According to the expert's analysis, in the United States, the market for calibrations alone represents revenues of US$396 million. Based on a calibration operation at $300 each, he predicts that this potential market will reach $864 million by 2025, as the number of vehicles equipped with ADAS increases.
"It's not a figment of the imagination," he says. "We're already seeing the emergence of specialized centers in some states that are dedicated solely to calibration activities. They outsource their services to body shops who don't have space, knowledge or equipment to do so. I would caution workshops on this subject. If you want to offer ADAS repair and calibration services, commit yourself fully or not at all. There is no room for amateurism."
Specialization
In this sense, Frank Terlep sees that the collision industry will necessarily have to become more specialized. He considers that the consolidation of networks, where an increasing number of workshops will be in the hands of a smaller number of players, will encourage this phenomenon, which he sees as inevitable. "I don't think a small independent shop will be able to repair all these high-tech vehicles," he says. "We're already seeing large networks setting up specialized shops by brand and region. You can't be good at everything. "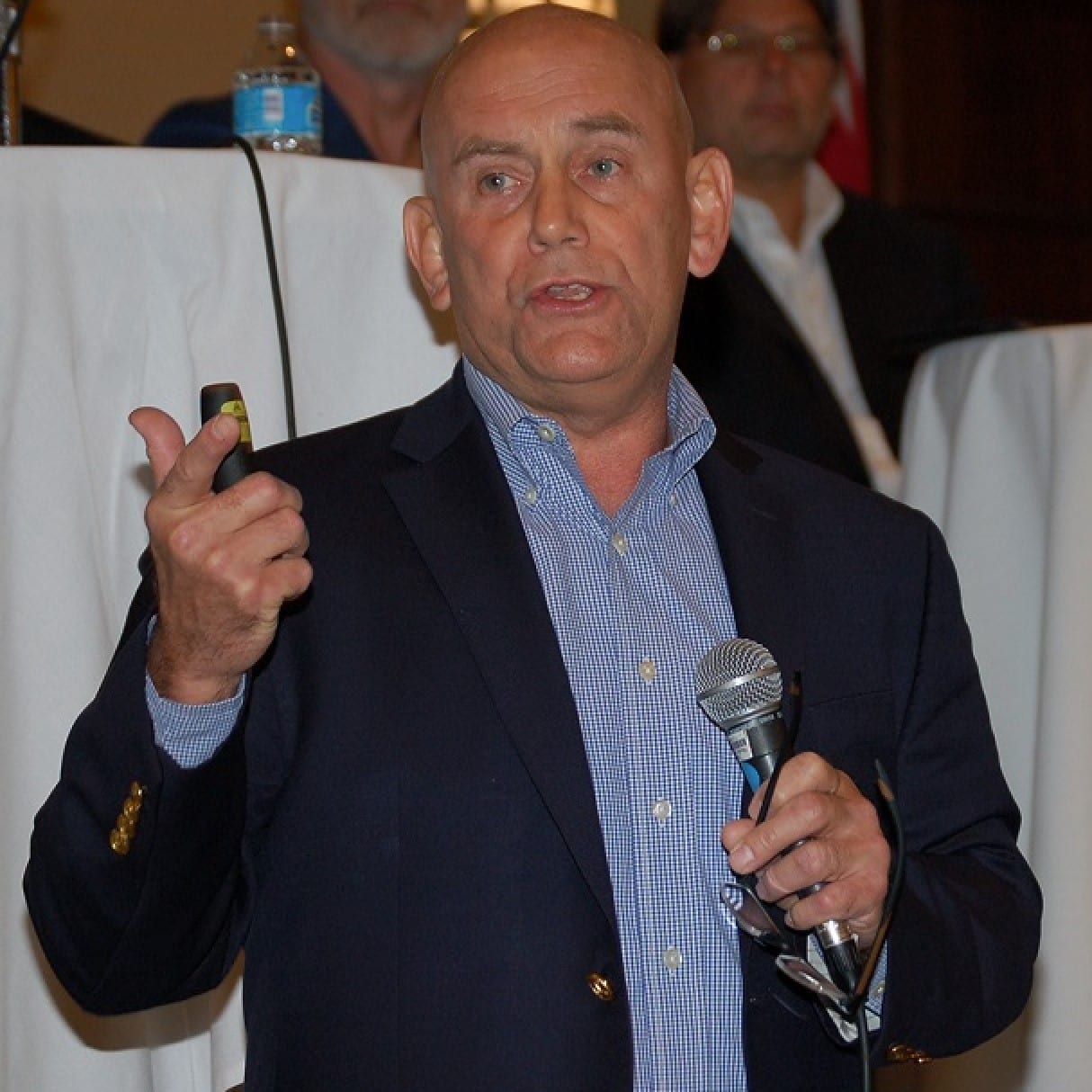 The solution for a body shop is based on these choices. Analyze the demand in its region and choose to work on a limited number of models. "Ideally, you should seek certification from the manufacturer(s) you choose," he advises. "Working with regional dealerships is a must. I know that manufacturers need to help the aftermarket by sharing knowledge, data and repair processes. But the body shop has to get close to the manufacturer, pick up the equipment, train their technicians and, most importantly, rigorously follow the repair process. "
"Body shops must evolve and make choices. You can't be resistant to change," says the expert. Pre- and post-repair scans, for example, should be an integral part of the repair process. It's non-negotiable. "Workshops will have to make choices in the face of the new reality; they can't standstill. The solution is to partner with dealers, but also with specialized service providers."