As part of the Fix Network, ProColor Collision is seeing a rapid expansion both in Canada and across the globe.
Fix Network made headlines in 2019 when it announced the purchase of Quebec-based Carrossier ProColor from Uni-Select.
Since then, the brand has seen rapid growth. In Canada alone, it is expected that 200 ProColor Collision locations will be in operation by the end of the year.
To find out more, Autosphere interviewed Sylvain Seguin, Executive Vice President of Fix Network in Canada, who attributes ProColor Collision's rapid rise to Fix Network's ambitious market penetration strategy and ability to innovate ahead of its competitors.
Here's what he had to say:
What is Fix Network's expansion strategy for ProColor Collision?
Over the past 20 years, ProColor Collision has become a distinctive iconic brand in Quebec, with over 172 locations. By acquiring it, Fix Network has truly become Canada's largest aftermarket franchise network. We have successfully increased its footprint across Canada and are aiming to launch another 28 locations by the end of the year, taking the total to 200.
After our acquisition of ProColor Collision last year, we have elevated the brand's appeal by engaging with independent body shops outside of Quebec, and now in the U.S. Our new franchise development is driven by the fact that, in these uncertain times, an increasing number of independent collision repair shops are recognizing the importance of aligning themselves with an established global franchise organization such as Fix Network.
Why should independent body shop owners become ProColor Collision franchisees?
Throughout our journey, we have been fortunate to align with entrepreneurs who share our vision for the aftermarket industry. When body shop owners join our network, they can open a ProColor Collision shop in their own communities. Plus, they are backed by Fix Network's established support structure of management tools, training and marketing initiatives.
Regardless of the size of their operation, each ProColor Collision franchise owner has 24/7 access to our proprietary tools and technologies, which will help them run their business smoothly. In addition, through the network, our strategic partners can offer clients a national warranty on services that can be honoured across Canada— something that they could not offer as independent repair shop owners. At the same time, we can customize and tailor requirements according to each franchise partner's requirements.
What is your perspective about Canada's potential for ProColor Collision's growth?
In Canada, ProColor Collision is perceived as an innovative, refreshing brand that appeals to all consumers. I am excited by the potential that Canada has to offer. We have one of the largest numbers of body shops here— underlining the fact that the Canadian market has a great deal of room for growth.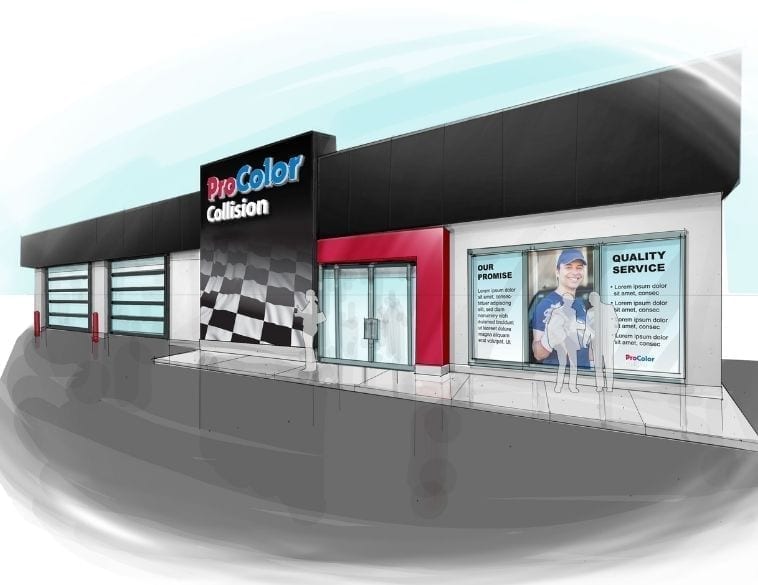 When it comes to adopting new and advanced collision repair technologies, or even understanding how the franchise business model works, Canada is on par with other countries. The advanced automotive knowledge in Canada has been a catalyst for digital transformation of automotive operations such as estimation and Advanced Driver Assistance Systems (ADAS), and we are already acknowledged as one of the early adopters of that trend. Franchise awareness is another positive trend in Canada, as many businesses already know what aligning with an established network entails. As a result, we are witnessing many businesses, both established as well as first-time, taking the plunge into the automotive aftermarket sector and benefiting from our continuous training methods. These businesses are interested in joining an established network like ours, rather than working in isolation.
To what extent has the pandemic affected the automotive sector?
Undoubtedly, COVID-19 has caused widespread disruptions across the world. However, we remain committed towards expanding ProColor Collision's brand presence, both nationally and across the globe. Throughout the pandemic, our business model has proved to be resilient, and we expect this trend to continue due to the increasing demand for our services and expertise.
I would like to say that at Fix Network, business agility has acquired a whole new meaning in the aftermath of the pandemic. These extraordinary times helped us to focus our energies on prioritizing our operational efficiencies and innovate accordingly. The paradigm shift is happening, and it shows that innovation comes to the fore much faster in a crisis.
To sustain the growth momentum, we continue to encourage our franchise partners to be innovative and agile enough to spot the opportunities. The pandemic brought in new challenges, but forward-thinking entrepreneurs always see opportunities in these challenges and innovate their businesses accordingly.
During this time, franchise partners and their teams are also attending the virtual training sessions taking place at our training centres. These are highly interactive sessions aimed at making technicians more aware about the latest collision repair technologies and processes. At the same time, staff were also trained on best practices in running the office operations efficiently.
Finally, in response to COVID-19, all locations quickly implemented strict safety protocols to protect our team members, partners and customers. Our protocols were drafted as per the strict guidelines from public health and provincial governments.
What is the growth outlook for ProColor Collision?
I am more confident than ever that ProColor Collision will witness exciting growth over the next few years, thanks to the dedication of our teams in each province. We are working hard to ensure that there is a ProColor Collision location within easy reach of every motorist in Canada. This, I believe, can be achieved by accelerating franchise development through deeper market penetration.