Smart technology, functionality, and support are key considerations when shopping for welding equipment.
Technology is constantly evolving. When it comes to automotive collision repairs, not only are vehicle substrates, design, and construction evolving but so are the procedures required when fixing them.
When it comes to welding, changing repair information and procedures need to be top of mind when shops are looking to procure new equipment.
"You need to ask yourself, will the welder meet OEM requirements," says Bill Davidge, Director, OEM Strategy and Equipment, CARSTAR.
"As the requirements for materials change, including steel and aluminum, the requirements for the welders change, so you need to make sure that when you purchase a welder, it is going to be more than you need at present, in order to meet repair requirements tomorrow."
Morris King, who owns and operates CSN Penney in Vancouver, sees longevity and reliability as a key part of the purchase decision. "Is this piece of equipment going to stand with us and help us fix cars the right way and for a longer duration?" He says.
"Cost is important moving into a new way of doing business because as collision repairers we need to adapt and do more with less. Paying the right price for the right features is key."
Usability factor
Bill Davidge feels that shops (and even networks) also need to consider the usability aspect of today's smart welder over price. Yet in order to gain an idea of how effective your new welder will be in the shop environment requires technicians to test the machine and evaluate their performance and opinions on it.
Davidge notes a particular case where one shop owner was keen to buy a top-of-the-line welder for his technicians but after evaluating a smaller, lighter, and less expensive model.
The latter proved more suitable in the shop environment, saving the business not only money upfront but also boosting ROI down the road, since having technicians that were more comfortable using the equipment, ultimately enabled greater repair quality and efficiency.
Stu Klein, Technical Trainer, Fix Auto Canada, agrees, citing usability as a key purchase requirement when it comes to welders. "You need something that is flexible and upgradeable," notes Klein.
He says that on modern smart welders, the programming and tutorial functions need to be easy to use and easy to navigate, an important consideration when software updates are added. Also, the weight, size, and design of the gun are also critical, as are the attachments available for it. "Not all attachments are the same," he says.
Flexible programming
Mike Croker, Global Repair and Training Product Manager at Chief Collision Technology note that flexibility within the welder's programming is crucial, especially when the shop will be repairing vehicles manufactured by different OEMs.
"Although we are starting to see more welders incorporating automatic features, some OEMs may want specific parameters. "It's important when somebody is evaluating a welder that those features are there," says Croker.
Like Davidge and Klein, Croker believes that product demonstrations with the shop's technicians are still critical, especially considering the price of a new generation smart welder, which can typically range from $20,000 to $30,000 or more.
"The demo can fix a lot of problems. Based on my own experience, I've tested and used many different kinds of welders, and some can be big, heavy, and ungainly to hold." Croker also says an important consideration for modern spot welders is the cost and efficiency of replacing the tips and tip maintenance.
"A real key to success when it comes to spotting welders is the ability to change the tips and keep up with maintenance. That's one thing we see that still often gets overlooked, plus on some machines, it can get very expensive to replace the tips, while with others, it's a lot more affordable."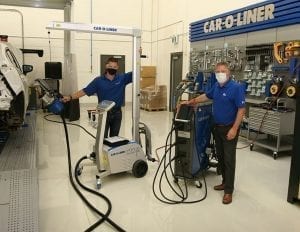 Size and adjustability
Looking at modern Mig (gas metal arc) welders, Croker says that while an increasing number of OEMs are looking at particular specs, such as amperage, thickness and speed settings, the actual size of the welder along with torch length and adjustability should be prime considerations.
He notes that the advent of adjustable push-pull guns, such as on Chief's MultiMig 522 Double Pulse Synergic unit has added flexibility and efficiency to the welding process, especially when it comes to working with different substrates and working on vehicles in more confined spaces.
The push-pull gun allows you to push when performing aluminum welds and adjust the gun for more stick out—also necessary for aluminum welds.
The 522 also incorporates a switch to adjust the wire speed/amperage up and down without having to adjust it on the machine itself—saving valuable time when actually welding.
Training and support
The best equipment in the world is only as good as those using it and supporting, which is why training and technical support is a critical factor when looking to procure new welding equipment.
"When you're buying the equipment, you're buying the support too," says Bill Davidge. "From my perspective, 50 percent of the purchase should be about support."
This includes virtual and hands-on technical training, as well as technical support should problems emerge with the machine, or new technicians coming into the shop require training on it.
Stu Klein concurs. "A number one priority should always be training and support on the actual equipment you've purchased." Klein also says that ensuring a shop's technicians are certified for performing repair procedures via standards such as I-CAR certification is also hugely important.
"We always want to ensure that we are able to understand the welding challenges and requirements of today's environment and that technicians understand safe welding procedures and how to perform them."
Additionally, ongoing proficiency is hugely important, especially given how rapidly OEM repair requirements can change, sometimes from one vehicle model year to the next and even within certain model years.
At CSN Elite in North Vancouver, President Wade Bartok says, "constant learning and training is necessary to keep up with the advance of technology."
He notes that "whether it's the tools or the vehicles we use them on–we educate our staff constantly on how to use the tools safely and efficiently."
He says the shop does so by hosting regular on-site training and keeping an open shop culture. "There is no way to learn everything about a piece of equipment in one session and just because you learn it once doesn't mean you stop there."
Stu Klein at Fix Auto says the importance of OEM repair procedures cannot be overstated. "Reading and understanding OEM procedures is something we need to do for every vehicle," says Klein.
He notes that today, there are a plethora of industry information resources, including events and webinars that allow collision shop staff and technicians to stay current on the latest trends including equipment advancements and repair procedures.
Additionally, programs like I-CAR help ensure repair standards require re-certification in order to remain consistent. As a result, technicians can stay proficient, enabling them to not only deliver safe, proper, and efficient repairs but also maximize the use of the equipment that's provided for them.
COVID Considerations
Welding is not traditionally known as being a particularly clean process, yet prior to the COVID-19 pandemic, little consideration was often given to cleaning welding apparatus or sharing equipment such as welding helmets and gloves.
Today, behaviour and expectations are changing which could mean significant changes inside collision repair shops including welding.
Stu Klein notes that we could very likely see protocols introduced that mandate the sanitizing of welding equipment between each use and the need for technicians to invest in their own individual helmets and gloves.
While the latter isn't deemed a major capital expenditure, it nevertheless is an additional consideration and expense for the shop plus the sanitization of equipment is also likely to impact vehicle cycle and touch time—an important consideration for shops, networks, and the insurers they partner with.