Bridgestone recently celebrated the success of the 2023 Bridgestone World Solar Challenge (BWSC) and the competitive debut of an ENLITEN technology-equipped tire.
Bridgestone's new ENLITEN tire showed strong performance by supporting Challenger Class Winner Innoptus Solar Team, and Cruiser Class Winner Sunswift Racing.
Bridgestone joined the organizers of the BWSC, the South Australian Motorsport Board (SAMSB), in showcasing the success of the event's winning teams in each class and named the first-ever winners of the Bridgestone E8 Commitment award, which celebrates the team that strongly exemplifies one of the eight values of our corporate commitment, Bridgestone E8 Commitment, in the BWSC award ceremony on 29 October.
Winners
Winner of Challenger class: Team Manager Mr. Cedric Verlinden of "Innoptus Solar Team – Belgium"
Winner of Cruiser class: Team Manager Ms. Andrea Holden of "Sunswift Racing – Australia"
Winner of Bridgestone E8 Commitment Award: Team Manager Mr. Matt Jennings of "ASCEND – Deakin University Solar Car Team – Australia"
ENLITEN tire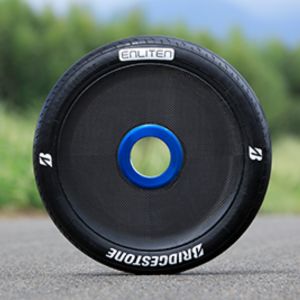 Bridgestone developed new, bespoke tires for the 2023 BWSC featuring ENLITEN, the company's new base technology for product design.
ENLITEN elevates conventional tires by enhancing environmental performance while also exceeding the customer and market demands in product performance.
The 2023 BWSC was the first time ENLITEN technology has been used in a competitive environment.
The ENLITEN-equipped tires supplied to the BWSC were designed to help teams meet the extreme demands during the 3,000km event, including low rolling resistance, wear and weight, and durability.
Bridgestone customized tires based on the team's needs to demonstrate the new ENLITEN technology and exceptional capabilities of the tires.
The tires Bridgestone supplied for the 2023 event featured a recycled and renewable material ratio (MCN – Material Circularity Number) of 63%*4, which is a significant improvement compared to approx. 30 % in the 2019 BWSC event.