Business is back to normal, and better, for those making and selling tires for off-the-road applications.
According to research conducted by MarketsandMarkets, the global OTR tire market was valued at USD 8.7 billion in 2022, and is expected to grow at an annual rate of 5.5% between now and 2027, when it's expected to be valued at USD 11.4 billion. This is good news indeed for everyone involved in the OTR tire supply chain.
The reason for this growth, according to MarketsandMarkets, is the fact that "the construction and mining industries have picked up pace post-pandemic, which has caused an increase in the demand for equipment used in these sectors. As the demand for this equipment rises, so does the demand for the OTR tires used in this equipment."
Gregory Pickering, Segment Manager, Non DOT Products for Dynamic Tire is seeing the growth in OTR business firsthand. He says that sales levels are back to pre-pandemic levels, and even higher. "We're seeing an uptick in sales," he adds. "Our numbers are up and we're definitely busy."
Bigger equipment
One of the interesting trends Pickering and his team at Dynamic Tire have seen recently is the move towards larger equipment. "So where companies used to have maybe two or three small machines, now they're buying one big one," he explains. "They're moving more material, or they're using bigger trucks to move more material."
These larger trucks and larger pieces of equipment need larger OTR tires, he explains. "For example," Pickering adds, "when I look at big tires in sizes like 29.5R25 or 35X65R33, our sales, since 2018 are up 42 percent on the former and 59 percent on the latter."
Pickering and his team are also seeing more demand for tires that are used on haulage vehicles. "Sales of these tires have been steadily increasing since the beginning of 2021," he adds.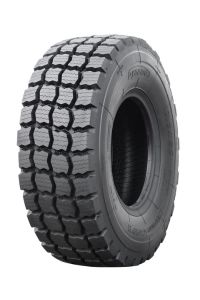 Year-round winter performance
Another interesting trend, according to Pickering, is the growing demand for OTR tires that can stay on equipment year-round. Rather than swap out tires seasonally, companies are opting to keep a single set of tires on their equipment, regardless of the season.
Keeping a set of tires on a piece of equipment can save companies a lot of time and money. Not only is downtime reduced when loaders, graders and other pieces of equipment aren't pulled off a job site for a seasonal tire changeover, but companies can save the costs associated with the tire changeover itself. They also save money because they don't need to purchase two sets of tires for each piece of equipment.
"Demand for snow radial OTR tires is still increasing and they're becoming more popular each year," Pickering explains. "We have seen significant growth over the past five years, and expect this trend to continue."
In addition, demand for construction radial tires with a snow tread design is also growing. "We first introduced these tires in 2018," Pickering says. "Last year, we sold out of these tires, and we have again increased our stocking levels for this season. We believe this segment will continue to grow."
Tony Cresta, Director of Product Management at Huayi Tire Canada says that he's seeing a growing demand for OTR tires that can be used year-round as well.
"Some of our customers, like municipalities, have pieces of equipment where they're running a winter-type tread," Cresta explains. "These aren't your traditional winter tires. The compound is more durable. It's not as soft as a traditional winter tire, which is why it can be used even in the heat of summer."
An electric future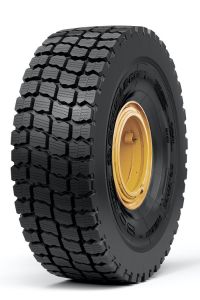 Much of the auto industry has embraced electrification, with a growing number of electric vehicles coming to market. However, this trend isn't limited to the consumer vehicle market.
Not only are we seeing electrified commercial trucks and vans coming to market, but the electrification trend is now spilling over into the mining industry. Last year, for example, Caterpillar unveiled their very first battery electric large mining truck, known as the 793.
This prototype truck was built at Caterpillar's Tucson Proving Ground, located in Green Valley, Arizona. According to the company, it was engineered to help Caterpillar's mining customers meet their sustainability commitments, and that's a trend that's likely not going away any time soon.
Underscoring this new reality, and the fact that the electrification of large mining equipment is a trend that's here to stay, Resource Industries Group President, Denise Johnson said the following: "The transformation of the Tucson Proving Ground allows Caterpillar to demonstrate our energy transition commitments and serve as a stronger advisor to customers as we navigate the changes together. We know it will take an integrated, site-level solution for miners to achieve their carbon-reduction goals, and we're here to help as they redefine the way they mine for generations to come."
While still in the prototype phase, Caterpillar's mining truck is already presenting OTR tire manufacturers with new challenges as the industry faces a push towards a greener future and a focus on the "carbon-reducing goals" mentioned by Johnson.
"When it comes to these electric machines, we're dealing with increased torque and increased weight," Cresta explains. "So as this market matures, and as electric machines take over, tire manufacturers are going to have to find a way to deal with the torque and weight. I think that's really where we're going to see challenges in manufacturing in the future."
Steady growth ahead
For now, as the world wakes up after the pandemic, OTR tire manufacturers, importers, distributors and retailers are likely to see a steady growth in business.
"I don't see things slowing down, at least not right now," says Dynamic Tire's Pickering. "When you look at the industries that need OTR tires, from construction to oil to mining of precious metals, I don't see demand wavering at all. And if that doesn't waver, then you know, the OTR guys are going to be busy."