With the addition of the Terramax RT to the lineup, Sailun now offers a truck tire for every taste and application.
Sailun's Terramax family of tires is finally complete, now that the brand has introduced the Terramax RT (Rough Terrain/ Rugged Terrain). The RT joins the other truck tires in the lineup, including the Terramax HLT, AT, and MT.
"Sailun now offers on- and off-road options for trucks, Jeeps and SUVs," says Mark Pereira, Director of Marketing & Communication – North America for Sailun Tire Americas. "Moreover, our Terramax family of tires is available in a wide range of sizes and for a variety of applications."
Sailun's HT (Highway Terrain) tires are ideal for on-road driving, their MT (Mud Terrain) tires are an excellent choice for aggressive off-road applications, and the AT (All Terrain) and RT (Rough Terrain/Rugged Terrain) tires fall in between these two extremes.
Function vs. fashion
For many truck owners, choosing the right tires is part function and part fashion. They want tires that can crawl over rocks and handle rough terrain, but they also want tires that make their pick-up or SUV look aggressive and capable.
For the longest time, the tire of choice for many off-roaders was a Mud Terrain (MT) tire. Not only do MT tires look great, but they can also handle the tough stuff. MT tires can crawl over large obstacles and sharp rocks. They're designed to take abuse without falling apart. These tires also offer the rugged good looks many truck owners want.
Sailun's Terramax MT has been engineered for durability, strength and impressive traction with an aggressive self-cleaning tread designed to produce maximum grip on uneven surfaces and tough terrain. The wide and deep tire pattern features an open shoulder design to further enhance handling, grip, stability and ride quality, while easily expelling mud at both low and high speeds.
"It also benefits from a three-ply shielded sidewall construction, which translates into added abrasion protection," adds James McIntyre, VP Sales, Canada, Sailun Tire Americas. "The additional biting edges and the strengthened three-layer reinforced casing provide impact and puncture resistance."
At the other end of the spectrum, the Terramax HLT offers a more civilized ride, thanks in part to the tread pattern, which was engineered to effectively reduce noise and create a quiet driving experience. These tires are perfect for highway driving, as well as some light off-roading.
In between these two extremes is Sailun's Terramax AT, which was designed to deliver superior traction both on and off the road. It's also 3-Peak Mountain Snowflake (3PMS) certified, which makes it ideal for winter driving conditions in Canada.
The AT's aggressive open shoulder tread design expels water, snow, slush and mud for optimum traction in all terrain conditions, while the solid centre rib provides superior ride comfort and control.
The Terramax AT used to be the only middle ground be- tween the Terramax HT and the Terramax MT. The Terramax RT, however, changes everything. The RT is a welcome addition for those who want both the great looks of the MT and the more civilized ride offered by the AT tire.
Strategically positioned between the Terramax AT and MT, the RT offers the aggressive appearance of an MT tire, but without the added noise levels. In other words, the RT looks great, but it's also designed to offer the everyday performance drivers are looking for when they're not knee-deep in dirt.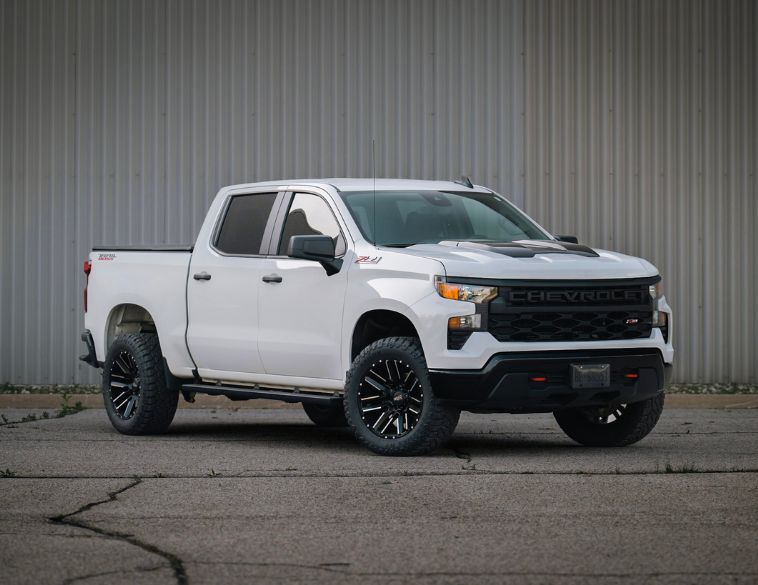 Ready for the winter
Like the Terramax AT, the Terramax RT comes with the 3-Peak Mountain Snowflake (3PMS) logo stamped into its sidewall. This means that the Terramax RT has been tested and approved for use as a winter tire and that it's certified for severe snow conditions.
Consumers who want even more winter traction can opt for an LT (Light Truck) size (depending on the vehicle), since LT versions of the Terramax RT are pinned for studs. This translates into extra traction in severe winter conditions, wherever stud use is legal.
The Terramax RT looks tough and has been engineered to tackle tough terrain. It features a deep tread design (16-18/32) that's ideal for conquering both serious snow and demanding dirt conditions. In addition, the proprietary anti-tear rubber compound guarantees that the Terramax RT performs as well as it looks, without taking a beating.
In the wild, the Terramax RT employs tough shoulder lugs with stone ejectors to remove debris, when necessary, for maximum traction in rough off-road conditions. In addition, the square profile of the tire maximizes traction, allowing for many surefooted adventures.
On the open road, the Terramax RT was engineered to offer the kind of ride comfort and reduced road noise that make for a more civilized experience when driving in the city or on the high- way. In short, Sailun's Terramax RT offers the best of both worlds.
The Terramax RT is the Swiss army knife of the Terramax lineup."
— Mark Pereira, Director of Marketing & Communications, North America Sailun Tire Americas 
"This tire is ideal for pick-up truck or SUV owners who appreciate aesthetics," says Sailun's McIntyre. "The tire looks great and it performs well. I think the ideal consumer would be someone who perhaps usually runs an AT tire, but wants something that's a bit more aggressive. It's for the truck owner who goes to the cottage, takes the truck off-roading, but still wants road manners on the drive home." Sailun's Pereira agrees and adds that the Terramax RT is also the ideal tire for those who have embraced the new overlanding craze where they take their trucks to remote destinations. "The Terramax RT is the Swiss army knife of the Terramax lineup," he adds. "So overlanding enthusiasts no longer have to choose between a tire that offers decent road manners and one that can actually go off-road. The Terramax RT can do both."
The RT's dual personality, also makes it ideal for fleet applications where trucks spend part of their time on paved roads, and part of their time in mud and uncertain terrain.
Broad availability
The all-new Terramax RT is available in 36 sizes, from 17 to 22-inch rim diameters with flotation sizes available in 33, 35 and 37 inches. Standard Load (SL) and Extra Load (XL) versions are available for P-Metric applications, while LT versions are available with 8, 10 and 12 PR ratings, depending on the size.
In Canada, the Terramax RT features a 72,000 km limited tread life warranty, a two-year no-charge road hazard replacement program, as well as a 30-day risk-free trial. For more information visit sailuntires.ca.