"To be there to serve," swore King Charles III. Excellent, but who manages to apply this principle on a daily basis?
Life is so hectic that we rarely ask ourselves the burning question about what we do and where we fit in the professional world.
In the workshop run by Alexandre Martin, who has taken over the family business, there's no need to think long and hard about it, as everyone knows that they are individually indispensable and appreciated as they should be.
His motto is simple: keep your word, honouring your commitments to employees, recognize their skills, support them in achieving their goals and act honestly.
And these are not empty words, since in February 2023 he had a surprise visit from Pierre-Olivier Zappa, who came to present him with the Boss of the Week Trophy, at the discreet initiative of Vincent Fontaine and his team.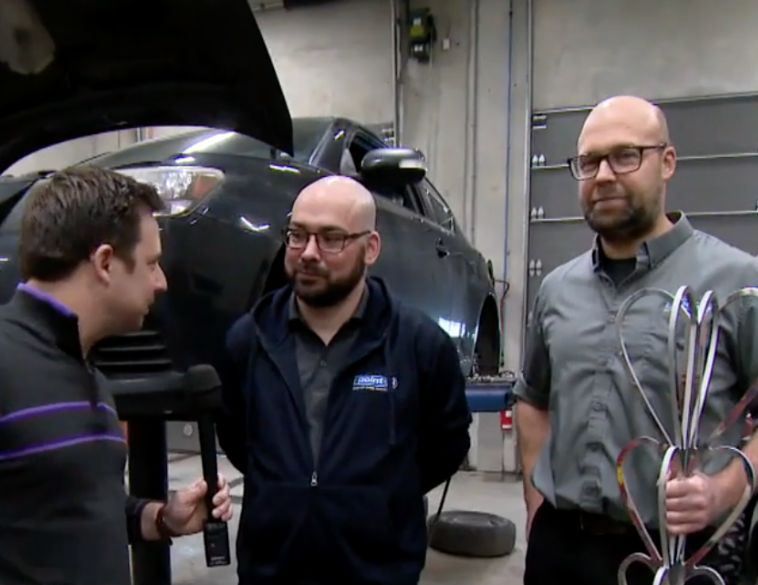 It's quite an achievement, not only because of the exceptional quality of his relationships with everyone, but also because of what he has built up since obtaining his DVS with Honours in 2000 at the École professionnelle des métiers de Saint-Jean-sur-Richelieu.
330 decisive hours
Although Alexandre says that at the age of 16, he still didn't know what he was going to do, his path was clear from the day he told his teachers he wanted to have his own workshop.
A man of action, he wasted no time in adding an ASP in Business Launch to his curriculum: 330 hours that were undoubtedly the most decisive of his life.
It was there that he worked not on a fictitious business plan, but on that of his active participation in the management of his father's workshop, for which he drew up the framework of a desired renovation.
The following year, the petrol pumps were removed, an alignment system installed and the electronic equipment upgraded. In 2015, he bought the business that his mother had taken over when his father died.
A year later, he tripled the size of the shop to make it a one-stop shop, adding bodywork, detailing and rustproofing to his mechanical and tyre services.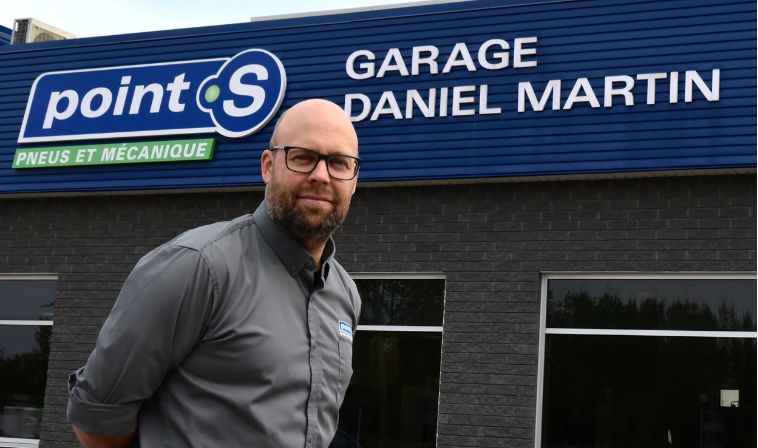 He amazes customers
Bearing in mind that the customer is no fool, Alexandre has always made it a rule to maintain vehicles according to wear and tear, and never to replace a part unnecessarily, even if a customer expects a new one.
Batteries – The case of batteries is a good example of this, he says, since on recent vehicles it is enough to recharge them after a power surge and reset the module to extend their life, which surprises customers.
For the battery, there's also the big PLUS of the permanent installation of intelligent chargers that keep the 12 V batteries fully charged; an installation that includes a 110 V fixed socket; a much appreciated proposition.
Reset – And there's no question of needlessly realigning a vehicle that has a strong tendency to drift. If the geometry is correct, the steering wheel will be re-centred and the steering module reset.
Some technicians forget or are not familiar with this important procedure. He explains to the customer that this is a crucial operation, since it is the position of the steering wheel that serves primarily as a guide for the anti-skid system.
Service A1 – Another special feature: as an accommodation, Alexandre offers the possibility of renting one of his 6 cars at 56¢ per kilometre, maintained in the same way as rental companies.
Impeccable, full tanks of petrol and windscreen washer fluid, so customers don't have to top up: THE solution to frustrating, costly and dangerous dry runs.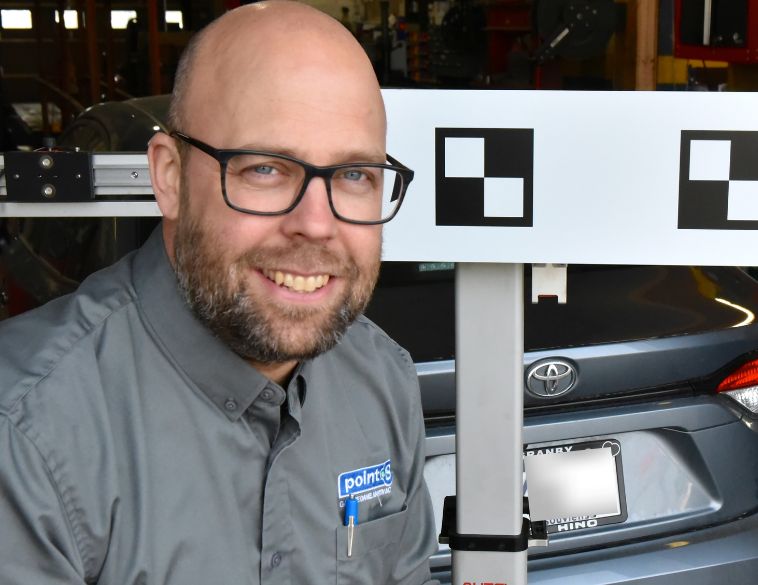 ADAS and EV era
Alexandre Martin is keen to keep up with the pace of technological change, and is constantly on the lookout for new developments that are of equal interest to his technicians.
It was one of the first garages to own and master the equipment for recalibrating advanced driver assistance systems (ADAS), whose sensors are located at various points.
In fact, this acquisition is essential to him, as he has a bodywork service on site specialising in minor repairs, including replacing windscreens and radars.
Equally rare in mechanical expertise is the certification that only a few have, which confirms that their workshop is capable of maintaining and repairing hybrid and fully electric vehicles in complete safety.
This high-voltage certification is the result of over a hundred hours of training that he and two of his technicians have individually completed as part of the EV Expertise Program.
A "pro-mobility" man
Since the pet peeve of management is the disorganisation caused by an employee's incompetence or absence, as well as the most imperceptible waste of time, Alexandre's priority is to counter both.
Its main solutions are, on the one hand, to use images to show the extent to which having a weak or missing link disrupts the workshop's operation, and, on the other, to focus on the means of communication.
In this regard, he highlights the extraordinary speed, discretion, immediacy and efficiency of computers, tablets and — oh my! — high-mobility cellphones that save a thousand journeys by texting.
The same is true of the use its technicians make of tablets, both to communicate between departments and to take images to illustrate the condition of a vehicle or certain parts.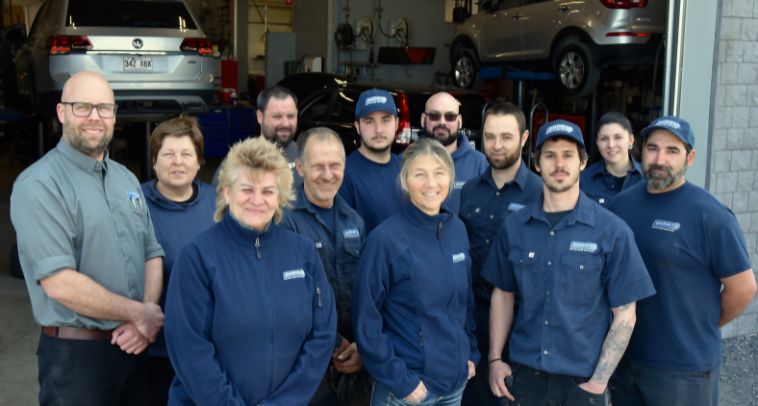 A happy team
Alexandre, whose employees arrive up to an hour before opening time to discuss and plan their day, and spend leisure hours learning more on the internet, greatly appreciates his team.
What particularly moves him, however, is the testimony of an employee who was astonished to realize from day one that he had just joined a happy team where jokes spice up the day.
He admits to having a tendency to put himself in each person's shoes every morning, and to feel proud that he's always there to support them. What more can I say, except that he's a very fulfilled employer.
Following his stint at TVA, he received applications from two technicians and hired one of them. Click here to see the highlights of the Boss of the Week award ceremony (in French only).