2022 is a special year for Mopar, a name originally trademarked in 1937 for a line of anti-freeze products. The name comes from Motor and Parts—signifying the Chrysler Motor Parts Corporation and is often used by enthusiasts to refer to Chrysler, Dodge and Ram branded vehicles.
For Mopar's 85th anniversary, the SEMA Show featured a prominent display in the Global Tire Expo, at the lower level of the South Hall. Among the displays were a whole roster of accessories, as well as a range of Direct Connection crate engines, including new supercharged Hellephant and turbocharged HurriCrate motors.
The former, consisting of four different engines, are among the most powerful V8s on the market, delivering 1000 horsepower and up, while the Hurricrate series, which comes in Category 1 or Category 3 configurations, sport twin turbochargers and deliver up to 420 and 530 horsepower respectively.
Mopar also showcased three prominent concept/show vehicles at its SEMA display, all outfitted with rugged off-road tires. The Jeep CJ Surge, looked almost straight out of the early 1980s but under the skin; was a fully-electric powertrain and was designed to showcase the ability for classic Jeeps to receive an efficient battery-electric propulsion system. Under the hood was a scaleable 400-volt 200-kW Electric Drive Module, with power transmitted to all-four wheels via 24 lithium-ion batteries and a two-speed transfer case.
Massive 18 x 9-inch Black Rhino Solid Wheels and off-road tires, along with Jeep Performance Parts Dana 44 crate axles, were designed to ensure this concept could go just about anywhere.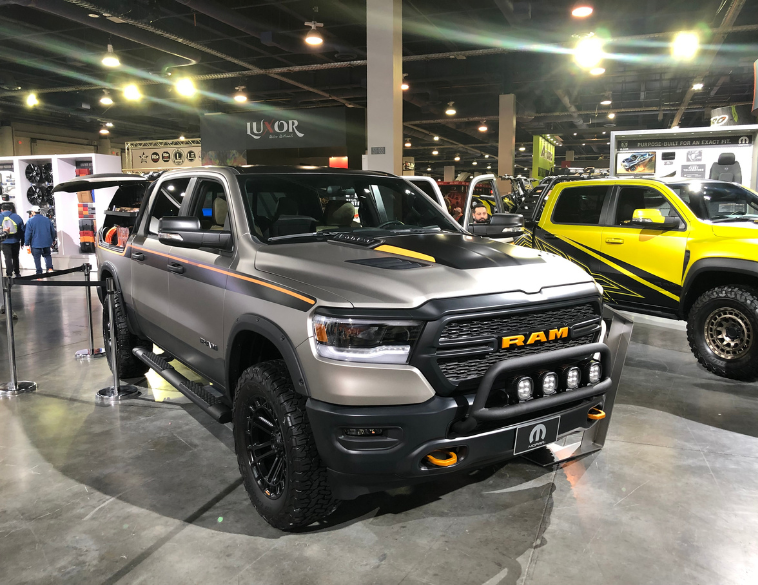 Also on the stand were two Ram 1500 concepts. The TRX Gold Shot, based on the 702-horsepower, Hellcat powered TRX, was designed as a showcase for motor-cross enthusiasts, with special paint, 18 x 9.5-inch Black Rhino Chamber wheels shod in 37-inch BF Goodrich off-road tires, plus a Mopar bed-step feature to allow easy raising and lowering of dual motorcycles into and out of the pickup box. It was joined at the booth by the Ram 1500 Backcountry X. This latter concept truck was conceived for those who want to truly combine work and play. It featured a custom RamPack storage system that complimented the standard RamBox available on regular production models. Special LED lights, interior trim and a two-inch lifted suspension with Fox Shox, 20 x 9-inch Fuel Heater wheels and 37-inch BF Goodrich off-road tires also made this rig stand out.
Other vehicles on display included a variety of Jeep concepts, as well as two original E-Body muscle cars, the infamous 1971 Plymouth Hemi 'Cuda restored by Graveyard Carz and known as the Phoenix Cuda (since it was almost destroyed in a garage fire before being resurrected) and a stock-appearing 1970 Dodge Challenger T/A also built by Graveyard Carz which packed a supercharged 807 hp Hellcat Redeye engine under the hood.