"Can-do" nets positive response.
Only a year after acquiring a new location in Orangeville, Active Green + Ross has already seen a 20 percent increase just in labour sales.
The shop, previously known as Fred's auto, had been founded in 1966, with an excellent reputation in Orangeville and surrounding communities. "People come from 20 and 40 kilometres away," notes Dan Green, area manager, Active Green + Ross Complete Tire and Auto Care Centre. In fact, a customer in Port Elgin, about an hour and a half away, had just scheduled to bring in a Porsche for a set of tires.
Previously, the shop had operated on a "first come, first serve" basis, but by implementing Active Green + Ross programs and adjusting workflow, customer experience has been significantly enhanced. Since the takeover happened in August, Green took a proactive approach and had one individual focused on phoning existing customers for about six weeks straight. The priority was to book customers in for winter tire changeovers., to ensure these were done on a systematic basis.
Green notes that the "first come, first serve" model can work well in off-peak hours, so there's never a situation where a customer can't get a job done. "We don't like saying no to a customer."
But in high peak times, it can become a problem. "In the past, after the first snowfall, they'd have customers lined up the street, waiting for service."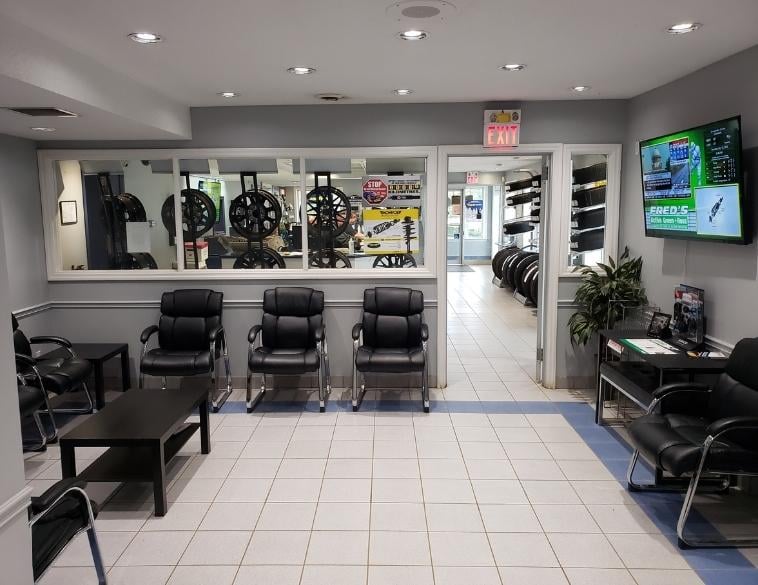 Positive response
"Now, we're able to give the customer the time and quality of service they deserve," observes Green. "We don't rush things through." All vehicles are inspected from a safety and reliability point of view, using AutoServe1. Customers receive a detailed vehicle inspection report with pictures and videos to provide transparency about vehicle maintenance. "The customers here have responded positively to this process."
Even at peak, when phones are ringing off the hook when the first snowflake hits the ground, the shop is now in a position to take care of someone who may be stranded because they need a tire repair. "We may have to ask them to be a little patient so that we can get them looked after. But we will commit to having that problem fixed that day. We don't say no."
Green speaks highly of his staff – there are three experienced service advisors, two licensed technicians, and three apprentices, working in 10 service bays, two alignment bays and a medium truck bay. "They're solid guys with great attitudes and are very productive."
Attitude
Each technician is in charge of one side of the shop, while apprentices bring in the tire jobs, and they work together on vehicle inspections. The challenge, according to Green, is just finding good staff. "We do quite a bit with the staff we have here, we're able to keep them busy and focused on the car, and keeping them busy," he reports.
Green advises anyone looking for staff, "You're not going to catch any fish unless you've got lines in the water." He makes good on his advice by constantly running help-wanted ads. However, he says the response hasn't been as good as it could be. "We need to make sure the attitude is there. Skills you can train, attitude is another thing entirely."
When Green does find a good candidate, he and his staff spend a lot of time with the trainees. "We want to ensure they fit into our culture, where everyone shares a can-do attitude."
Living and working in a small town like Orangeville, reputation is king. It's not unusual to encounter customers in grocery stores, and their children will attend the same schools. "You need to treat everyone fairly, and give them top-notch service."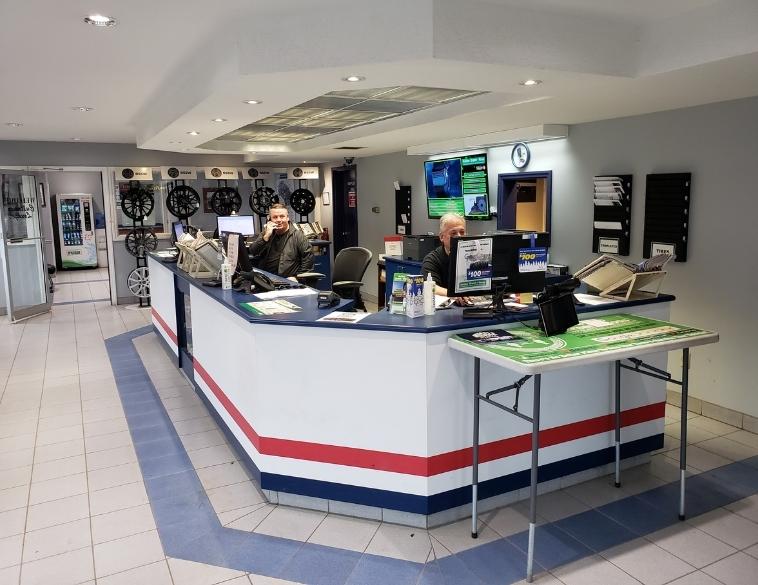 Electric vehicles
Right now, there's a mix of vehicles coming in through the door, from domestic to foreign to exotics and even electric vehicles. "We're getting a lot of Teslas in for tire service, as well as brakes, suspension and alignment," says Green. EV training is in the works for technicians, as this starts to become a larger segment of the business.
Although the head office has an expansive marketing program with web-based, television and print campaigns, Green says much of the shop's business comes from referrals and word of mouth.
One of the first jobs, when Green was setting up the shop, was getting a Google page. Now, the shop has about 440 Google reviews, which has brought its Google rating up to 4.7. "It's one of the most effective advertising that any business can engage in."
He doesn't hesitate to ask customers how they found his business, and many will say they simply Google tire shops in the area, and are impressed by the Google ratings. "Most people are happy to oblige, especially if you've gone the extra mile for them," he explains.