Customer-centric approach leads to referrals.
Taking over two tire shops six months into a pandemic meant Dustin Kellar and his wife Erica had their work cut out for them.
Not only did they have to work out safety guidelines for vehicles and customers, but also deal with a labour shortage. "We had no one-off with COVID," explains Kellar, "but it was challenging to find skilled workers."
But the Kellars dug in, and now business at the two Point S Action Tire locations in Barrie is up 25 percent over last year. 
Customer-centric
Substantial changes were made to the two stores. One had been in operation for 25 years, while the other, for about 10 years. "We made a significant investment in software to make it more customer-centric," says Kellar. The invoicing system offers more transparency to customers, along with better follow-up both pre and post-appointment, to make the customer experience as good as possible.
Two new hoists were installed, as well as a new alignment rack, four air conditioning machines, and new wheel balancing machines. Although Action Tire had not been in the air conditioning business, they can now cover vehicles with 134 refrigerants as well as the brand new 1234 refrigerant. "We're growing into a full-service solution for our customers," notes Kellar. "Being able to service air conditioning systems just helps complete that, so we can do everything on your vehicle in-house."
It's all part of the Point S Action Tire strong customer-centric approach. "It's everything from keeping our showrooms clean, to providing digital vehicle inspections and quotes, texting or emailing to customers so they can review them in comfort," describes Kellar. It's been paying off, with many satisfied customers providing referrals. 
Being under the Point S banner has also made a difference in staying competitive, and providing the needed inventory. "In the tire business, inventory is king," says Kellar. "We have inventory readily available and Point S works with us to make sure they carry what we need for our customers."
And his parts suppliers have been doing a good job of keeping core items in stock, such as steering, suspension and brakes. Most of the tire brands carried by Point S Action Tire are made in North America, which also helps avoid shipping delays and shortages. "We're a big Michelin and Bridgestone dealer, which are made right here in North America. Although it's rumoured there may be some challenges with winter tires, he's confident there will be enough inventory on site.
Compensation package
Another big change the Kellars made when they took over, was evaluating the compensation package for employees. "My wife and I have a very firm belief that your business is nothing without the people that work here," reports Kellar. Base salaries are higher than they've ever been, and items such as RRSP contributions and health benefits have been added. Hours of operation have been changed to make them more appealing, so there's no Saturday work except for the very busy season. Plus, there's a comprehensive bonus package to help compensate employees.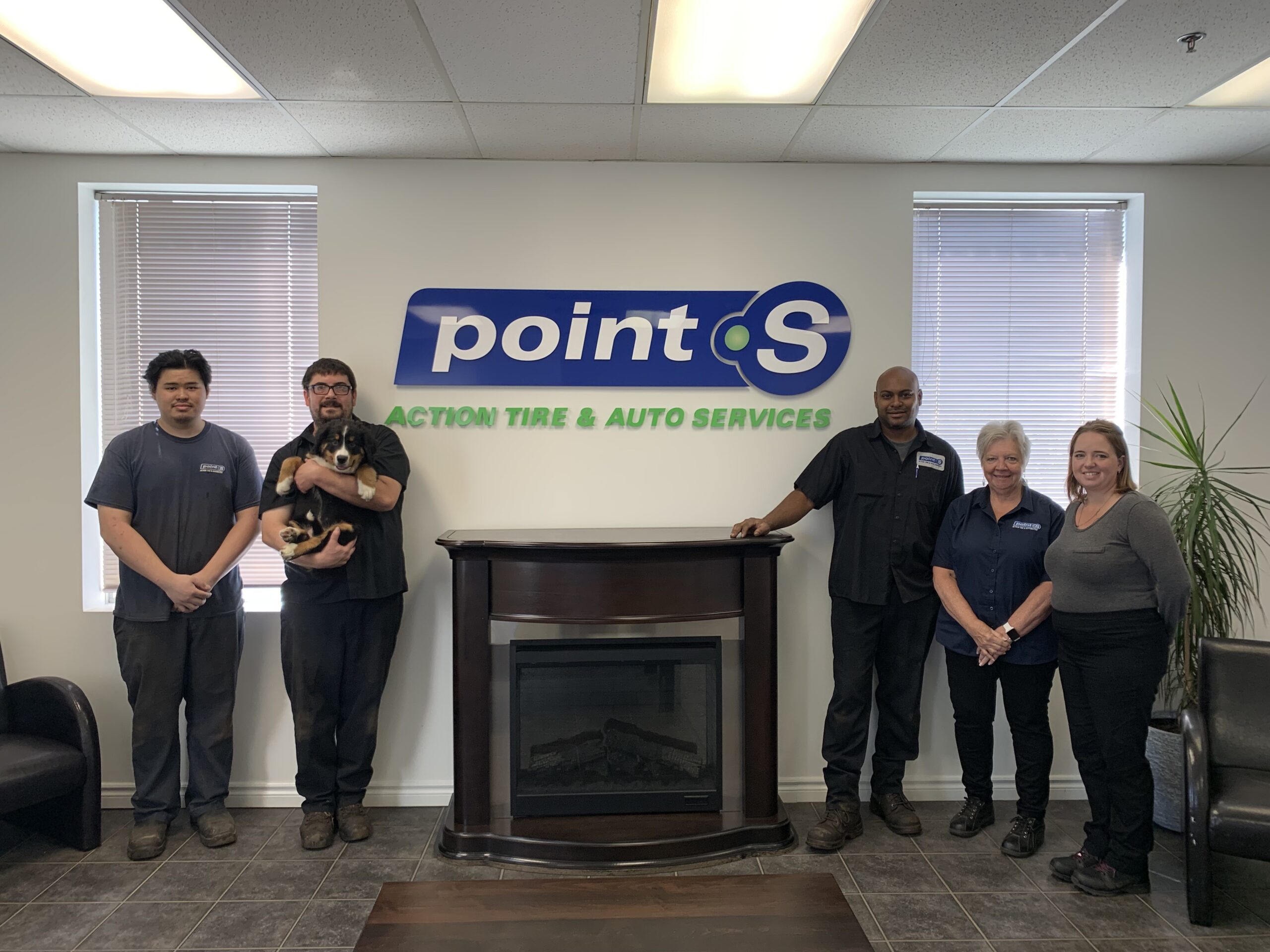 Although some of those changes were market-driven, the Kellars knew they needed to bring up some salaries to stay competitive, as well as treat their people as best as possible. 
The counter staff is made up entirely of women, two in each store. "That's a nice differentiator for us," chuckles Kellar. Many women are servicing their own vehicles, and having women on staff helps to create a comfort zone. He believes women are better at building relationships, and his counter staff have forged many lasting relationships with customers.
Electric vehicles
The Kellars are already seeing electric vehicles like Tesla coming in for tire changes. "We've fitted a lot of Teslas with tires, although we haven't yet moved on to servicing hybrid and EVs," asserts Kellar. "It is in the short term plans to expand out into EVs, and are committed to sending some of our technicians away for training."
They have the proper tools to fit the Teslas correctly, with staff trained on tires that are best suited for EVs. It's important to understand the weight of EVs, and that they need quieter tires since there is no engine noise to cover up road noise. "The tires usually have a sound deadening system, and that's important to know when you're putting summer tires on a Tesla."
As the shops continue to grow, the Kellars continue to be very hands-on, working in the office every day, night and weekend when necessary. Even though it's only their second year, they're already looking to the future. Hopefully, the next shop will be in the north end of Barrie in the next 12 months, or even up to Orillia. "We'd like to continue moving up north, and to all the major cities in northern Ontario."