In a special three-part article, we take a look at how this premium tire manufacturer is growing its business and leveraging its motorsport expertise.
Part One: From Street to Circuit
The streets of Manhattan are most definitely not for the faint of heart. The constant hustle and bustle of pedestrians, cyclists, taxis, buses, delivery trucks, limousines, and private vehicles mean that those who choose to navigate the streets and avenues behind the wheel almost need a sixth sense to carefully avoid the hazards. And it's not just other road users you need to factor in. The streets themselves can be a minefield of potholes, frost bumps, and patch repairs, many of which are not small. Misjudge one and you could end up having a very bad day.
That's why, when a tire company like Pirelli offers you a rare opportunity to pilot the world's fastest SUV on these streets, you go into the whole experience with a solid reassurance that the rubber you're riding on can handle just about any task demanded of it.
It all began with a visit to the Lamborghini Lounge, located in an unassuming building on West 26th Street in Manhattan's Chelsea district. Here, by appointment, those looking to buy a Lamborghini, are invited to personally select and customize the vehicle to their specific requirements. From exterior colours, to interior fabrics, seats; steering wheels—just about anything is on the personalization table. The place is charming, intimate, and relaxing, an ideal setting for deciding the options on your high-dollar exotic. It truly elevates the concept of automotive retailing and there is a lot the rest of us can learn from an operation like this.
A lasting partnership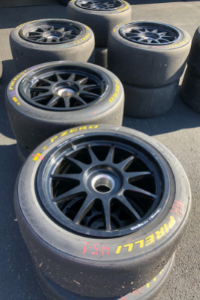 From here, the journey began. The objective was to drive four Lamborghinis, two Urus SUVs, and two Huracáns to Ithaca, a charming college town in upstate New York, and from there, travel to the famed Watkins Glen race track to see Pirelli's competition tires in action, during the Lamborghini Super Trofeo race, as part of the Six Hours at the Glen weekend. Pirelli and Lamborghini have a partnership that stretches back to Ferruccio's first supercar, the 350 GTV in 1963. In the ensuing six decades, that relationship has continued to grow and thrive. For the next few days not only would we have a chance to drive one of the fastest and most powerful SUVs in the world, but also experience how the partnership between these two storied brands continues to set benchmarks, both on the street and the racing circuit. As Claudio Zanardo, CEO of Pirelli North America points out, "our strategy, is to have the perfect product for our customers," and either on the racetrack or the road, it requires leveraging expertise and experience at the highest echelons of performance to deliver a superior tire for any application. Whether that's for a Super Trofeo racecar, an exotic SUV like the Urus, or an OE or replacement tire for your everyday car or truck the objective is the same.
Getting back to the journey—yours truly was tasked with navigating one of the Urus SUVs–out of midtown Manhattan, through the Lincoln Tunnel, into New Jersey and Pennsylvania, with Ithaca and Watkins Glen as the final destination. The Urus by any definition is an imposing beast. Launched in 2017, it's 5112 mm (201.6-in) long and measures 2181 mm (85.9-in) from beam to beam (including the door mirrors). This particular example rode on enormous 23-inch wheels. Connecting them to the road were four of Pirelli's ultra-high-performance PZERO Corsas, P285/30R23s on the front and massive P325/30R23s on the rear. These tires are specifically designed for the Urus, which packs even more power than the Huracan. With 640-hp on tap from its 4.0-litre twin-turbo V8 that's transmitted to all four wheels, the Urus can dash from 0-96 km/h (0-60 mph) in just three seconds, blast through the quarter-mile in just 11.3 seconds and go onto a mind-bending top speed of 304 km/h (190 mph). Those are true supercar numbers and when you're dealing with this kind of capability—in a 2191 kg (4844 lbs) vehicle no less—you want to ensure you have a tire that can fully exploit the performance envelope of a super SUV like the Urus.
Surefooted
Navigating the streets of Manhattan in a rental car is one thing, in a Lamborghini Urus is quite another. The wallop of torque from the twin-turbo V8 at low rpm and the surefooted traction provided by the PZEROs means that you can rapidly switch lanes; use the monster 17.3-in front and 14.6-in rear Brembo brakes to your advantage and repeatedly avoid any altercations with fearless cyclists, pedestrians, and yellow cab drivers. Despite its size, the Urus is remarkably agile, even in a road environment as chaotic as this.
Once through the Lincoln tunnel and out onto Interstate 95 in New Jersey, the Urus has a chance to stretch its legs. Power delivery is smooth and effortless, the ZF eight-speed transmission, perfectly tuned to the engine's powerband. For having such large wheels and low-profile tires, the ride quality is superb, not too harsh, not too soft, but just right by this scribe's yardstick. A deluge of rain, close to the Pennsylvania border, provides an opportunity to put both the vehicle and the tires to the test. Visibility all but disappears and despite big puddles of water appearing on the interstate, the PZERO Corsas take everything in stride. You can almost feel the monster tires channel the water away and while such situations can produce alarming hydroplaning tendencies with many vehicles, that isn't the case here. If I'm being honest, there aren't many times where I've felt confident piloting an ultra-high-performance vehicle in heavy rain, but this is one of them. Our journey continues, following a brief stop for lunch in Clarks Summit, Pa., and by mid-afternoon, on the final leg of our journey the weather has cleared up once again. A full day's driving can be taxing, but in this case, we arrive at our destination as refreshed as we were when setting out from the Lamborghini Lounge in Manhattan that morning. A great vehicle, riding on great tires makes all the difference.
Part Two: Pirelli & North America—One-on-one with Claudio Zanardo and Ian Coke
During our trip to Watkins Glen, Autosphere had the opportunity to sit down with Claudio Zanardo, CEO, Pirelli North America and Ian Coke, Chief Technical Officer. We were curious to learn more about Pirelli's strategy and plans in the North American market and gain insight into some of the new developments happening in the premium tire sector.
Autosphere: Can you tell us a little about Pirelli's approach to the North American market today?
Claudio Zanardo: Our objective is to develop the best product, designed exactly for a specific vehicle. This philosophy applies to both road and race applications and for North America and our goal is to continue growing our business, working with our dealers, and becoming more "North American" day by day. What I mean by that is having the right products for the right audience and forging closer ties with our customers here in everything from R&D to manufacturing, distribution to sales, and service.
In discussing race to road; and given, Pirelli's vast experience and expertise in motorsport, how does this translate to tire dealers and their customers in North America?
Racing is at the heart of our DNA. We really enjoy competing at the maximum level in motorsport, including Formula One and it is that ability to operate with no barriers and develop new products, by testing them in this environment that allows us to create the best tires for each application. Whether it is for the racetrack or the road we are constantly committed to improving and advancing, so we can deliver the best products and solutions for our customers.
As interest in electric vehicles continues to grow and more OEMs release new EVs into the marketplace, what is the significance of this for major tire players like Pirelli?
The EV market is an important one for us and as you know, there are some specific considerations for tires when it comes to electric vehicles. You're dealing with different weight distribution, different power characteristics; different handling and braking parameters, so these all need to be taken into account. Rolling resistance, road noise; wear characteristics—these are all things we need to consider. Achieving the best result requires looking at multiple different parameters and leveraging technology and research to ensure the perfect fit and requirements for each specific vehicle application. And that applies equally whether you are looking at an EV or a conventional internal combustion engine vehicle.
Given the current economic disruptions we are facing, such as rampant inflation and supply chain issues, how does a company like Pirelli navigate through this to ensure continued success and growth?
Multiple challenges are facing all of us. Inflation is causing prices and costs to rise—everything from energy and raw material costs—to manufacturing, processing, and transportation costs. All of that impacts the tire industry, but we still see a lot of opportunities. Currently, the premium tire market in North America continues to grow, and that provides us with the ability to invest in the market here, such as our manufacturing facility in Silao, Mexico, as well as creating products specifically for the market that our dealers want. By doing this, it enables us to forge closer ties with our dealers and grow with them. It's proving to be a very positive strategy, as well as helping ensure we have the right product for the right customer at the right time. We want to grow with our dealers and will not stop investing in our relationships with them, because their success is our success. That is critical to ensure we continue to grow our market presence in North America.
Looking at specific vehicle applications, where do you see the biggest opportunities for a company like Pirelli?
Ian Coke: On the Original Equipment (OE) side, CUV and SUV fitments are where we see the real growth trajectory at present. Also, the size of tires continues to grow. Today, 18-inch tires are what 16s used to be and we're seeing more and more 19, 20, 21-inch, and even bigger fitments. At our facility in Rome, Ga., 95% of the tires we make are for 20-inch or larger fitments and 45% are for 22-inches and up. This is a trend that is evolving and evolving quickly. On the replacement tire side, we are seeing similar trends as well and we've introduced new products, such as the Scorpion All-Season Plus 3 to cater to the growing demand for CUV and SUV tires.
Are there any other particular considerations regarding the North American market?
IC: As Claudio mentioned, it is important for us to establish manufacturing locally in order to shorten supply chains and provide more reliability when it comes to bringing products to market. Our investment in the production side is geared to grow, and we have grown every single year and continue to expand our market share. And that means investing in local R&D and manufacturing, such as our Silao plant and technical centre, as well as our facility in Rome, Ga. This allows us to develop products in North America for the U.S. and Canadian markets whose attributes are different than other parts of the world such as Europe.
Can you give us some examples?
IC: When we look at the North American tire market overall, 95% of it is an all-season market. In much of Canada and the northern states, you also have the winter aspect as well. All-season is a very different proposition in North America than it is in Europe. The aspects of mileage, the aspects of a harsher winter in some areas—these are some of the attributes you need to build into a product for the U.S., and Canada. This is very different from the attributes we build for in Europe and it takes a different balance of those attributes to give the customer what they want.
What is Pirelli's approach to sustainability practices at present and are there some details you can share with us?
IC: Sustainability is extremely important to our overall plan. Real sustainability is a huge commitment and we are one of the leading tire companies in terms of real sustainability practices. In 2021 Pirelli achieved a milestone with the introduction of the first FSC (Forest Stewardship Council) sustainable tire with our PZERO designed for the BMW X5 Plug-In Hybrid. To be FSC compliant requires the ability to be able to source from sustainable rubber plantations and forests on the other side of the world—not an easy commitment. When you add a strategy of traceability as well as increasing the number of sustainable materials that we put into the tires, a great deal of innovation is required. Our highly specialized Rome, Ga., facility is a great example of that. Currently, it is the only FSC-certified tire production facility in the world, with the capability to produce some of the most advanced and sustainable tires on the market.
Part 3: Pirelli, Lamborghini, and Super Trofeo North America
Established in 2013, the Lamborghini Super Trofeo is one of the longest-running sports car competition events of its kind. This spec series, in which drivers compete in identical Huracán Evos, using identical tires, visits some of the most famous and prestigious racing circuits across North America (including, of course, Watkins Glen). Attracting both gentleman and professional drivers, the series is designed to provide maximum thrills while testing the metal of each driver and team. The Super Trofeo North America series is split into qualifying rounds and two 50-minute races throughout the weekend, with the tires designed to go the distance for each session, so there are no tire changeovers during a race.
Exclusive provider
Pirelli is the exclusive tire provider for the series and each set of tires is marked for a specific qualifying practice and race use, with slick and rain tires available depending on track conditions. With 38 cars, 14 different teams, and five sets of tires for each of those 38 cars, the logistical undertaking is enormous. Chris Ward, Senior Manager, Motorsports for Automobili Lamborghini in North America explained to Autosphere that ability for Pirelli to support the series over each season is tremendous. Ward and his team work closely with Pirelli's North America Customer Racing Manager Orazio Mastracchio and meetings following each session (qualifying and racing) allow both Lamborghini and Pirelli to review the performance of the tires on the track. As Ward explained to us, there are rarely any issues, such is the teamwork and integration of operational practices between both parties.
By monitoring the performance of the tires during each race weekend and the season, Pirelli can gather extremely valuable data from the Super Trofeo series as well as other motorsports arenas it competes in, not only to consistently improve the tires it supplies to motorsports teams, but also those that are found as OE equipment on production passenger vehicles as well as premium quality replacements available at Pirelli dealers across North America.