It's only been a few weeks since OK Tire opened its doors in Balcarres, Saskatchewan, but the place is hopping.
"This week, we worked from 6:30 a.m. to 11:00 p.m. Friday and Saturday," says Co-Owner Gregory den Brok. "It's seven days a week, and most days are 16 hours."
The shop services everything from large agricultural equipment to passenger vehicles and commercial trucks. Right now, it's seeding season so the demand for service for agricultural equipment skyrockets. Farmers don't have time for breakdowns in the field, so den Brok sends out one of his service trucks. "They like it when you can come out to the field, so they don't have to take time to take the tire off or drive their tractor in a shop," notes den Brok. "We go out , get the job done, they're back up and running in no time."
He has two service vehicles, a Ford diesel F-350 and his main boom truck is a GMC Topkick 7500. They're equipped with power plants, compressors, and are a shop on wheels. "I'm sure my service trucks have more tools than some of the other tire shops in our town," quips den Brok.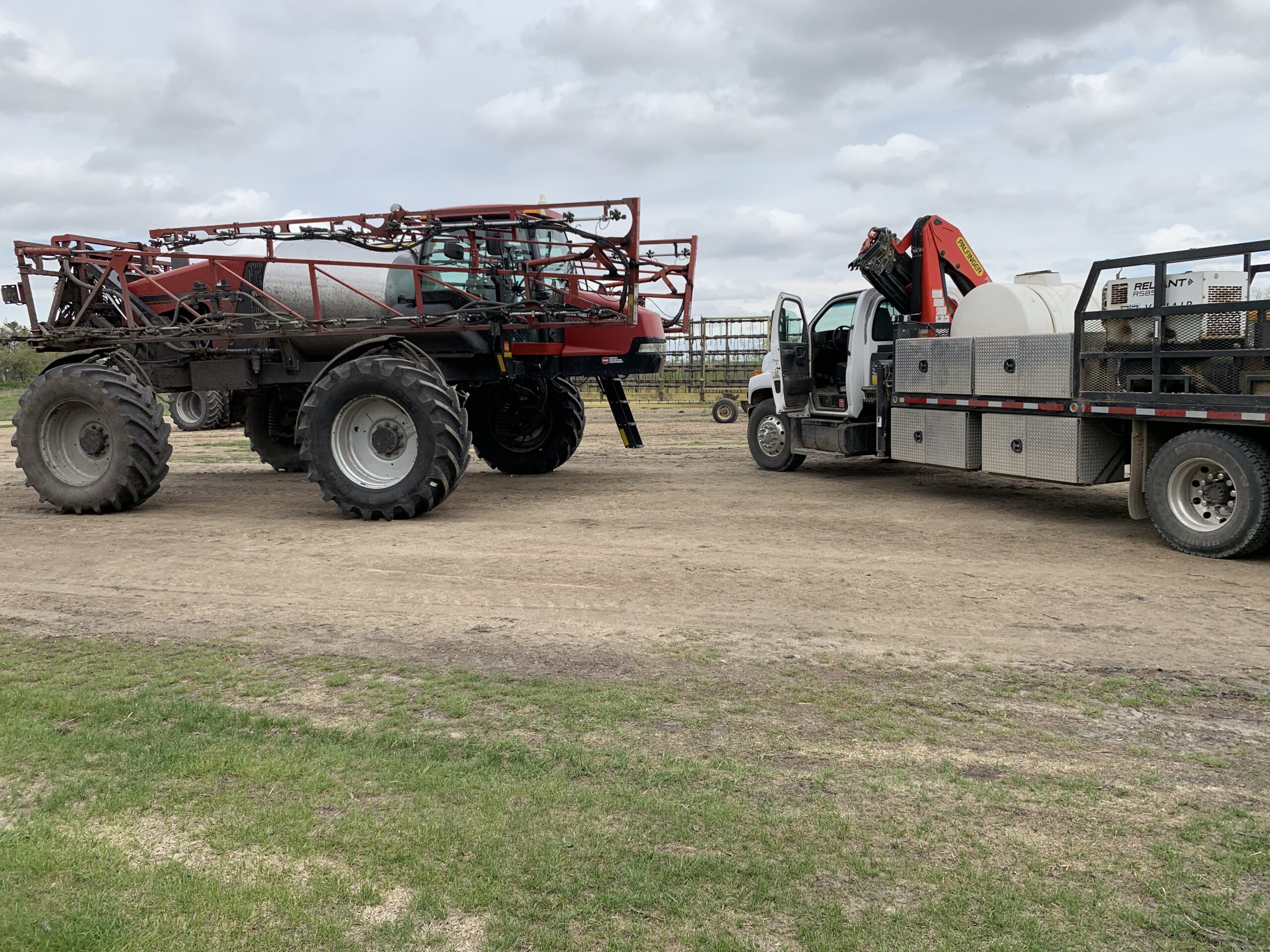 Main business is farmers
It's everything but the kitchen sink, and the shop stocks garden tires, OTR, for big loaders and dump trucks. But the main business is agricultural. "If you service a farmer's tractors, they'll bring everything to you, including trucks and passenger cars," explains den Brok. "A few years ago, there was an average 210 tires on a farm, now there's even more than that."
There are challenges in offering such a broad range, especially with supply shortages. den Brok goes through all his suppliers until he finds the tire or part he needs, and they can ship it from somewhere. "When a farmer breaks down, he's not going to wait a day or two to have a tire come in from British Columbia or the US, he needs it yesterday."
And den Brok can rattle off his most popular tires by heart. "11 22 5 semi tire, 20.8 38 tractor tire, 225 65 17 car tire," he declares. 
The shop has four bays, one of which houses a new Hunter alignment machine. One bay is for mechanical work, the other is for tires, and the third is shared for whoever needs it. The fourth bay is where larger vehicles are taken care of, like semis or trucks. Some of the farm equipment has gotten so large, it has to be serviced outside. 
But the service trucks are kept busy, not just with farm equipment but also semis. "Some guys will limp their semi in if they blew a tire and they need tires on it," reports den Brok. Even if someone blows their car tire, and they're willing to pay him to service it on the side of the road, he'll do it, but notes that it's expensive and a lot of work. "People are realizing getting a tow truck is a lot easier," den Brok notes. "Passenger cars are made so cheap that the wheel nuts are acrylic, you run into a lot more problems going to the side of the road to fix a car tire than you would a semi."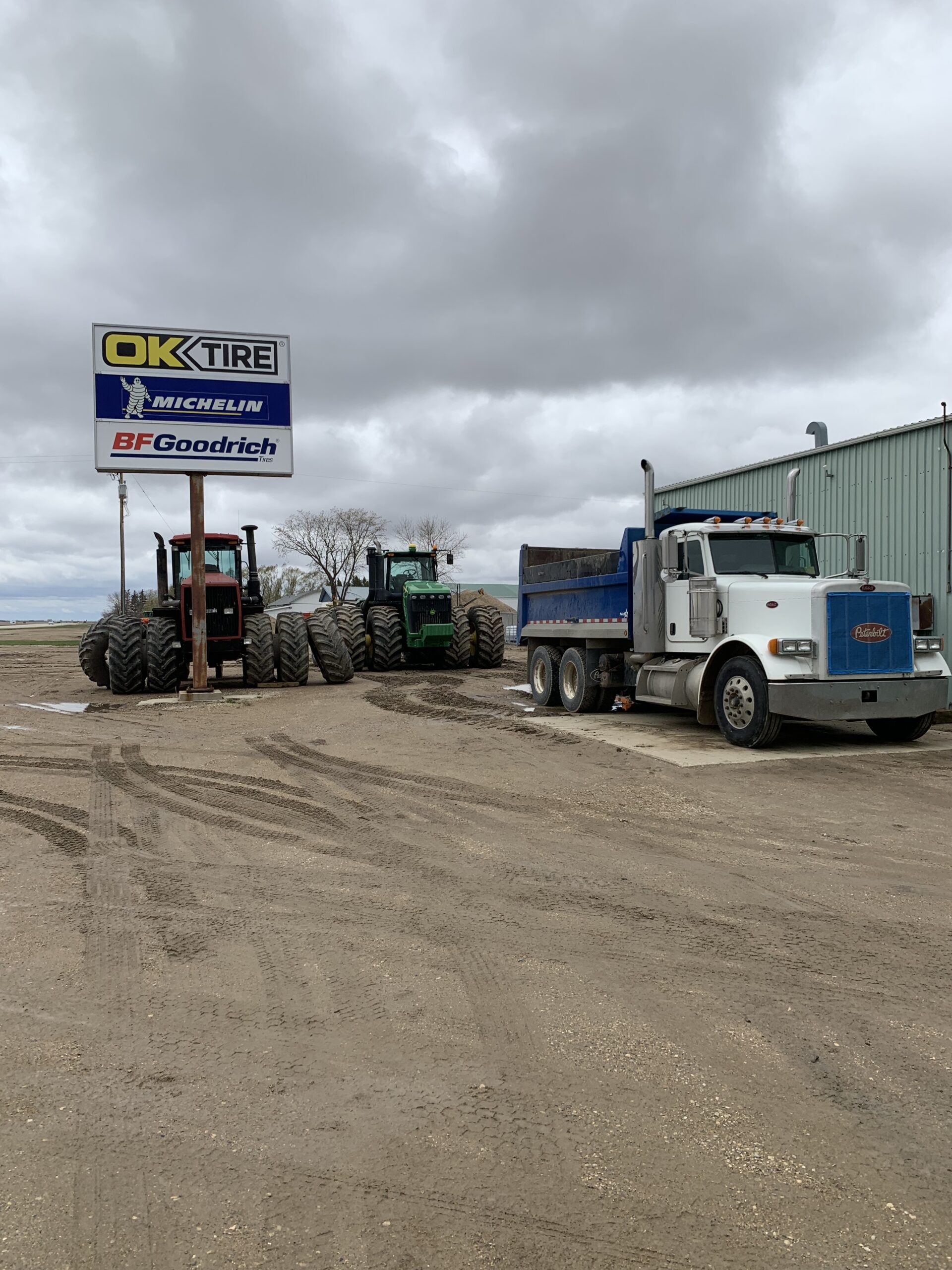 Already looking to expand
Even though the shop has just opened its doors, den Brok and his co-owners, Jai Deep and Aaron Leegwater, are already thinking to the future. They want to expand in every way, in size, manpower, tires and more. "We're pushing a lot through right now, but with waiting for parts, you have a vehicle torn apart and it needs something else, you have delays for up to three or four days because you're trying to track down a part."
It's a busy life, but den Brok is thriving. "Tires are my life," he says. He grew up in a truck family, and is a third generation tire shop Owner. All his friends are in the tire industry, and he claims all they talk about are tires. 
When a new tread comes out, den Brok likes to think about how it's going to grip the best. "We're asking them to go 100 kilometres an hour, and not get worn out at 100,000 kilometres, to grip on ice and snow," he enthuses. "You can't walk on sheer ice but there's a tire that can grip."
"Tractor tires are getting bigger and bigger, for them to pull what they're pulling, it's crazy. The engineering and technology are incredible."