During the second World War, rubber mixing technology was developed to combat rubber shortages to create synthetic rubber. 
Now, modern tire research focuses on improving the physical properties of synthetic rubber by increasing the compatibility between the compounding raw material and rubber.
In the tire industry, current market demands focus on maximizing tire wear, grip and low fuel economy for better overall performance. In fact, using synthetic rubbers with various chemical structures and functional groups has resulted in performance tires that cannot be manufactured with natural rubber alone.
But due to some characteristics and the price of natural rubber, synthetic and natural rubber have been used in parallel.
The industry is well aware of predictions of decreased natural rubber production from existing rubber trees due to climate warming and diseases in natural rubber production.  That's why many research institutes and tire companies are researching technology to improve the varieties of natural rubber from ingredients like Russian dandelion and guayule for sustainable rubber production. 
Eco-friendly products
As the market for eco-friendly products grows, synthetic rubber technology using bio-mass or recycled raw materials instead of synthetic rubber made from existing petroleum is also available. According to Sung Ho Ha, Principle Research Engineer at Nexen Korea (HQ) of Tech Centre, "Although rubber development technology still needs more time to commercialize, continuous technology research is being conducted for sustainable rubber production."
For example, Continental Tire recently unveiled a Conti GreenConcept tire conceptual study, using current and emerging technologies to engineer sustainable tires for passenger vehicles. The goal was to minimize resource consumption across every link of the tire's value chain, addressing everything from the sourcing and procurement of raw materials to the various stages of production and ways of extending a tire's service life. 
The result was a tire that consists of a high percentage of traceable, renewable, and recycled materials, and has innovative lightweight design that conserves valuable resources, and a renewable tread that provides an extended service life.
More than half of the raw materials used in Conti GreenConcept are from renewable sources or recycled. Continental is aiming to fully transition to sustainable raw materials by 2050, defining "sustainable" as all materials that originate from closed-loop cycles, have no harmful effects on people or the environment, and are responsibly sourced as well as climate-neutral across entire supply chains.
Plant-based oils
Other ingredients in the Conti GreenConcept are from 35 percent renewables. These include bio-materials such as natural rubber from dandelions, silicate from the ash of rice husks and plant-based oils and resins. Continental's global tire-making plants are already making widespread use of other materials such as recycled rubber or plant-based oils. 
Also, 17 percent of the materials in Conti GreenConcept are recycled, such as reclaimed steel and recovered carbon black. And in a first for the industry, polyester from recycled plastic bottles for the tire's casing. Continental is planning the gradual rollout of its ContiRe. Tex technology as of 2022, paving the way for the manufacture of tires using polyester yarn from recycled PET bottles. 
In addition to a high percentage of renewable and recycled materials, Conti GreenConcept is also an innovatively lightweight technology. The tire weighs only 7.5 kilograms, 40 percent lighter than conventional tires. The weight reduction was made possible by an optimized tread pattern, a special sidewall and a new casing design with a weight-optimized core. 
The Conti GreenConcept has a specially designed tread which offers more safety than conventional tires with the same tread depth. The materials used in the tread were optimized to further reduce the tire's weight, which in turn, lowered rolling resistance. Conti GreenConcept's rolling resistance is about 25 percent lower than class "A" which is considered to be the best possible rating under the EU Tire label system. 
Continental recently unveiled a concept tire based on the EcoContact 6 for Volkswagen's ID.LIFE concept car. It has very low rolling resistance, which provides extended range for the EV, and is made with 37 percent renewable and recycled materials such as silicate from the ash of rice husks, plant-based oil and resins. The EcoContact 6 also contains recycled rubber and the eco-friendly COKOON bonding system for textile reinforcement.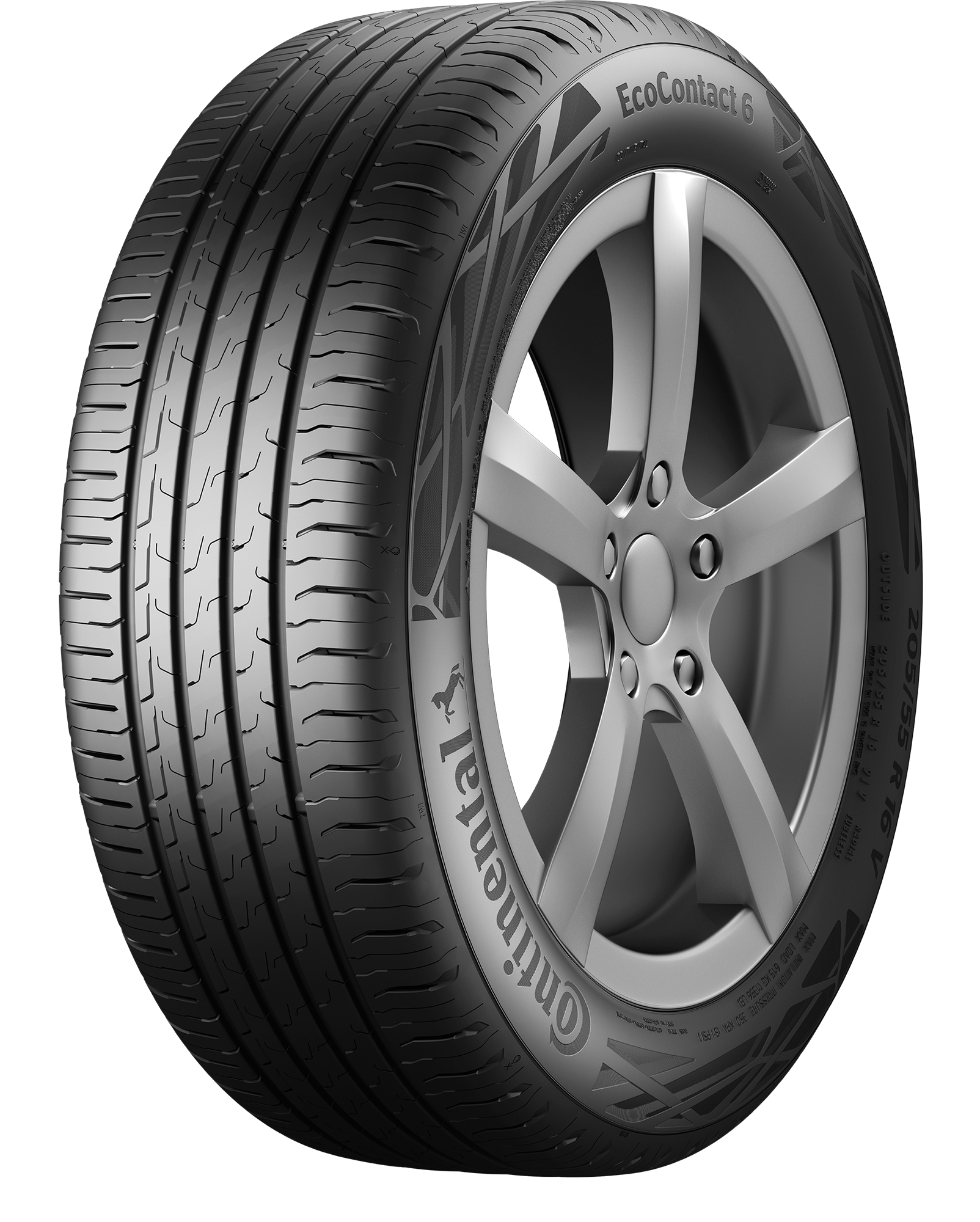 Lower energy consumption
That translates to lower energy consumption and a measurable improvement of environmental impact. For internal combustion vehicles, it means greater mileage and lower carbon emissions, but for electric vehicles, it results in extended range. Calculations which have been validated by leading vehicle manufacturers show that a 25 percent reduction in rolling resistance can provide up to six percent greater range for electric vehicles. 
At Goodyear, technology teams collaborate around new innovations and use as well as investigating more sustainable alternative raw materials. 
Goodyear's Assurance WeatherReady, Eagle Enforcer All Weather, Eagle Exhilarate and Assurance Comfort Drive  tire lines all use soybean compounds to create more sustainable rubber and traction benefits. 
In their research, Goodyear found that in addition to reducing the use of petroleum-based oil, using soybean oil increases manufacturing efficiencies, reduces energy consumption and uses surplus bio-based renewable materials. Consumers benefit from improved tire flexibility at low temperatures, which helps the rubber remain pliable in cold weather and provides better traction in rain and snow.
Synthetic rubber
Rice husk ash (RHA) silica, which is a product of rice processing, is also being used to help deliver performance similar to traditional sand-based silica, but with less environmental impact and waste to landfills. Goodyear has been able to build a tire with no petroleum-based content and 100 percent RHA silica as a replacement for traditional filler materials such as carbon black and/or sand-based silica.
Goodyear is also exploring the use of dandelion rubber as a potential raw material to traditional rubber. They are part of The Program of Excellence in Natural Rubber Alternatives (PENRA) to research the viability of sourcing natural rubber from dandelions, which only take six months to reach maturity versus rubber trees—which can take seven years. Dandelions can also thrive in harsher climates than rubber trees, allowing growth and harvesting closer to production facilities.
Finally, synthetic rubber is being researched as an alternative to natural rubber, and is usually made from petroleum-derived materials. Together with DuPont Industrial Biosciences, Goodyear has developed and patented a biobased Biolsoprene monomer which can help produce high-quality synthetic rubber, without depending on an oil-based feedstock. Biolsoprene is made from a renewable carbohydrate source that could eventually assist in further reducing the Goodyear carbon footprint.