The right attitude can win long term customers and staff.
When you walk into the Tirecraft Waterloo store, chances are you'll be dealing with a staffer who's been there for 10 years or more.
With the exception of two co-op students, all of the staff have been there for 10 years. "Our clients come in and see the same faces, that's important," notes Andrea Zabell, Manager.
There are 12 staff, and everyone pitched in to help during a recent move to the current Waterloo location, which features eight bays. The new shop was acquired in January 2021, with renovations taking place during the slow period. But throughout the whole move, the shop never closed, not even for a single day.
It's a busy shop, with clients from both the Kitchener and Waterloo, and servicing all brands, from Mercedes, BMW and even Tesla. "There's a Tesla store near us, so we've been getting a few for basic work," reports Zabell. Tesla has a properietary computer program which rules out doing mechanical jobs, but the shop does tires, rims, and basic brakes. Special padding had to be brought in to lift the Tesla vehicle on the hoist, since the cars need to be lifted in a special way. "It's like hockey pucks and was fairly inexpensive," says Zabell.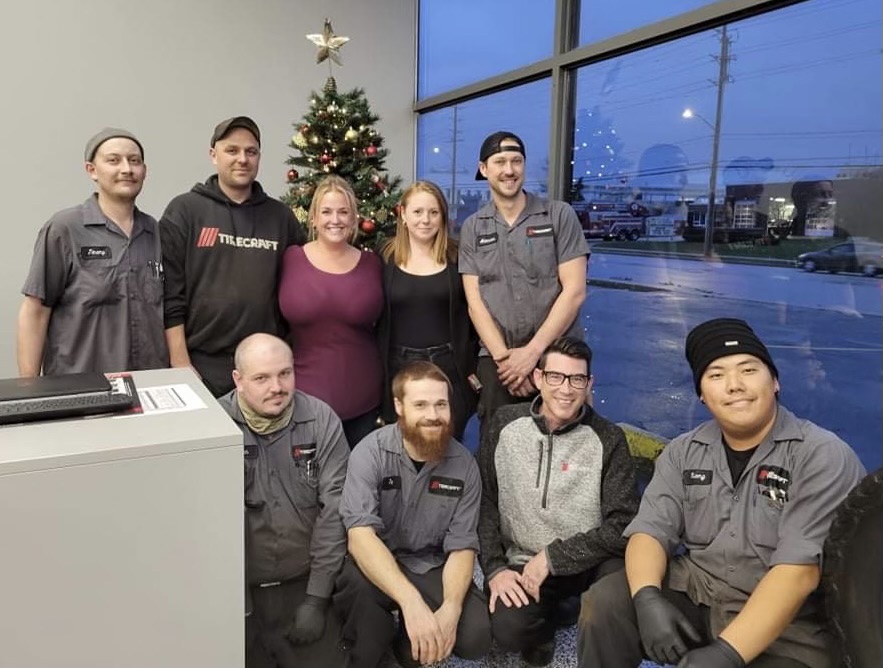 Promoting from within
Co-op students from local high schools have been hired throughout the years as tire techs, and if they're a good fit, they stay on. Occasionally, the co-op students will move on to become apprentices. Zabell finds it's a great way to branch out for new employees, and notes she always promotes from within.
During the pandemic, the co-op program briefly stopped for a year. It wasn't the only pandemic change at the shop. Since customers couldn't wait while work was being done, Zabell had to find new ways to connect with her clients. Vehicles were picked up and dropped off, payments done over the phone. And as new vehicles are difficult to get, many customers are repairing their existing vehicles, which has contributed to more business.
Supply chain issues have definitely been a problem, as parts that were once available overnight are taking two to three days to arrive. Rims were difficult to source this year, and anything from the U.S. has taken longer to deliver – three to four days has turned into two weeks.
But customers are understanding, since supply chain difficulties are everywhere. "Most people understand that times are tough right now," reports Zabell. "You can't get a vehicle, let alone parts." When possible, she provides a loaner vehicle to customers who have to wait for repairs.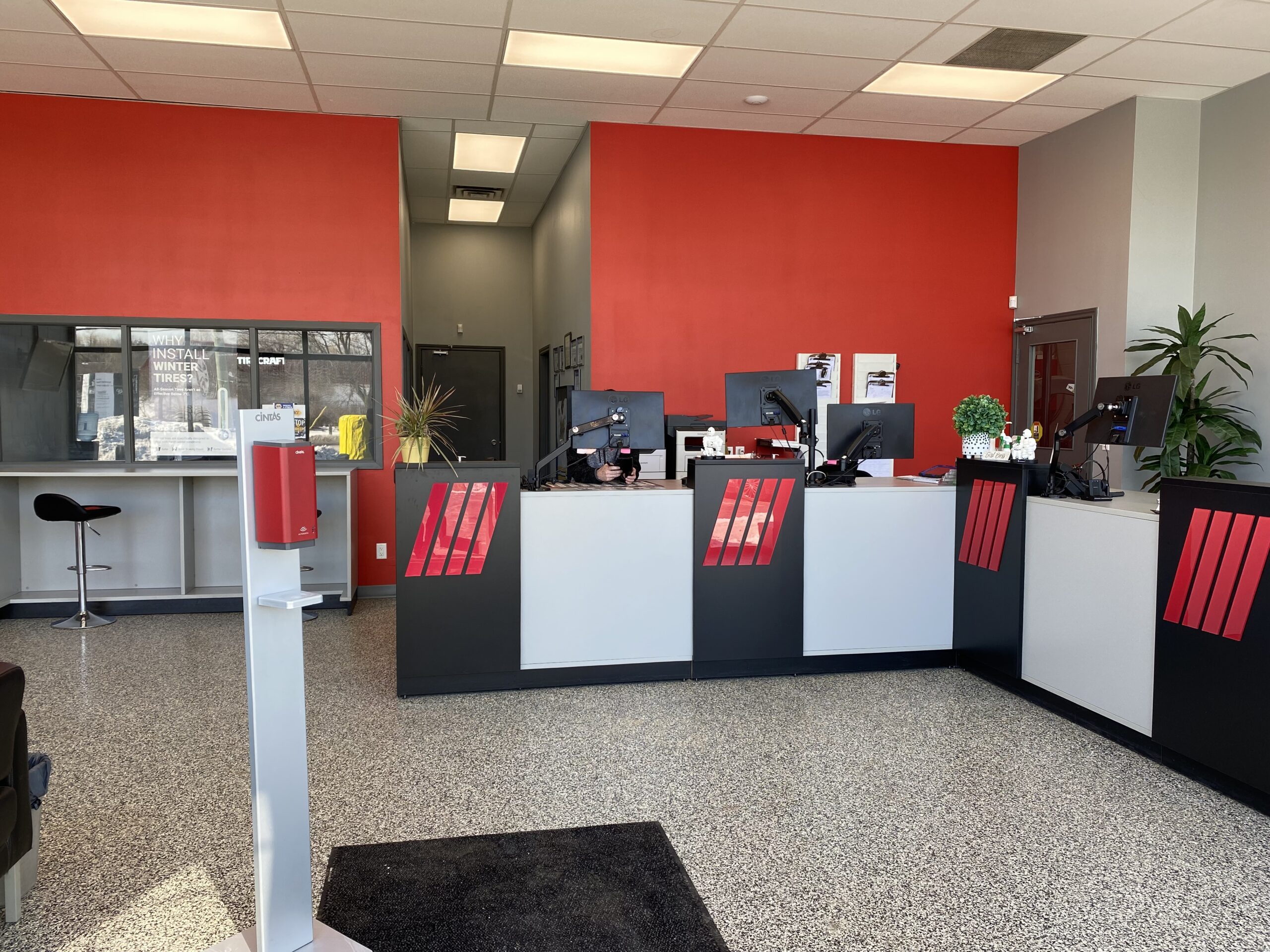 Gaining customer trust
Talking to customers and gaining their trust is key to a successful shop, providing information, and explanations. Customers want their vehicles to be safe. Zabell classifies her shop as a maintenace business, where full inspections are done on every vehicle. If a service may be required in the next 5,000 to 10,000 kilometres, customers are given a heads-up. "Customers are expecting a high level of customer service, they're spending their hard-earned money and choosing to come here," says Zabell.
It's also crucial to treat staff well. Every month, Zabell's techs attend on-line training events. Front office staff also attend training when there's a new tire or product. Every year, there's rim and tire training, where all tire techs have to pass an exam. "We wouldn't be able to stay in business if we're not constantly training," she notes.
During the pandemic, Zabell brought her children Jaxon and Jordan to work with her, and created a playroom in the lunchroom area, along with tablets for online learning. If other employees need to bring in their children, they are welcome to the space.
Everyone gets a free day for their birthday, and there are always coffee and snacks. One of the techs is a former chef, and has surprised the team with home-made burgers, as well as a deep fryer for French fries. A barbecue is on site, and very popular during the summer. Zabell buys lunch for everyone on Fridays during busy season, to show appreciation for everyone's hard work.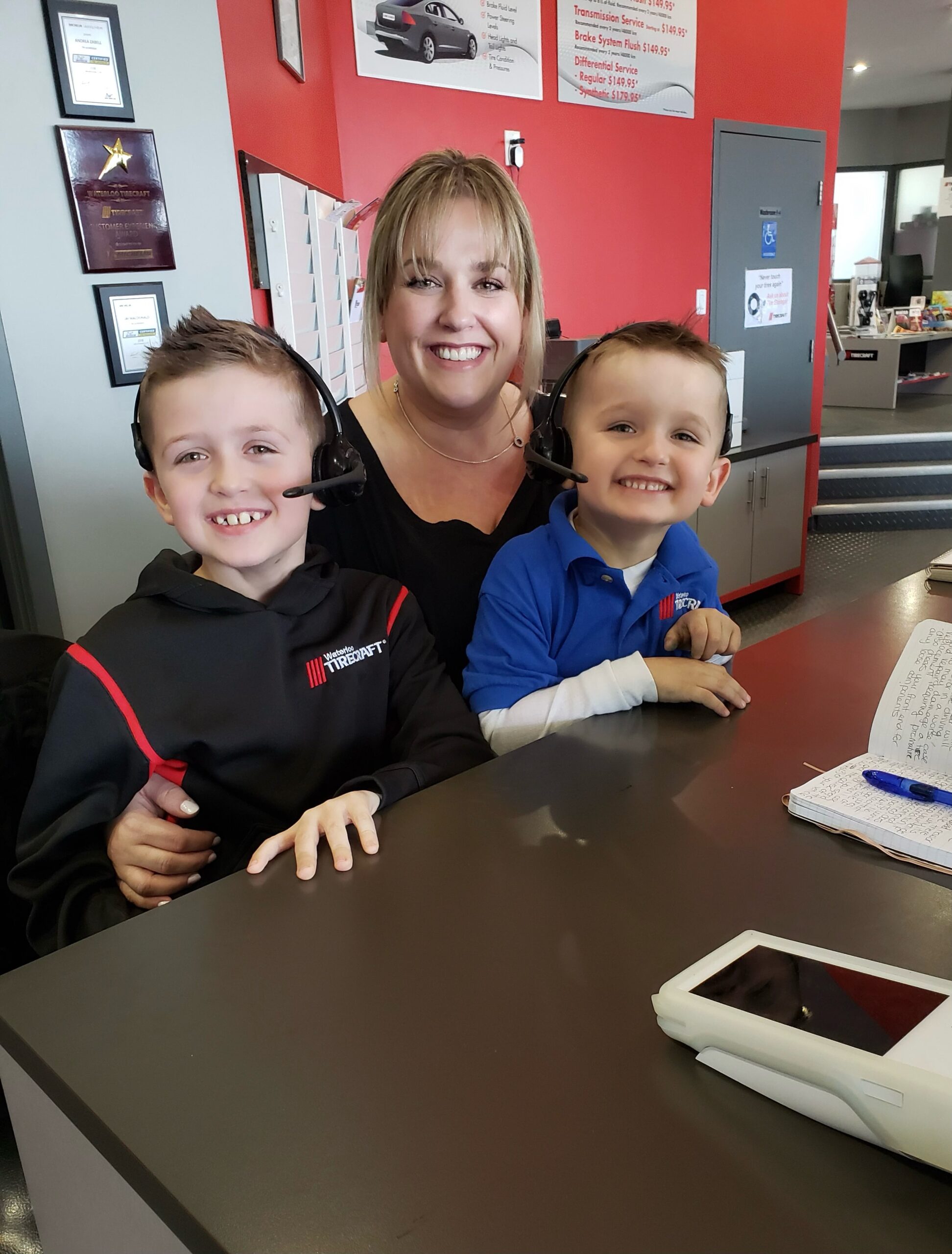 Supporting sports teams
Tirecraft's head office provides a budget for marketing, and the Tirecraft Waterloo store supports many local sports teams. While the head office does most of the digital marketing, Zabell can access the social media platforms. If there's a birthday or a vehicle that's had a particularly notable lift kit or rims done, she'll take a picture and post it.
As far as Zabell is concerned, the shop and her team are like a family. "It's a different environment now," she observes. "You have to work with people, you have to be kind to people in the way you speak – work as a family, as a team." Her head technician has been on the job for 23 years, and mentors the apprentices. "He brings in his own business, people will come in asking specifically for him. He has his own loyalty base."